Education in West Africa: Colonial Era System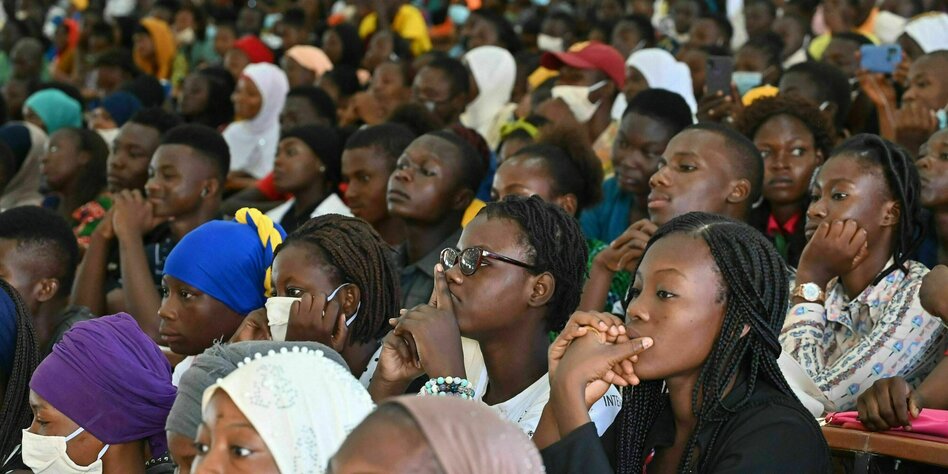 The consequences of the colonial era can still be felt in many African countries today. In addition to the language of instruction, this also applies to the knowledge imparted.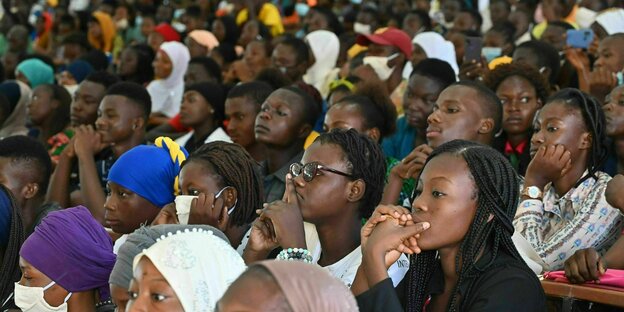 OUAGADOUGOU taz | Bienvenue-Ferdinand Yelkouni already has plans for the time after graduating from high school, which he wants to do next year at the Wend-Lamita private school. It is located on the outskirts of Ouagadougou, capital of Burkina Faso. The 23-year-old is taking the natural sciences branch with a focus on biology. He would then like to become self-employed in agriculture: "I already breed poultry alongside school."
This is a major exception in the West African country. The majority of the 21.5 million inhabitants dream of being employed by the state. This year, more than 2.1 million people applied for 6,069 advertised positions. The number keeps increasing every year. High school graduate Yelkouni shakes his head: "Not everyone can become a civil servant." For many, however, the question does not even arise. According to information from the United Nations Development Program (UNDP), three out of four young adults up to the age of 25 had no education in 2019.
However, Bienvenue-Ferdinand Yelkouni is hardly prepared for a future as an entrepreneur. Burkina Faso was once a French colony – and France has exported its school system to its former territories. The highest goal is the Abitur, although there are only seven state universities in the whole country. In the meantime, there is also talk of practical and standardized training for manual trades. In a country where more than 4,000 schools are closed due to the precarious security situation, however, reforming curricula is far down on the agenda.
"We were trained to be officials"
For Yelkouni this means: He has to learn a lot, especially memorizing. His geography knowledge of Europe is better than that of West Africa, his timetable is packed. However, there are hardly any opportunities to apply the knowledge in practice.
Abdoul Sawadogo, the school's administrator, calls it a colonial training system. "We were trained to be officials. The school was set up by the colonizers to train their administrators." Before studying computer science in France, Sawadogo attended schools in Ivory Coast, Togo and Burkina Faso. The system is structured similarly everywhere and has changed since the end of the colonial period hardly changed in 1960: "The goal was always to be employed in the public sector." A few decades ago, that even worked reasonably well. "I myself wasn't unemployed for a month," says Sawadogo.
Abdoul Sawadogo, administrative manager of the Wend-Lamita private school
"The school was made by the colonizers to train their administrators"
But times have changed, which is also due to the annual population growth of 2.5 percent. "The system needs more freedom and more practical lessons." The school coordinators have freed up Thursday afternoons for this and are offering a computer science course and a project on fish farming. Sawadogo would also like to have a theater club. "Young people must be given more opportunities to discover their strengths." One thing is particularly important to him: they should be better prepared for the future. "If someone learns about accounting at school and knows how a company is structured and managed, they are ready to become an entrepreneur and work for themselves."
In order to be successful, you also have to know the market well, says Abdoul Sawadogo. But to this day, teaching about Europe and the United States dominates. "When I was at school, I had to memorize the fifty states of the USA and a lot about the Middle Ages in Europe." Bienvenue-Ferdinand Yelkouni still has a similar experience today: "We learn more about Europe than about Burkina Faso. This is obviously due to the system."
The former British colonies, on the other hand, were more decentralised. Power was exercised through local rule structures, which is referred to as "indirect rule". Nevertheless, educationalist Edwin Nii Bonney had to read a lot of Shakespeare during his school days in Ghana. Today he is a junior professor at Radford University in Virginia in the USA and works on the influence of the former colonial powers on today's curricula.
According to Bonney, history lessons in Ghana almost always begin with colonialism, which is given great importance and is viewed positively. "Just in the lower grades hardly anyone talks about the phase before the British came." Social, economic and political development is attributed to the time when Ghana, as the Gold Coast, was part of the British Empire. "Students learn: Colonialism has brought progress." Slavery and the serious consequences would be left out.
Power structures are denounced
In the growing debate about decolonization, this gap is increasingly being addressed and deeply rooted power structures and social inequality are being denounced. But this debate is mainly being conducted by activists and scientists – in everyday life in West Africa it is hardly felt, as many people are busy with their everyday lives. So far, Bonney has not experienced any changes in curricula.
And nothing has changed in the language of instruction either: in sub-Saharan Africa, teaching is in English or French, but almost never in an African language. "We need to focus on that to change the way we think," says Bonney. In countries like Nigeria and Ghana, local languages ​​are part of the program – similar to foreign language classes – but often only once a week and without any information about tradition and culture.
However, not everyone supports the idea of ​​teaching in local languages. Opponents object that there are no books for teaching in Twi, Minna or Bambara. Also, even children growing up in the same neighborhood would have different mother tongues. In Benin alone, with its 13 million inhabitants, more than 50 languages ​​are spoken. But: "The colonial languages ​​are seen as neutral," Bonney points out, which they are not. And textbooks could be remade.
The educational scientist says that a lot is lost due to the continuing desire to adopt things from Europe and the USA. "There is a lack of a look at our local knowledge and how we use it." This is not always perfect, "but neither are educational systems from Europe".