Donor conference in Ramstein: arm Ukraine, put the brakes on Russia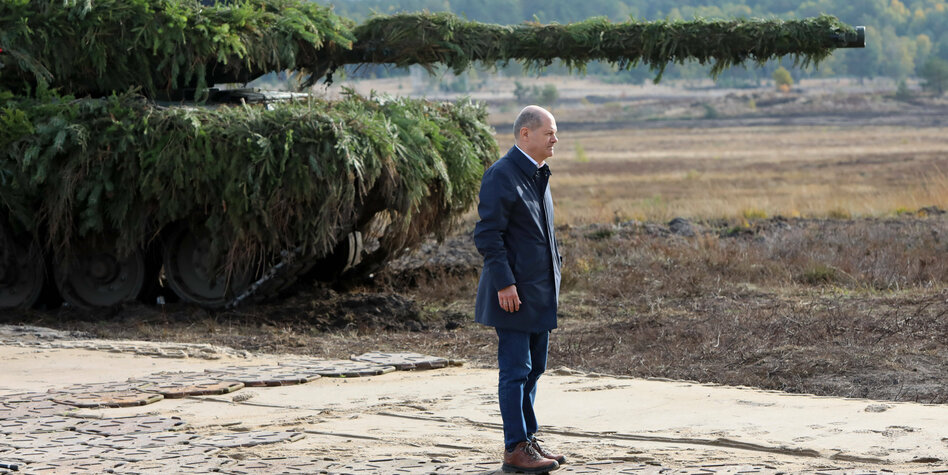 At the Ukraine summit in Ramstein, Kyiv's western allies want to significantly expand their aid before Russia escalates the war again.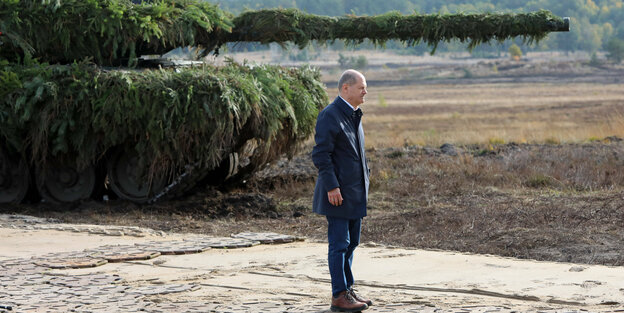 BERLIN taz | Expectations are high because, with around 50 countries taking part, it will be the largest military donor conference for Ukraine to date. The meeting of Ukraine's allies within the framework of the "Contact Group for Defense-Ukraine" at the US air base in Ramstein in Germany, scheduled for Friday, could become "a key moment in contemporary history", hopes the Ukrainian military journalist Ilia Ponomarenko from Kyiv Independent. So the decision makers would now have the chance to become "leaders".
Ukraine is hoping that the meeting, chaired by US Secretary of Defense Austin, will not only result in the largest coordinated pledge of military support since the Russian attack on February 24, 2022. There should also be a qualitative leap: the end of all taboos. "For the next Ramstein meeting, we hope that our allies will take new courageous steps to qualitatively increase the combat effectiveness of the Ukrainian army," Deputy Foreign Minister Andriy Melnyk told the newspapers of the Funke media group. There should also be "no more red lines" for Germany. The former ambassador in Berlin called for "battle tanks, fighter jets, warships, multiple rocket launchers, artillery, anti-aircraft defense" and "a broad armored alliance" from the West, "the core of which should be the Leopards, Abrams and Challenger".
Melnyk was referring to the new British commitment to deliver 14 Challenger 2 main battle tanks – the first commitment of Western main battle tanks. Abrams main battle tanks from the USA are also under discussion. Above all, 13 European countries, first and foremost Poland, want to hand over German Leopard 2 main battle tanks. You need the approval of the federal government for this – the Greens and the FDP are in favor of it.
"Free The Leopards" is the slogan Kyiv uses to advertise it: Free the leopards. On Wednesday, the EU Parliament in Strasbourg passed a motion by a large majority calling on Chancellor Olaf Scholz to "initiate a European consortium of relevant European countries to deliver Leopard 2 main battle tanks to Ukraine without further delay". The Green MEP Reinhard Bütikofer introduced this wording as an amendment to the annual report on the EU's common foreign and security policy.
Not enough time for a major Russian winter offensive
The idea: No longer the delivery of battle tanks, but their refusal is considered German "going it alone", i.e. something that Scholz rejects. "We have to go ahead there – and we must now also deliver the Leopard 2 in the convoy," said the head of the Munich Security Conference, Christoph Heusgen, on ZDF. Hardness is now "the only language that Putin understands".
The highest generals in Ukraine are expecting another major attack by Russia around February 24, 2023
Because most military analysts agree that the Russian war of aggression in Ukraine is about to escalate again. Australian military analyst Mick Ryan writes: "Russia must launch offensives to conquer the territory annexed by Putin in 2022. It must also convince its own public of the value of the special operation and justify the mobilization of personnel and industry in recent months. At the same time, the Russian military wants to gradually drain the Ukrainian armed forces."
The highest generals in Ukraine are expecting another major attack by Russia around February 24, 2023. Oleksii Danilov from the National Security Council of Ukraine, presumably from Belarus, has now predicted a "so-called final push".
Western experts doubt that Russia can do this in the short term. From Mick Ryan's point of view, after the heavy losses so far, Russia's attacking capacities are less than its willingness to attack. Ben Barty from the London IISS (International Institute for Strategic Studies) analyzed this week that there was not enough time for a major winter offensive: "Russia will not be able to launch such an initiative for at least several months." But this opens up a window of opportunity for Ukraine to liberate occupied territories.
Every week, politicians sit down with Putin at the notorious long table
And you want to be prepared when Russia is ready. In any case, the Russian preparations cannot be overlooked. Joint Russian-Belarusian maneuvers in Belarus began on Monday, just as they did before the 2022 invasion. On Tuesday, Russia's Defense Minister Sergei Shoigu announced a military build-up and restructuring. On Wednesday President Putin declared: "Victory is certain." The "Institute for the Study of War" in the USA expects that Putin will soon announce a mobilization of 500,000 men.
The countdown is similar to that of the beginning of 2022. At that time, the West was still trying to avert the impending war with talks. Every week, politicians made a pilgrimage to Moscow, sat down with Putin at the notorious long table in the Kremlin, or allowed themselves to be lied to by Foreign Minister Sergei Lavrov. Exactly one year ago, on January 18, 2022, it was the turn of the then fresh Federal Foreign Minister Annalena Baerbock (Greens). She stressed the importance of German-Russian relations and was dismissed by her unimpressed Russian counterpart, Sergei Lavrov. A week later, then Defense Minister Christine Lambrecht (SPD) promised Ukraine 5,000 helmets as a "very clear signal".
Now, in 2023, the West wants to respond better. According to the federal government, Ukraine is being upgraded "effectively, sustainably and closely coordinated". on Tuesday after a phone call between Olaf Scholz and Joe Biden. At the same time, US Secretary of State Anthony Blinken said in a joint appearance with his British counterpart James Cleverly in Washington that they wanted to "put Ukraine in the best possible position when a negotiating table comes up". He clarified: "The fastest way to end this war justly and sustainably, to achieve diplomacy and negotiations, is to give Ukraine the upper hand on the battlefield."
On Monday, Britain's Defense Secretary Ben Wallace presented Britain's new Ukraine aid package, including Challenger main battle tanks, to the British Parliament: "It is an important expansion of Ukraine's capabilities. It means they can go from resisting to expelling Russian forces from Ukrainian soil."
There is still room for improvement in Washington
US military aid to Ukraine since February 2022 has been estimated at 25 billion US dollars (18.5 billion euros), around half of all aid worldwide. The UK and Germany are in second and third place. There is still a lot of room for improvement in Washington: the US "lend-lease law" for Ukraine passed in May – a system according to which the US provides Ukraine with armaments free of charge, theoretically on a loan basis, analogous to the "lend-lease" – US program for Britain in WWII – has not yet been used at all. However, it could unbureaucratically multiply deliveries while the weapons remain formally US property. In this context, the relocation of entire air force squadrons is being considered.