Diversity in the theater: adorned with foreign feathers
When large repertory theaters work together with the independent scene, their range becomes more diverse. But they are also losing the core of their brand.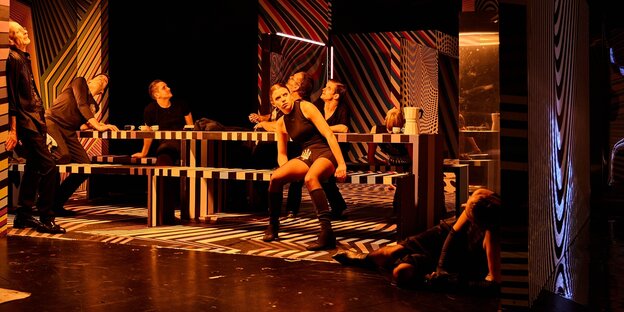 If only your own footsteps echo in the newly renovated foyer of a theatre, you will be astonished. Something is missing in the brightly lit Viennese Volkstheater. The murmurs of the groups of visitors, who for the moment become citoyens and citoyennes, reasoning about public affairs. The loss notice applies even to bad perfume and coughing before the start of a performance. Like small archaeological finds, such perceptions mark the remnants of a public sphere that is not (yet) mediated, but remains physically perceptible in a local presence.
It's Saturday night. With "Der Würgeengel", director Sebastian Baumgarten translates narrative elements from Luis Buñuel's film "El ángel exterminador" into contemporary social experience with a neo-expressionist stage setting inspired by film history. As far as can be counted, 120 viewers enjoy the cinephile material.
Even if the decline here is one of the clearest, the Volkstheater in Vienna is by no means the only theater fighting for an audience. It has had significant successes. With the production of "humanistää!" by Claudia Bauer with texts by Ernst Jandl, for example, the theater overtakes the increasingly sluggish program at the neighboring Burgtheater in terms of symbolic validity through national awards and invitations.
In Switzerland blows the Zurich playhouse under the direction of Nicolas Stemann and Benjamin von Blomberg, with declining subscription numbers, there was a sharp wind not only against the right-wing populists. In one fell swoop, the Volksbühne has lost the hegemony it has exercised over the years in the Berlin theater structure and is looking for orientation in terms of content or, to put it in the language of marketing, its brand essence.
Vendors join forces
In many places, discount options beyond subscriptions are intended to boost sales in a market that is tending to decline. In Vienna, providers of theatre, opera and concerts are joining forces to form a kind of digital cartel that aims to use reinforcing network effects. On its own online platform, users are constantly fed new offers according to the purchases they have made, which promotes bestsellers in the long term and tends to impoverish the diversity of the market.
The aesthetic strategies with which the theaters concerned fight the horror vacui in the auditorium are – brand essence or not – less in the main business than in diversification. A series of concerts at the Vienna Volkstheater addresses the pop-cultural nerve of a progressive audience segment, but economically only provides a one-off improvement in capacity utilization.
The incorporation of branded products from other arts can also be read as a crisis strategy. While interdisciplinary work involving visual artists was long considered particularly desirable in the performing arts, publicly funded theater operations are now an attractive value-enhancing instrument for established brands on the art market. Here, too, one-off effects and a lack of compatibility with day-to-day operations dominate. A complex production by and with Jonathan Meesepremiered at the beginning of November, has exactly two more performances in the Volkstheater by March according to current plans.
unfair competition
Increasingly, repertory theaters are approaching forms of artistic practice that once emerged in conscious opposition to their operations. In many places they cannibalize the free scene, in their niche products as well as in their bestsellers. As a result, they easily become unfair competition compared to their previous production and distribution structures. Among other things, they absorb small-scale productions in a growing number of secondary venues, but still do not reach more viewers with more performances.
Budgets that were tight for the operation of ensembles and repertoire developed great market power in the deregulated working methods of the independent scene. This even applies to that part of the scene that has overcome a precarious existence, operates nationally, skilfully and professionally taps into funding at all levels and sometimes even produces global brands. On the other hand, such a practice undermines the political mandate to regularly offer repertoire performances on site with an ensemble that is secured under labor law.
The Volksbühne in Berlin opened its season with a work by the choreographer Florentina Holzinger "Ophelia's Got Talest", which has meanwhile become a real global player in a rapid artistic development with beginnings in Vienna. This does not detract from the quality and political relevance of their work. The intensification of neoliberal competition leaves no alternative to personalization and branding. The Volksbühne will thus become one of many gigs in a media-mediated public, which no longer has its audience potential in just one place and cannot dine from just one place. It is part of a globalized exploitation model for which Chris Dercon was violently scandalized in Berlin in 2017.
Back to Vienna: Originally built for approx. 1,500 seats and reduced over the decades, there are still 832 seats in the Vienna Volkstheater after the most recent renovation. This is a dimension that can no longer be organized out of the affinity of lifestyles and consumer practices like a scene location. You also need those whose tastes you detest.
Great theaters are anachronisms
Large theaters are anachronisms in a society that is increasingly differentiated into separate milieus, that develop their identities along selected (everyday) cultural practices and no longer just derive them from economic status. The entire culture industry is increasingly serving the reproduction of milieu identities, the "fine differences" are reflected in the consumption of culture.
But the political significance of the theater lies precisely in the fact that it is a place where different social milieus can still meet at all; they are part of the rare in-between space in which public affairs can be negotiated using the means of art.
Not only a historically grown organizational model of the theater is up for grabs. A long-lasting hegemony of bourgeois culture is finally coming to an end, but with it a progressive project that has been in operation since the educational reforms of the 1970s to combine the values ​​of bourgeois culture as "culture for all" with a promise of social advancement.
The neoliberal era has turned the demand for political equality into a promise of self-realization through identity-forming consumer practices. Where could a new progressive project for cultural practice and thus for theater lie?
It can be found in the horizon of the cities. In Vienna, 28 percent of the adult population were not eligible to vote in the most recent election. Their children may not be either, because the "essential" jobs they work in don't generate enough income to apply for citizenship. If the question of diversity in the theater is not content with making the elite more colorful, but also claims to bring the representation of urban society closer to its real form, something could come of it.