Dispute over Russian deserters: failure of civilization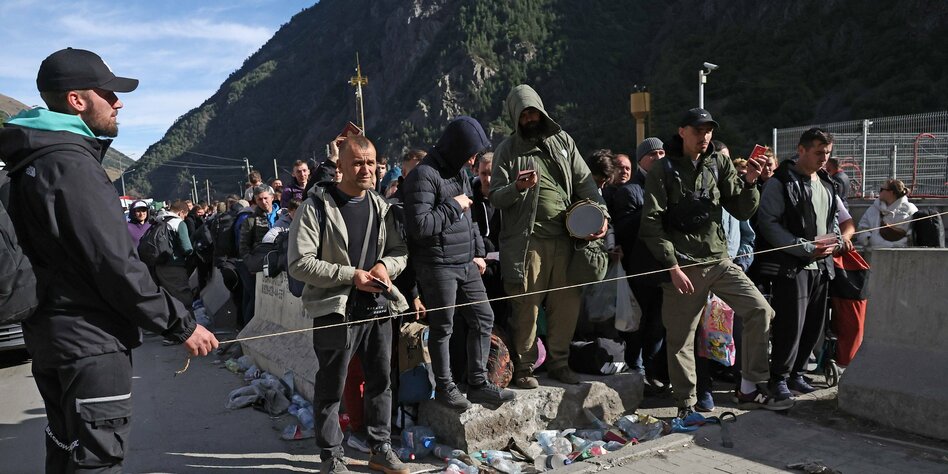 If you don't fight, you can't kill – that's not the only reason why everyone who doesn't want to die for Russia's President Putin should be accepted everywhere.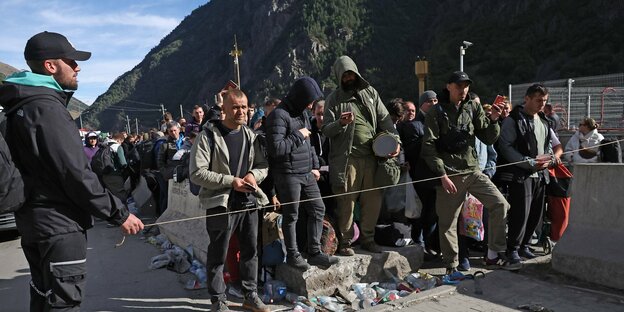 Have the young men who, since Vladimir Putin announced partial mobilization at the end of September, packed their bags to leave Russia, ever heard of Boris Vian? Quite possibly, after all his "Le Déserteur" was translated into dozens of languages, including Russian. Anyway, when the news of the tens of thousands of Russians trying to evade forced conscription for the Ukraine war comes to mind, the French writer's legendary 1954 song "Before the cocks crow / I'll barricade the doors / I want to feel my life / And set off," as Wolf Biermann translated Vian into German. "Monsieur le President / You are for bloodshed? / Allez! Let yours flow / That would be a good deed!"
If you don't fight in Ukraine, you can't kill in Ukraine. For this reason alone, anyone who doesn't want to be burned by Putin and who weakens the fighting strength and morale of the Russian troops by fleeing should be welcomed everywhere with open arms. However, numerous European states have instead closed their borders to Russian war-resisters. What a failure of civilization!
The new Ukrainian ambassador, Oleksii Makeiev, would like the Federal Republic to adopt such an inhumane and unreasonable approach. It would be "wrong of Germany to take in Russian deserters," he declared. After all, they just wanted to "dodge military service" and "just not die in the war." With that, Makeiev lies entirely on the line of his predecessor Andriy Melnykwho stated that he thought it would be a "catastrophic decision" if Russian men were granted asylum in Germany "ONLY because they (…) don't feel like their own resting place in Ukraine".
Article 3 of the Universal Declaration of Human Rights states: "Everyone has the right to life, liberty and security of person." However, according to the internationally accepted legal opinion, this unfortunately does not give people who are able-bodied the right to fight a war to protect their lives escape by fleeing. Even if they want to refuse the military madness of a criminal regime, that alone is not enough as a reason for asylum. "Of course, someone is not a refugee just because they deserted out of fear of having to fight, or because they dislike military service, or because they did not do it at all," says the United Nations High Commissioner for Refugees (UNHCR) manual of procedures and read criteria for determining refugee status. As inhuman as it is, the fear of prosecution and punishment for desertion or refusal to comply with a draft are no grounds for being entitled to asylum.
Refusal to go to war is a human right. Even if it is not generally recognized as such. But why not? Because desertion is a criminal offense all over the world – not just in authoritarian regimes. You don't want deserters anywhere. Which is why Boris Vian's grandiose "Le Déserteur" was banned in France for several years – during the Algerian War. "In all armies, the deserter is the worst enemy, worse than the enemy soldier, because he resists orders to kill and prefers to put up with his own death," wrote the writer Gerhard Zwerenz, the only deserter ever to be a member of the Bundestag. Even a "just" war is still a war, no one should be forced to go into it against their will. Incidentally, this also applies to those Ukrainians between the ages of 18 and 60 who have not been allowed to leave their country since the beginning of the war in order to be able to be used for defense purposes. No state has the right to force people to kill other people.
Refusal to go to war is a human right. Even if it is not generally recognized as such
Nonetheless, the discussion is about the Russian conscientious objectors a particularly ludicrous one. Because it is not only cynical, but also contradicts the legal opinion of the UNHCR. Accordingly, deserters and military service refugees are definitely protected as refugees if "the type of military action with which the person concerned does not want to identify is condemned by the international community as contrary to the basic rules of human behavior".
Germany has a special historical responsibility not only to grant protection to Russian deserters and conscientious objectors. Because it should never be forgotten how incredibly long it took until this state stopped considering those who once didn't want to fight for Hitler's Wehrmacht as lepers. The Nazi military judiciary sentenced more than 30,000 so-called deserters, "armed force decomposers" or "war traitors" to death, more than 20,000 were executed, and thousands perished in concentration camps and penal battalions. Fewer than 4,000 German deserters survived World War II. And the survivors had to be insulted in the Federal Republic as "cowards", "traitors" and "pests". It was not until 1998 that the Bundestag overturned some of the unjust judgments. It took another four years for the German parliament to rehabilitate the deserters. Finally, in 2009, the verdicts for "war treason" were overturned.
In 2018, Ludwig Baumann, the last Wehrmacht deserter, died at the age of 96. Sentenced to death by the Nazis, he had to fight for his rehabilitation for decades. Baumann once said of his motivation for deserting as a 20-year-old naval corporal: "The truth is: I didn't want to kill. And I wanted to live." That's enough of a reason. It must be enough. Today as well.