Dispute about LNG terminals: does it have to be?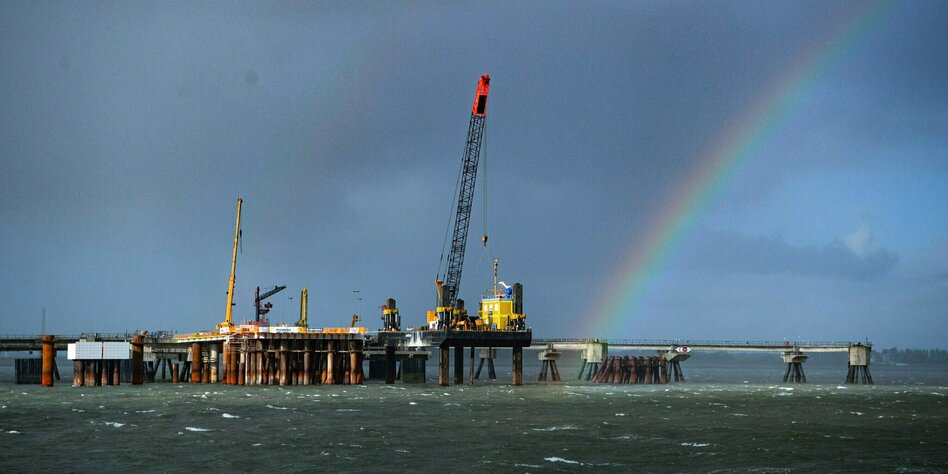 Opinions are divided on liquid gas: a dispute between Antje von Broock from BUND and Lower Saxony's Environment Minister Olaf Lies (SPD).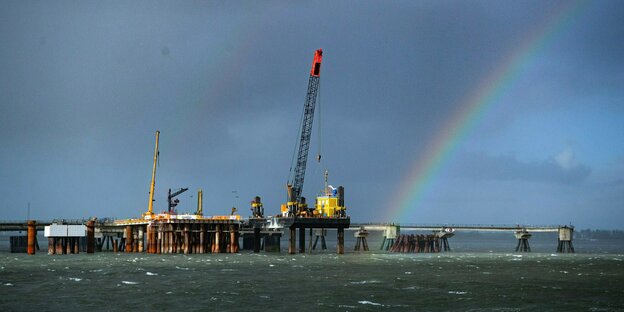 taz on the weekend: In order to ensure the energy supply, the traffic light coalition relies on liquid gas (LNG). In Wilhelmshaven construction work for an LNG terminal has started. Ms. von Broock, what bothers you about that?
Antje von Broock: I can only support the goal of becoming independent of Russian gas imports. However, we run the risk of committing ourselves to an infrastructure that conflicts with our climate goals. The LNG terminals are supposed to run until 2043, but actually we should already be using 100 percent renewable energies by 2035. This is the only way we can achieve the 1.5 degree target to which the federal government has committed itself.
Mr. Lies, you are Minister for the Environment, but you are still in favor of liquid gas, i.e. a fossil fuel. Do you sometimes have doubts?
Olaf Lies: I am also Minister of Energy and therefore responsible for the energy supply in Lower Saxony. The question we are arguing about is: do we need an infrastructure that will import fossil gas for 20 years? I would say: absolutely not. We need an infrastructure that can use green hydrogen as quickly as possible. We want to become climate neutral faster, not later.
The German Environmental Aid complains that the terminal in Wilhelmshaven is being built without a formal building permit, similarly like the electric car manufacturer Tesla in Brandenburg.
Read: We checked very clean. The requirements are all met, but the actual building permit can only be granted after public participation. The Russian government is playing with our energy supply, which is why we have to speed up. Unfortunately, there is no other way at this time.
Do you see it that way too, Frau von Broock?
From Broock: As far as the supply is concerned, we basically agree: Green hydrogen is necessary for a 100 percent renewable energy system. But the terminals that are currently being built are not just that hydrogen-compatible. They would have to be retrofitted at great expense. When the time comes, operators will of course be wondering whether to make this investment or just stick with what they have already built. There are even providers who wanted to build a hydrogen terminal at the same location. Now LNG is going there. So there is even direct competition. We have to be careful not to just replace one import dependency with the other.
What does that mean?
From Broock: We should produce more green hydrogen ourselves – especially if we have an overproduction of renewable energies. And as quickly as the LNG infrastructure is now being expanded, we should send signals to save energy just as quickly.
Read: Yes, exactly, that is a very important signal – that we should use as little energy as possible. We are also expanding renewables very strongly, in the North Sea we will have 70 gigawatts of offshore wind energy by 2040. And yet we don't manage to provide ourselves with energy entirely by ourselves. In the case of LPG, we are building an infrastructure on a one-to-one basis that is capable of importing green hydrogen. We don't have to change any feeders, lines or terminals later.
46, is the managing director of the Bund für Umwelt und Naturschutz Deutschland (BUND). She studied politics and communication science as well as linguistics.
Mrs von Broock, the Minister mentioned offshore wind farms. Many environmental organizations see that critically, also the BUND. But where else is the energy supposed to come from?
From Broock: Nature is already under a lot of pressure anyway. Even today, because of the monocultures, some bird species find more food in cities than in the countryside. Now there are 70 gigawatts of wind power in the North Sea, which is already burdened by container shipping and fishing. We have several crises at once: climate change, species loss, the corona pandemic and war. In this situation, we should not put one crisis before the other. You have to find relief elsewhere.
55, has been Environment Minister in Lower Saxony since 2017. The SPD politician had previously been Economics Minister for five years. He studied electrical engineering in Wilhelmshaven.
The Fridays for Future activist Luisa Neubauer has some ideas: speed limit, domestic flight ban, car-free inner cities. Wouldn't that be better than liquid gas, Mr. Lies?
Read: The car-free city center may be a good idea in terms of content. However, it will not help us to be able to do without the amounts of gas that we need. First of all, we need security of supply so that we are able to make ourselves geopolitically independent. But we have to make sure that we use fossil gas for as little time as possible and switch to solar and wind as quickly as possible. Of course, 70 gigawatts of offshore wind power is a challenge, but we will do it in harmony with the environment and nature. I too want to protect and preserve our Wadden Sea.
From Broock: That's an important point you mention there. Wadden Sea World Heritage – a unique habitat! We have a very special responsibility there. At the moment, the expansion of wind energy on the high seas by 15 gigawatts would be feasible with the existing lines. The more we expand, the more lines we need – for which we would have to plow the Wadden Sea.
What do you suggest instead?
From Broock: Decentralized power generation. That the federal states 2 percent of their area should be designated for wind priority areas, is a good step. Of course, all countries have to take part, including Bavaria with its absurd distance rules. In this way, the overloading of individual habitats is prevented.
Let's talk about LNG terminals again. In Wilhelmshaven, 150 steel piles are to be sunk for the pier. What environmental problems do you see there?
From Broock: Especially the noise pollution. I myself grew up on Wangerooge and saw my first porpoises there, they have their habitat there. The construction work should therefore at least take the seasons into account.
Read: I was born in Wilhelmshaven, and of course I know the region. The fact that we have such a large number of harbor porpoises shows that our natural environment works. And we must continue to protect him. Therefore, deterrence measures are of course included in the building regulations (Sound signals that drive away the whales for the duration of the construction work and thus keep them out of the danger zone, editor's note). Unfortunately, we can't postpone the whole thing because you can't build in the North Sea in December and January. And we are already barely able to secure the gas supply.
From Broock: I absolutely agree with you that we should become independent from Russia. Would you agree that the call for energy efficiency came far too late?
Read: That's absolutely true. We really just talked too much about saving energy and achieved far too little success. Every kilowatt hour of electricity that we don't need would make our lives easier.
Economics Minister Robert Habeck from the Greens has appealed to the environmental organizations not to sue the LNG terminals. Will you grant his wish, Frau von Broock?
From Broock: We reserve the right to take any legal action. On the one hand, we ask ourselves whether nature is really being burdened as little as possible. On the other hand, the participation rights of environmental organizations are curtailed by the LNG Acceleration Act. This isn't kid stuff. There would have to be good reasons to curtail these rights – and I don't see them in the case of an oversized, long-term gas supply that runs counter to the climate goals.