Deportation in Saxony: from the clinic to prison
The police brought Mohammad K. from the Leipzig University Hospital to the Dresden detention center. Many people are fighting for his right to stay.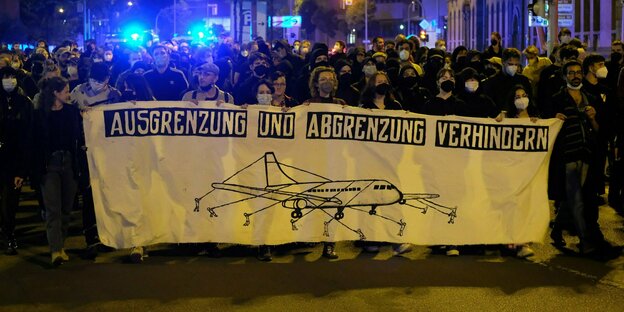 LEIPZIG taz | Just under an hour before the police picked up Mohammad K. from the Leipzig University Hospital on Monday afternoon and brought him to the Dresden detention center, around forty people gathered in front of the hospital's emergency room.
They all demand K. the right to stay and want to prevent him from being imprisoned. Most are sitting on a low wall opposite the main entrance, some have been hanging out for hours, holding hot-water bottles in their hands. The atmosphere is tense. Everyone watches the main entrance and people going in and out. Nobody knows when the police will take Mr K. out.
Mohammad K., whose asylum application was rejected in 2019, was actually supposed to be deported to his country of birth, Jordan, last Tuesday - although he has lived in Germany for seven years, speaks German, has never committed a crime, has family and friends in Leipzig and more worked in a bakery for three years.
K. only had to give up this job in December 2020 because the immigration authorities had withdrawn his work permit. According to the Saxon Refugee Council, the bakery K. even offered an apprenticeship contract. However, the immigration authorities in Leipzig did not grant K. a toleration for training.
"Mohammad's life is in Leipzig"
When you talk to friends and relatives of K. who have gathered in front of the university hospital, it quickly becomes clear how at home the man must feel in Leipzig. "Mohammad has a lot of friends and his whole family lives here - his parents, his two brothers, his sister," says Ammar, 27, who wants to keep his last name private for fear of the police. Ammar met K. in a German course in Leipzig in 2016, and the two have been close friends ever since. "In Jordan, Mohammad has no relatives, no friends and no apartment," says Ammar.
K.'s parents are also standing in front of the hospital to protest against their son's imprisonment and deportation. His mother is crying, his father is looking seriously towards the front door. "What is happening here is inhumane," he says angrily. Mohammad is doing very badly mentally and physically. "I don't understand why Mohammad should be deported. He has integrated well, worked for years, paid taxes," says his father. "Mohammad's life is in Leipzig."
K. must have been correspondingly desperate when police officers stood in front of his apartment in the southern suburbs of Leipzig last Tuesday morning. In order to avoid deportation, K. seriously injured himself and threatened to commit suicide if the officers entered his apartment. The police used special forces, 150 people demonstrated in front of the house against the deportation of K. It was only hours later - after a communications team from the LKA had spoken to K. and assured the Saxon state directorate that he would not be deported that day - that the door opened badly injured man the door. When he stepped out, police forces brutally pounced on him and threw him to the ground. this is on one Videos on Twitter to see.
After the aborted deportation, K. was taken to the Leipzig University Hospital with serious injuries. Four police officers guarded him there around the clock. On Wednesday, the District Court of Dresden issued an arrest warrant against K. He should spend the time until the new deportation date in detention pending deportation. Since then there have been repeated protests in Leipzig and Dresden, most recently on Monday - the day on which K. was transferred to the Dresden detention center.
"The police confiscated Mohammad's mobile phone in the morning, which is why we unfortunately had no contact with him. For a long time we didn't know what was going on. We were able to obtain visitation rights for Mohammad's brother, Mostafa K.," said Yasemin Şahin from the #MohammadBleibt support network. "The doctor confirmed to him that Mohammad would be released today, but he did not say where he would be transferred and when that would happen. Mostafa was then isolated in another room for half an hour while the police took Mohammad away," Sahin said. The officers would have picked him up in civilian clothes, not in the usual uniform.
Health is at stake
K.'s lawyer, Robin Michalke, is now trying to get K. to be tolerated for training. "We hope to be able to suspend the deportation of Mr. K. in one of the many ways we are currently taking." Michalke demands a renewed psychological assessment for his client. "I'm not convinced he's fit to travel and detain," the attorney said.
The Saxon Refugee Council strongly condemned the deportation of K. and his imprisonment in the detention center. "We find it extremely critical to imprison a person who is contemplating suicide and self-harm and who is under extreme psychological pressure. Another medical examination is urgently needed," said spokeswoman Paula Moser of the taz. "Actions by the immigration authorities and the police must never endanger the health or life of those affected."
Some employees of the Leipzig University Hospital also spoke up on Monday. "We find it sad and embarrassing to see how Mohammad K. is being treated by the authorities. With the best will in the world, we cannot understand that a nice person and good neighbor is treated so unfairly. Why do you rip an innocent person out of the life he has painstakingly built up here in Leipzig?" says a statement.
The asylum and migration policy spokeswoman for the Greens in the Saxon state parliament, Petra Čagalj Sejdi, criticized the actions of the law enforcement authorities in the Mohammad case as inconsiderate and incomprehensible. "The lack of sensitivity on the part of the law enforcement officers on the day of the deportation alone raised many questions. From our point of view, the deployment of the FSPC and the continuation of the repatriation despite the attempted suicide seem absolutely disproportionate," explained Čagalj Sejdi. "In our opinion, he deserves a chance to which he might be entitled - if the federal government's right of residence was already in force."
With the so-called right of residence The federal government wants to create a perspective for well-integrated people with an uncertain residence status to stay in Germany - for people like Mohammad K. According to this, refugees who have been living in Germany for five years on January 1, 2022 should not have committed a criminal offense and should "dedicate themselves to freedom profess the basic democratic order", can receive a one-year probationary residence permit in order to fulfill the other requirements for a right to stay during this time.
Nine federal states are already acting according to the law planned by the traffic light coalition and protecting people who fall under this regulation. Saxony, however, wants to wait for the federal law and rejects any anticipatory measures.
For his lawyer Robin Michalke, Mr. K. is "the prime example" of the planned right of residence. "An anticipatory regulation would undoubtedly have saved him from deportation." However, a Saxon anticipatory regulation is no longer important, said Michalke. "The legislative process for the right of residence has now progressed so far that Mr. K. is entitled to effective access to the residence regulation that is sure to come."
In this regard, Juliane Nagel, spokeswoman for migration for the left-wing faction in the Leipzig city council, said: "Since June this year we have been campaigning for Saxony to protect tolerated people from deportation in anticipation of the upcoming opportunity to stay in Leipzig."
She cannot understand that a person who has lived in Leipzig for "so long" should be deported. "I appeal to the immigration authorities in Leipzig, to the mayor and mayor, to find ways to obtain a right to stay and to put all their strength into a solution. I would also like to remind you that in March the city council instructed the mayor by a large majority to obtain more opportunities for refugees to stay."