Demonstrations in Georgia: EUphoric – taz.de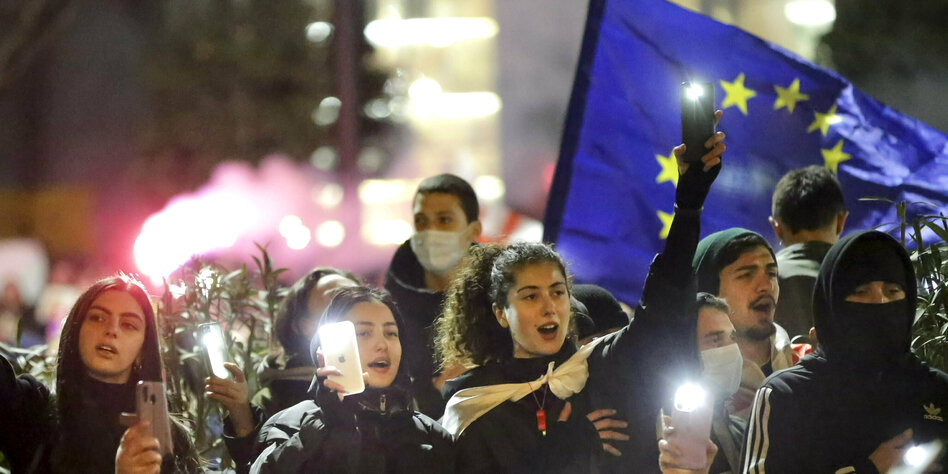 Tens of thousands of Georgians have taken to the streets to protest the "Foreign Agents" law. Kids rave to sirens instead of techno. The protest is initially successful.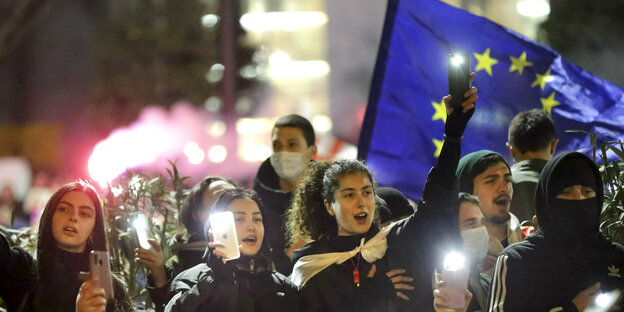 The kids rave. There are about twenty of them, jumping around in the middle of the street, shaking their bodies, nodding their heads, pointing up their middle fingers. They wear respirators, goggles, thick headphones. But they don't dance to techno. They dance to police warning sirens.
We are located on the central street of Tbilisi, the capital of Georgia. It's March 9, 2 a.m., the second night of the protests. They began immediately after Parliament passed a controversial bill. Accordingly, NGOs and media that receive more than 20 percent of funds from abroad would have to register as "foreign agents". The "Russian law" it was called. There, a similar law has silenced critical voices.
The sound of the sirens stops. The crowd cheers and applauds. You might think that they now celebrates the artist who has just finished showing his life. But the crowd is angry.
For three days and two nights in a row, tens of thousands of Georgians took to the streets demanding the repeal of the bill. Many feared this law could destroy Georgia's European dream. Around 80 percent of the population supports possible EU accession. The country is awaiting the decision of the European Commission on whether it will be granted candidate country status.
"We have chosen the EU"
"We go to clubs for sirens and smoke, you dicks!" reads the poster held by a young woman in a green jacket. On both nights, riot police used tear gas, water cannons, smoke bombs and pepper spray to disperse the crowds. In return, the demonstrators threw stones and Molotov cocktails. 133 people were arrested. The riot police repeatedly cleared the central street of Tblisi. But people kept coming back.

This text is from the weekly. Our weekly newspaper from the left! Every week in the Wochentaz, the world is about how it is – and how it could be. A left-wing weekly newspaper with a voice, attitude and the special taz view of the world. Every Saturday new at the kiosk and of course by subscription.
"We have the choice between Russia and the EU. We chose the latter," said Zorzh Zhamerashvili, 21, one of the organizers of the student protests, late Thursday evening. At this point they have already won. The bill will be withdrawn for the time being. Those who accepted it voted against it on the morning of March 10th.
The Interior Ministry has also announced that all those arrested during the protests will be released. For now, the protesters are simply celebrating that success. That doesn't happen too often in Georgia.