Debut novel by Kim de l'Horizon: Queering Storytelling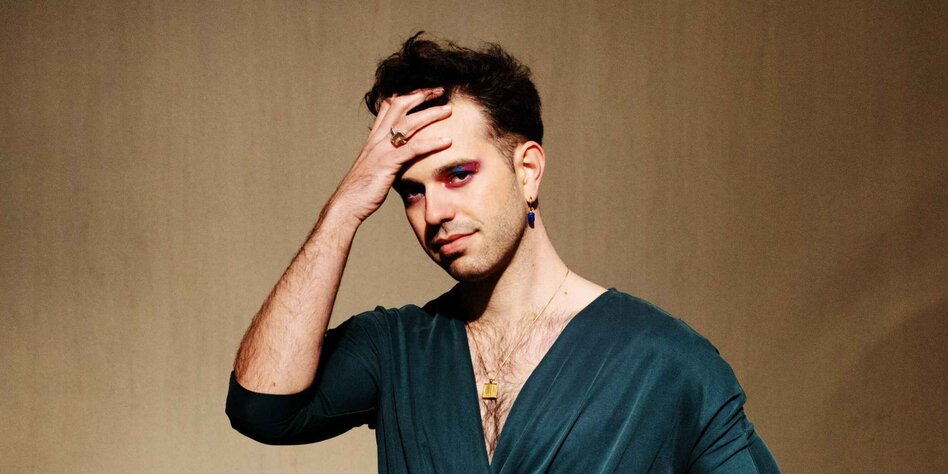 Writing as a setting and self-assurance: Kim de l'Horizon wants to leave the standard family novel behind in his radical debut "Blutbuch".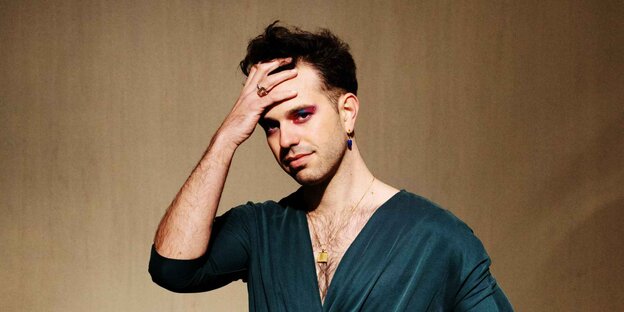 The stakes are high in this at times passionately written novel.
The fourth of its five parts has typewritten sections. According to the novel, they come from the mother of the narrator (who defines herself in a non-binary way and should therefore not be named here as the narrator). In fact, the mother researched her female ancestors, who until then had been left out in the family tree, back to the 14th century. When her mother suffers from dementia and loses her memory in spasms, she asks the narrator to write her grandmother's curriculum vitae. The narrator refuses, but then comes across the bundle of maternal research.
As a reader, you read along. One of the ancestors, Ira Marinero, born in 1598, year of death unclear, is asked in the bundle by an Elvira whether she can write. Ira affirmed. Elvira says, "If I could write, I would write my life down." To which this Ira, who works as a healer in a brothel, thinks, "I can write, but I don't have a life to write down. […] What is writing to me wasted!"
Writing down your life, first of all leading a life and fighting for yourself that you would like to describe – this is one of the motifs that runs through Kim de l'Horizon's debut novel "Blutbuch". The second main motif: "Blood Book" is also a family novel, albeit one that wants to leave behind both standard families and standardized writing about them.
And there is a third motive: in all of this, writing by no means means neutral description. It is staged here as an act, a positing, also a creation of identity. And no matter how fluidly this written identity is then asserted in the text – one can also see in its best passages what always resonates with the heavy baggage of guilt and insecurities, inherited imprints and fears.
waves and billows
At one point it says that "writing is a single wavy line, a distant wave that began long before me and will continue long after me". This sentence is not only interesting because of the imagery of waves and billows, but also because it becomes clear that writing one's own life here is always intended as an inscription in traditions. And as far as spelling is concerned: We are in Switzerland, the Swiss double s is retained in the text.
It might be a good idea to open a review of this novel with this serious writing commitment. You could also start in a completely different way. One could think of many other adjectives for this novel in addition to "burning". In parts it really is a wild ride of consciousness, then again a gentle reminder of childhood, there are highly reflective sections, but also intoxicating narrative moments.
You might also find it a little funny that now that the book is on the shortlist for the German Book Prize and it is no longer (only) officially listed as "queer" but also under "literature", the high literature specialists and booksellers nationwide are overflowing the explicit anal sex scenes that the novel contains sex-positivity-wise.
Into the goethen mold
Or one can ponder how the book deconstructs but also restores the family novel. "What do texts look like if there isn't a human model subject at the center and the world gracefully gets shaped?" the narrator asks himself. Into the form of goethen, nice twist by the way, of course the text doesn't want that, so it breaks up the narrative forms.
But the narrator also knows that it's too simple to depict the dismembered world in dismembered texts. And so the novel jumps back and forth, jumps again and again to the meta level (including Eribon, Ernaux, Derrida inserts), jumps into the writing situation in between and then, like in a mosaic, catches the life of the narrator, her mother and grandmother one.
In its urge to confess, the novel is also annoying at times. It is not always possible to decide what is an open heart and what is a made-up diva-like mask. But the novel always gets you back. There are beautiful sentences, for example when the narrator is alone with the grandmother and writes: "My hands are barefoot in your hands", and also effectively used literary moments, for example when exciting sex with a Farid is first conjured up for pages and this Farid then briefly says: "But my name is Thilo." A beautiful illustration of a sentence that falls elsewhere: "My desire takes me for a walk."
patriarchal gender images
The third part is the most strenuous as well as the most impressive section. In a sometimes breathless stream of stories interspersed with the latest jargon, he revolves around the copper beech that the great-grandfather planted for his daughter at the beginning of the 20th century and how nationalistic ideas, family secrets and patriarchal gender images play a role.
Describing his life, partly distancing oneself from one's origins, partly aligning oneself with it, is currently a major topic in literature. Andrew Shepherd, Martin Kordic, Daniela Dröscher, Jan Factor are currently doing the same, each in their own way, the list could be extended. From a literary point of view, Kim de l'Horizon's "Blood Book" is certainly the most radical novel in this series, but the other authors also claim existential urgency.
What's happening? What you probably need to see is that telling yourself about your life is a coping mechanism, an act of orientation and self-affirmation, and that the need for it is obviously great, across the board, from the so-called subcultures to the mainstream.
Letter to grandmother
However, it is also interesting to classify the "Blood Book" in literary traditions. Thomas Mann's "Tonio Kröger" – "Why am I so special and at odds with everything, at odds with the teachers and stranger among the other boys" – can come to mind. In "Tonio Kröger", becoming an artist is the only recognized possibility of living a "different" identity.
Fritz Zorn's reckoning with his middle-class parents, "Mars" – "I'm young and rich and educated, and I'm unhappy, neurotic and alone" – also flashes in the references. In this seventies classic, self-realization is only conceivable as self-destruction.
On the other hand, the "Blood Book" is at least hinted at in the fifth section at the latest, also a novel about friendships. And overall it is also a long letter to grandmother. Liberation is such a big word. But the fact that our society is in the process of working away at least the strict distinction between "normal" and "different" can perhaps be seen from man to l'Horizon, with the effect that everyone then has to think about their identity.
However, maybe not as profound as Kim de l'Horizon.