Debating New Year's Eve Violence: Political Pyromancers
The CDU uses the New Year's events for a new debate on the leading culture. Instead, it's time to question the German firecracker tradition.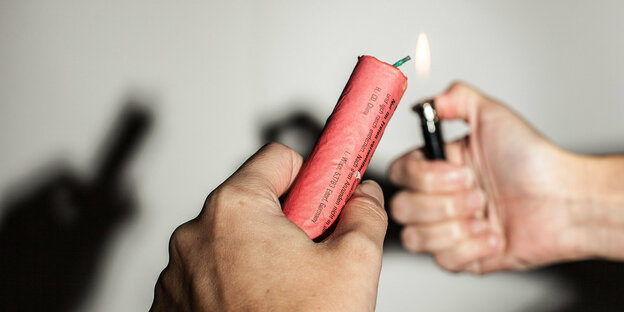 After the smoke has cleared around New Year's Eve, you can see more clearly. In many cities, police officers, paramedics, firefighters and bystanders were attacked with firecrackers. A coach burned out in Berlin-Neukölln, this image was seen in many media. Similar excesses also took place in Hamburg, Leipzig, Hagen and Essen. The police were attacked in Ostheim, Franconia, and the town hall in Borna, Saxony.
Despite this broad picture of the destruction and the diffuse causes, the culprits were quickly identified for some: "Young men with a migration background who despise this state", as not only SPD Interior Minister Nancy Faeser diagnosed. And once again the focus was on Berlin, on the Neukölln district.
Neukölln was not the city's biggest focal point on New Year's Eve. Most attacks on the police and fire brigade were registered in other Berlin districts, such as Mitte and Tempelhof-Schoeneberg. The number of arrests on New Year's Eve in Berlin also had to be put into perspective on closer inspection. Initially, the Berlin police spoke of 145 arrested people with 18 different nationalities.
Later he corrected daily mirror the number: Only 38 people were arrested for firecracker attacks on police officers and firefighters – most of them German citizens, many minors. Now the police do not want to confirm this number.
The confusion of numbers shows the dubious basis on which the atmosphere has been created since New Year's Eve. While most were still poking around in the rocket fog, CDU man Jens Spahn attributed the events to "unregulated migration, failed integration and a lack of respect for the state". CDU leader Friedrich Merz rumbled at "Lanz" against "little pashas" of Arabic origin and claimed without any evidence that "two thirds" of the suspects on New Year's Eve came "from abroad" and that they "had no business in Germany".
The current New Year's Eve debate also shows how important it is to deal with numbers and statistics seriously
Spahn added again: The problem is the "macho attitude" of young men in Berlin-Neukölln, which is characterized by a "certain cultural-religious environment". In doing so, Spahn, Merz & Co serve racist resentment, which is unfortunately widespread.
The New Year's Eve riots are comparable to the riots that also occur at football games or demonstrations: exceptional situations in which group dynamics and destructiveness take effect and the balance of power on the street is reversed. Violence researchers know that youth violence is often related to social conditions and is more common in places with high levels of unemployment and poverty: There, boredom and youthful carelessness brew up with anger and frustration to form a dangerous mixture, which can discharge when the opportunity arises. And New Year's is an auspicious occasion. In neighborhoods where many young people have had bad experiences with the police, the police then become the target of attacks.
Since New Year's Eve, many, including CDU leader Merz, have been reminding of the "Neukölln model" of the deceased juvenile court judge Kirsten Heisig and are demanding that punishment for a crime must follow immediately. The only joke is that the "Neukölln model" has been in force throughout Berlin for over ten years. The escalation on New Year's Eve obviously didn't prevent it.
But this debate has long been detached from empirical knowledge and facts. Otherwise one would have to state that youth violence has recently increased again throughout Berlin. Attacks on firefighters and police officers have also increased nationwide. Already after New Year's Eve 2018, trade unionists and politicians had called for better protection of emergency services. Most recently, however, the attacks came mainly from corona deniers, supposed normal citizens or football fans. There was no "integration debate" and there were hardly any loud calls for tougher penalties.
It is becoming increasingly clear that the CDU is taking this New Year's Eve as an opportunity for a concerted campaign. She has decided to once again campaign on the backs of minorities in the hope of winning back AfD voters. To do this, she takes her old noughties party hits "Leitkultur", "Parallelgesellschaft" and "Islam" out of the mothball box and hopes that they will still ignite.
The AfD is surprisingly quiet
The party has successfully brought itself back into the conversation, using recipes from the past. On the other hand, one hears surprisingly little from the AfD: it is drowned out with its own method.
Unfortunately, many media are only too happy to play along with this game. Responsible journalists should question the basis on which quick populist diagnoses are made and the motives behind them. The New Year's Eve debate also shows how important it is to deal seriously with numbers and statistics. And even if many of the suspects have a migration background, the question remains: what does that matter? In cities like Berlin, many firefighters, police officers and horrified residents also have a migration background. Especially people who have fled from war zones often don't get anything out of the German firecracker tradition.
New Year's Eve would be an occasion to reconsider the German firecracker tradition. In other countries there are central fireworks and concerts. Taking firecrackers into your own hands is not allowed, there are good reasons why this is considered too dangerous. Only in Germany is firecrackers considered a kind of civic duty, which leads to the rule of thumb of the street every year.
Why actually? We could learn from abroad. Then New Year's Eve would be a holiday for everyone. And political pyromaniacs would have one less topic to ignite.