Dead and injured in Congo: Terrorist attack on a baptismal service
A bomb explodes in a church in the small town of Kasindi on the Congo border with Uganda. The government blames ADF rebels.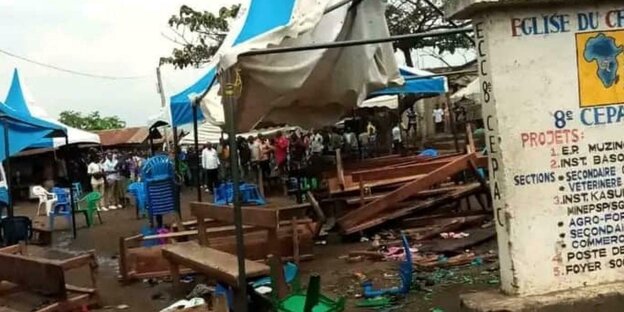 BERLIN taz | A bomb attack on a fully occupied church on Sunday claimed numerous lives in the east of the Democratic Republic of the Congo. In the early afternoon, the government initially confirmed five dead, local sources spoke of up to 17, and several dozen were injured.
At around 12 noon local time, a bomb exploded during a baptismal service at a Protestant church in Kasindi, a small town right on the border with Uganda. photos and videos that subsequently circulated on social networks show mangled corpses and bloodied worshipers inside and outside the church grounds.
Congo's government said, it was "obviously" the "ADF terrorists" responsible for this "purely terrorist attack". the ADF (Allied Democratic Forces)originally created in Uganda and active for a quarter of a century, primarily in the province of North Kivu in eastern Congo, are now claiming affiliation with the global "Islamic State".
The ADF is responsible for by far the highest number of civilian deaths in the many armed groups in eastern DRC. Since November 2021 is Ugandan army deployed against them in Congobut this has not weakened it permanently, in part because it has backup areas in North Kivu's neighboring province of Ituri.
Wave of attacks and massacres
Ituri also experienced another wave of attacks and massacres in the past week. During the week, more than 60 people died in targeted attacks by ethnic militias on civilians in various locations in Ituri. According to the Ituri civil society umbrella organization, an ADF attack on Wednesday last week also claimed eight lives.
That Ituri provincial parliament demanded after the wave of attacks, a review of the martial law in force in the province since May 2021, as this had apparently not achieved the desired results.
The new escalation of violence comes as government and international diplomacy in the DRC focus almost exclusively on the Rwandan-backed rebel movement M23 (March 23 Movement) which is active further south in North Kivu. East African Task Forces are currently trying to set up a buffer zone between the government area and M23 area north of the provincial capital Goma, but fighting continues in other areas.
The Congo government's attention to other armed groups in the region, particularly the ADF, has waned amid the resurgence of the M23.