David Bowie documentary "Moonage Daydream": A sex god for everyone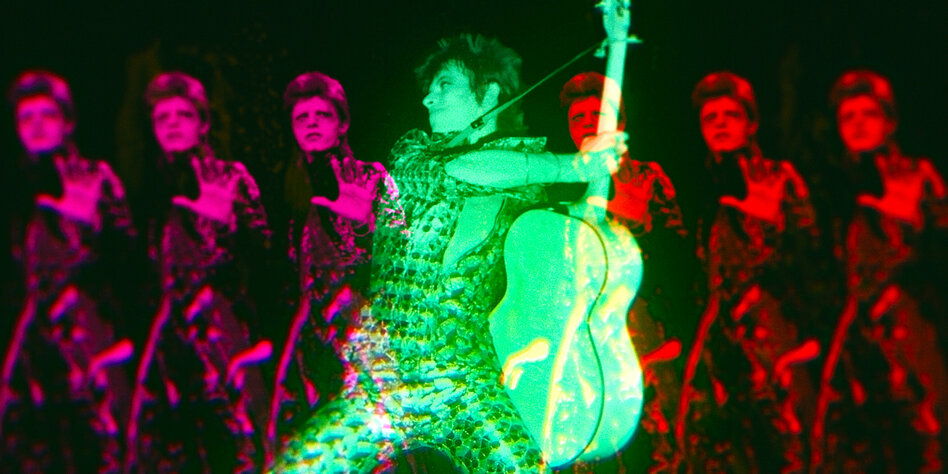 The documentary Moonage Daydream is a frenzied psychedelic kaleidoscope about David Bowie. He can be experienced as an oversized artist.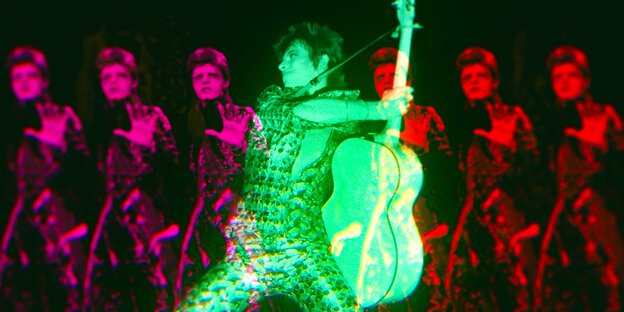 David Bowie breaks every frame. However, the 300 square meter screen of an IMAX theater might just about fit him. That's what the US documentary director Brett Morgen is hoping for, who - after his Kurt Cobain documentary "Montage of Heck" - is now dedicating himself to a music icon for the second time.
Then Bowie, who died shortly after his 69th birthday in 2016, left a work that was as extraordinary as it was interdisciplinary – in addition to his music and lyrics, he acted in films and on Broadway, he painted, danced, indulged in vestimental fantasies and experimented with gender fluidity. Appropriately, Morgen's approach is not chronological, but intuitive: his 134-minute long, versatile "Moonage Daydream", commented almost exclusively by Bowie-O-Tones, works with theme clusters.
He begins with a collage on Bowie's importance as an androgynous-erotic "object of desire" - coveted by boys and girls, men and women and everything in between, and embracing all of these designations as well.
Morgen assembles songs like "All the Young Dudes", "Hallo Spaceboy" and "Life on Mars" to form nested sound clouds, leaves excerpts from talk shows (the musician as a relaxed conversation partner with countless colors on his limbs, in glittering platform high heels and with adorable, crooked-toothed smile) meet close-ups of enraptured fan faces and sprinkles the giant screen with abstract explosions of color.
Millions of image and sound documents
The director, who had access to all the material managed by the Bowie heirs and ate through the millions of visual and audio documents for five whole years and survived a heart attack, used, among other things, the original tapes of DA Pennebaker's 1970s concert film "Ziggy Stardust and the Spiders from Mars" reassembled.
He shows camera views of Bowie's crotch, flashes bare thighs over overknees, swings boyish hips and thus illustrates the orgiastic quality and amazing gender diversity of this early phase: Bowie comes across as a spiritual entity, a sex god for everyone. The bisexual musician gave an entire generation a coming out.
Another cluster is Bowie's artistic will and his unrestrained creativity - Morgen mixes images of early and late Bowie, who paints, writes, dances obsessively and considers the meta-levels of his art just as obsessively: "Artists are inventions," says Bowie, his - the voice nach – older me talks about the approach of not wanting to make music for the masses and about the surprise of convincing exactly those masses with it. Bowie's accented words describe the urge to produce art that began as a boy.
The Brit's past flashes up in only a few images, they point to a lack of love in the parental home, a problematic mother-son relationship and a strong cultural imprint through a half-brother who later developed schizophrenia - an almost classic creative biography, undercut with original recordings of anonymous workers from the dreary post-war Brixton of the 50s.
Completely rethink sound and music
Bowie's stay in Berlin is also dedicated to one of the "chapters" that drift into one another - according to his own statement, this is where the artist began to completely rethink sound and music, as is well known with great success, and some German text lines in the legendary "Heroes".
Slowly Morgan's cluster trip is starting to emerge as something of a dramaturgical development that follows Bowie's mental state: "I want to live" is heard singing in his long and desperate song "Cygnet Committee" (1969), excerpts from "The Man Who Fell From Heaven" shows him as an alien, clips from "Merry Christmas, Mr. Lawrence" as a prisoner of war.
The following, borderline deafening, portion of the film explores Bowie's love of chaos; in a "Let's Dance" section, the director honors Bowie's dancing skills. Building on early lessons from his theater days in the Pierrot look, the blond, gray or red-haired, but always energetic man swings across stages and through videos and twists his graceful body to the beat.
Refrain from confirmation by fans
With Bowie's encounter with his second wife Iman, Morgen injects some calm into the frenetic mix, showing Bowie as someone who has arrived, found love to hold him - and is even ready for it, the exalted, egocentric life of the artist backtracking and forgoing fan endorsement in favor of the relationship with one person. His "Black Star" late work is characterized by thoughts of transience and deathThe fact that these impulses also appear late in the film reinforces the appeal of the chronology.
That morning on every level an oversized cocktail from Bowie's early and late phases as well as from image, sound and specially created graphic elements was stirred together and that again and again quotations from important works of cultural history (Buñuel, Méliès, Keaton, Murnau etc. etc.) these accompanying eclectic melange is logical: "Moonage Daydream" describes an oversized artist.
A conventional biography format would not do justice to this man
Morgen said in an interview that he didn't make a film about Bowie, but one that tries to capture his spirit - through encountering Bowie's art you learn something about yourself. A conventional biographical format would simply not do this man justice. And who should that be good for too: the many longtime Bowie fans know the facts, those who want to win the sensual experience as new fans have to be addressed on a sensual level anyway.
Legitimate hero worship or presumption?
Nevertheless, at the end of the beguiling IMAX intoxication, the shrill sound quality of which falls sharply compared to the picture quality, a few doubts remain: Is it artistic freedom, is it legitimate hero worship or does it border on presumption when one sees Bowie's art at different stages of life and with different motivations reassembled according to your own understanding of art - and in doing so openly benefited from the original, original power of the works?
Does it make sense to ignore any criticism of Bowie – postcolonial possible interpretations in the text of "China Girl", the images used as a common thread of Bowie in a safari suit roaming through an "exotic" environment? And what was the man like anyway - does Morgen's tendency to isolation, which is underlined by corresponding, largely humor-free quotes, point to the classic "lonely artist" or does his charisma, his artistic determination, coupled with the statement, not even love allowed to get in his way, also read as narcissism?
Didn't he really need friends? Bowie has a son with his first wife Angie and a daughter with Iman, the existence of his children is not mentioned in the film - perhaps fatherhood had no bearing on Bowie's creativity. But how much is that interpreted?