"Daisy Jones & The Six": Fictional band inspired by Fleetwood Mac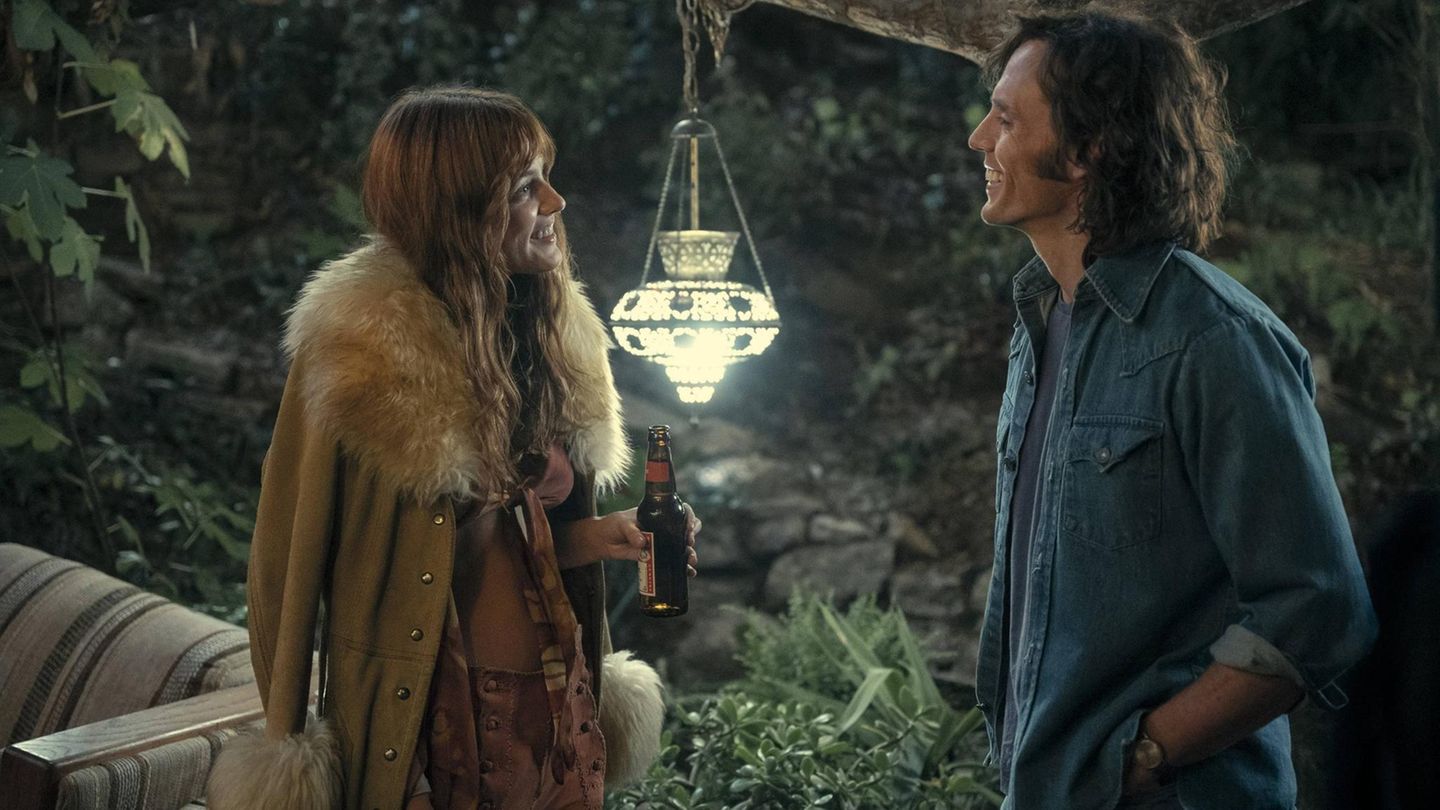 Series based on the book
"Daisy Jones & The Six": Which real love drama is said to have inspired the fictional band story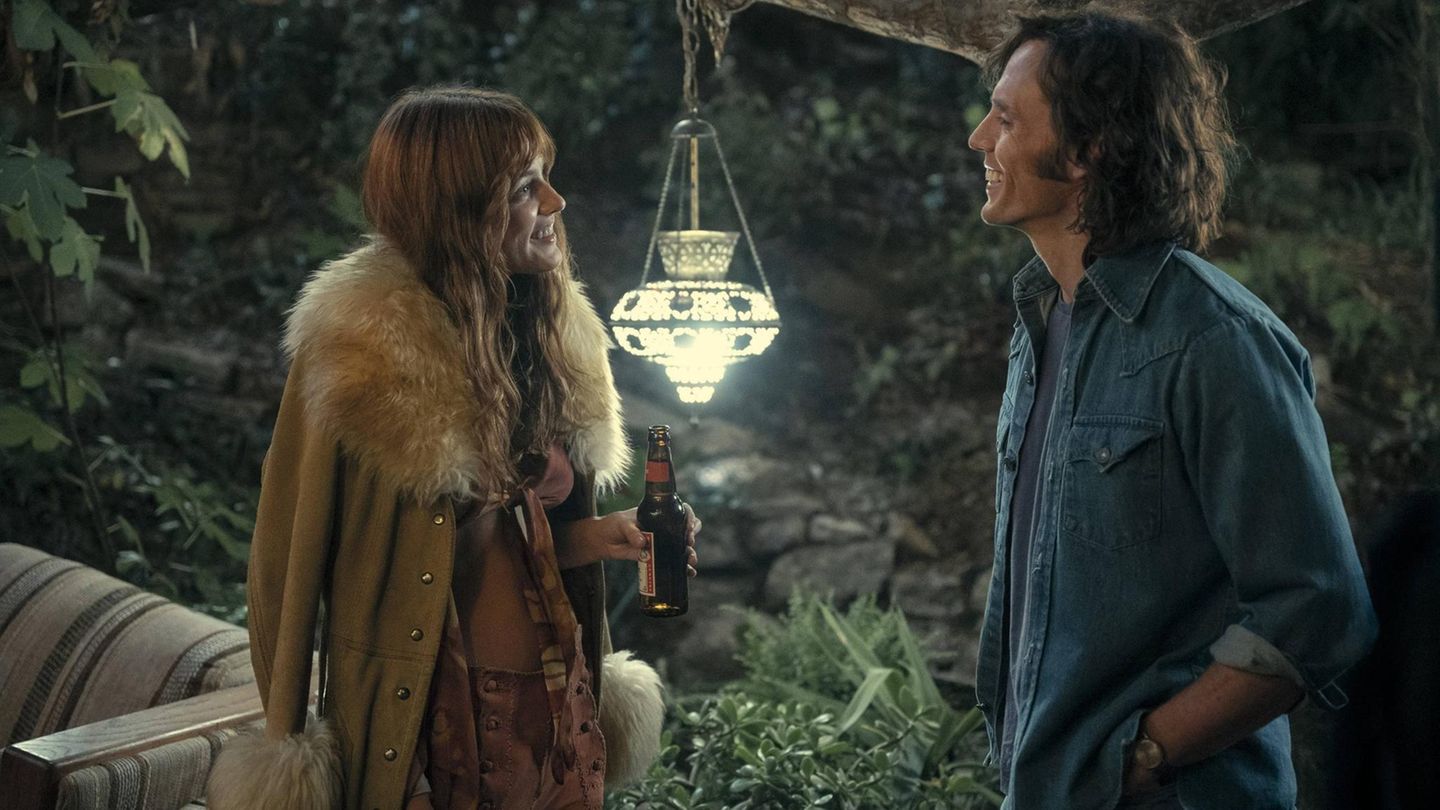 The Amazon series and book of the same name, "Daisy Jones & The Six" tells the story of a fictional 1970s rock band who get into trouble because of personal feuds. She was apparently inspired by Fleetwood Mac.
The Prime Video series "Daisy Jones & The Six" transports its fans back to the 70s. Based on Taylor Jenkins Reid's book of the same name, the series tells the story of a fictional rock band led by lead singers Billy Dunne (played by Sam Claflin) and Daisy Jones (played by Elvis' granddaughter Riley Keough).
Dunne and Jones are the duo who will bring the band to fame with their incredible chemistry – but the two heroes are tormented by their own demons. Drugs and a sad family history unite the stars, but then there's the undeniable attraction that could get them in trouble, after all, Billy Dunne is married.
"Daisy Jones & The Six" inspired by Fleetwood Mac

The episodes of the series that have been released so far have triggered a discussion on the Internet. At the heart of this is the question: Was the fictional story inspired by real facts? Two names keep coming up: Stevie Nicks and Lindsey Buckingham Fleetwood Mac. In fact, author Taylor Jenkins Reid revealed that she was inspired by Fleetwood Mac when writing 'Daisy Jones & The Six.'
Only in 1975 did they close Nicks and Buckingham Fleetwood Mac – and led the band to global success. But – similar to "Daisy Jones & The Six" – the romantic relationships of the band members should cause a lot of problems. Before becoming members of Fleetwood Mac, Nicks and Buckingham were already a couple, having met at a church function as teenagers. But while the two were celebrating their first successes with Fleetwood Mac, the relationship had long been in trouble and the band's togetherness was marked by drama.
actress and musician
As Sandy, she sang her way into the hearts of fans: The Life of Olivia Newton-John in Pictures
Behind-the-scenes drama

"When we split up, two years after joining Fleetwood Mac, it was like a living nightmare," Stevie Nicks told Australia's Woman's Own magazine in the early 1990s. "He and I were about as compatible as a boa constrictor and a rat," she explained of the dynamic. The other band members also had relationship problems and drugs to fight. At the same time, the band was producing their most successful, critically acclaimed album, Rumors.
"We were all in an emotional ditch. Everyone knew everything about everyone. But I was the pig in the middle because I had less trauma than the others," Mick Fleetwood once said "People". Perhaps the turbulence was the recipe for success behind "Rumors". "Rather than turning to friends to talk about it, they let their feelings out through their music," producer Richard Dashut told Modern Recording in 1979, according to People. "Our personal lives were in shambles and the album was pretty much all we had left," he explained.
Even "Daisy Jones & The Six" can agree on little between people. There is tension within the fictional band, Billy Dunne and Daisy Jones sometimes hate each other, then love each other again. Only their album "Aurora" (here you can also see the similarity to Fleetwood Mac) inevitably welds the individual band members together.
Taylor Jenkins Reid explains her inspiration

As the author explains, Fleetwood Mac's performance inspired Taylor Jenkins Reid so much that she invented "Daisy Jones & The Six". Mostly I was looking for videos of No Doubt or Third Eye Blind maybe even Jamiroquai walking down the walls What I wasn't looking for was an old band I had never heard of doing a 2 hour live concert and anticipated my Puff Daddy videos," she tells Reese Witherspoon's book club website. "Even so, that summer Fleetwood Mac continued to do both channels and sing their biggest hits on a reunion show called The Dance. They were just inevitable," Reid writes.
She first noticed Nicks' performance of "Landslide". "As the song drew to a close, Stevie and Lindsey drew closer and smiled tenderly, maybe even a little wistfully. Lindsey stopped strumming for a moment and Stevie let it rip while he watched from the edge. And for the fraction For a second – just a split second, really – Lindsey put his fist under his chin and looked at Stevie like she was a miracle. And I was like, 'Oh, they're in love,'" the author recalls today. "Imagine my surprise when my mother explained to me later that although they had been together once, they weren't together anymore. It made no sense to me. But they love each other!"
It was that Fleetwood Mac performance that she remembered writing "Daisy Jones & The Six." "It looked so much like two people in love. And yet we'll never really know what was between them. I wanted to write a story about that, about how the lines between real life and performance can blur, about how singing about old wounds they can keep fresh", she explains her thoughts.
The result is a bestseller whose film version is just as popular with the masses.
Sources: "people" / "Variety" / Reese's Book Club