Criticism of France's Left Party after allegations of domestic violence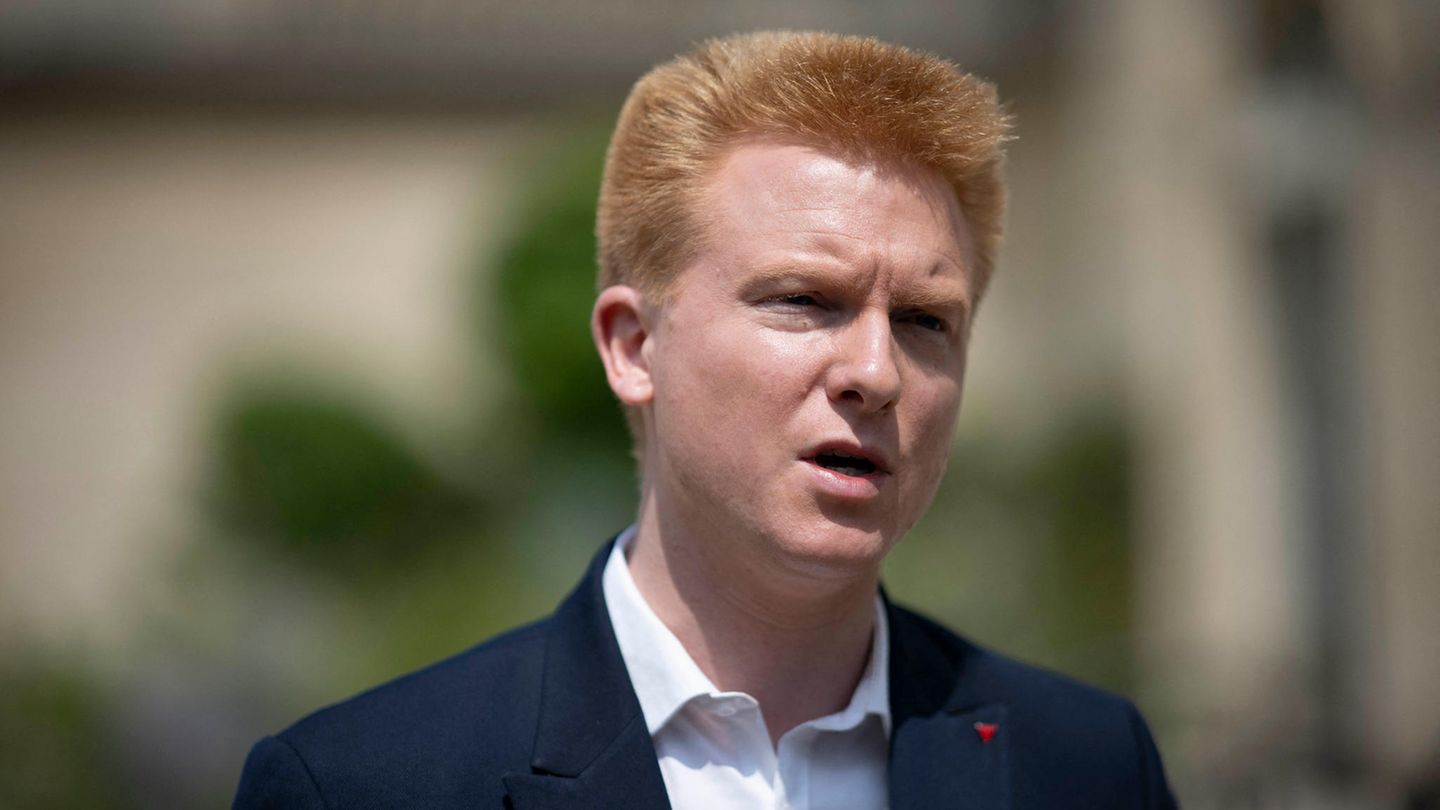 In France, a case of alleged domestic violence by a member of parliament causes a stir in the left-wing party alliance. Above all, Mélenchon, party leader of "La France Insoumise" has been sharply criticized for handling the case.
A deputy from the left-wing populist party La France Insoumise (LFI) and a close confidante of party leader Jean-Luc Mélenchon has admitted to having slapped his wife in the face during the argument. The case and the party's reactions to it caused a stir - especially since there had been allegations of assaults against women within the party in the past.
LFI MP Adrien Quatennens, 32, publicly admitted hitting his wife this week, international media consistently reported. The French satirical weekly "Le Canard enchaîné" published last week that his wife Céline Quatennens was with the police made a statement about a domestic violence case – but without filing a formal complaint. Because the couple is currently in the divorce process, her testimony was deposited in the court documents. Quatennens then admitted to having slapped his wife in a "heated up" argument, which he "deeply regrets".
MP Quatennens wants to step down as party coordinator

Quatennens had previously been considered a potential successor Melenchons at the head of the party. After the publications, he announced on Twitter that he would give up his position as the party's coordinator in order to avert damage from her. The Lille public prosecutor's office has now launched an investigation into the case, as reported by "Le Parisien". Quatennens has not yet been interrogated. Meanwhile, his attorney declined to speak of domestic violence. The couple would not be at war with each other, and the slap in the face would not represent the entire lounging together. A joint letter from the Quatennens states that they are trying to get an amicable divorce.
Jean-Luc Mélenchon expressed his support for Quatennens on Twitter and was heavily criticized for it. In his tweet, the former LFI presidential candidate criticized the police, the media and social networks for interfering in the divorce of Adrien and Céline Quatennens. But it was the last words of his tweet that caused outrage: "Adrien decides to take everything upon himself. I applaud his dignity and courage. I express my trust and affection in him."
Mélenchon was criticized for a supportive tweet

After criticism of his statements, Mélenchon tried to backtrack, adding that slapping someone is "definitely unacceptable." Quatennens takes responsibility for this, and that's good. However, Quatennens received support from his party not only from Mélenchon. LFI MP Sophia Chikirou also praised him for his "honesty and self-sacrifice".
Especially within the left party alliance "Nouvelle union populaire écologique et sociale" (Nupes), there was a lot of criticism of Mélenchon's statements, as "Le Monde" reported. His statements seemed like they were from another time, said the Green Senator Mélanie Vogel. Luc Broussy (Parti socialiste) found even clearer words. So Mélenchon's reaction shows again that he is not capable of taking the lead for a modern, humanist and feminist left. French Prime Minister Elisabeth Borne (Renaissance) also described the tweet as "extremely shocking". He trivializes violence within families.
The party eventually issued a statement welcoming Quatennen's decision to step down from office. She also emphasized that she wanted to continue to get involved in the fight against violence against women and referred to her committee against gender-based violence, which is always ready to listen to women.
Feminist collective criticizes lack of support for victims

The feminist collective "Relève Feministe", which includes over 500 feminists, published an op-ed in the daily newspaper "Libération" demanding that Quatennens also relinquish his parliamentary mandate. They denounce that a party with what is actually a feminist program can be expected to support victims of patriarchal violence instead of protecting aggressors.
Sexist violence by left-wing parties must be put to an end. But there is also a cross-party system that serves to protect attackers, they criticize.
Allegations of assaults against women within France's left are piling up

It is not the first time that such an incident and the discussions that have erupted over it have shaken the left-wing party alliance. Already this year there have been several allegations against LFI MPs related to sexual assault. Shortly before the general elections in June, several women accused then-LFI candidate Taha Bouhafs of sexual assault. The Party Committee for the Prosecution of Sexual Violence received anonymous witness statements. Bouhafs denied the allegations, calling them defamation. He withdrew his candidacy.
Several MPs, including party leader Mélenchon, had nevertheless publicly supported Bouhafs - which was due to the fact that few party members even knew about the allegations, according to a lawyer from "La France Insoumise". After a two-month silence on social media, Bouhafs himself published a letter that suggests that the party deliberately wanted to keep the allegations small. In it he again denied the allegations of sexual assault and criticized the party for never having disclosed the exact allegations to him. At the time, an LFI member of parliament even tried to persuade him to justify his resignation with racist attacks against him – which actually happened – instead of with the real reasons. This shocked him.
A short time later, in July, the chair of the budget committee, Eric Coquerel, also faced allegations of sexual harassment from Sophie Tissier, a former Yellow Vest activist. He described meeting her as flirting. Mélenchon had also publicly expressed his full support for him. Tissier went to court with her allegations, the judiciary is still investigating. Coquerel continues to hold office.
Criticism of sexism also within the German Left Party

In Germany, too, there had been criticism of sexism, alleged sexual assaults and how to deal with them in the Left Party. At first, allegations were made in several state associations, and finally at the parliamentary group level. There is a "structurally discriminatory" climate against female MPs and, among other things, sexually charged statements with the aim of intimidating women, the editorial network Germany quoted a left-wing MP as saying. There have also been isolated cases of sexual assault.
The chairman, Janine Wissler, was also directly accused of not listening enough to those affected. While she remained in office, Susanne Hennig-Wellsow resigned as co-chair – the allegations had revealed clear deficits within the party, she justified her decision.
Sources: euronews, Midi Libre, Le Parisien, le monde,TF1 Info, FAZ, political, Liberation I Liberation II, France 24, RND