Corruption trial in Argentina: Six years in prison for Kirchner
A court in Buenos Aires convicted Vice President Cristina Kirchner of corruption and abuse of office. However, she does not have to go to prison.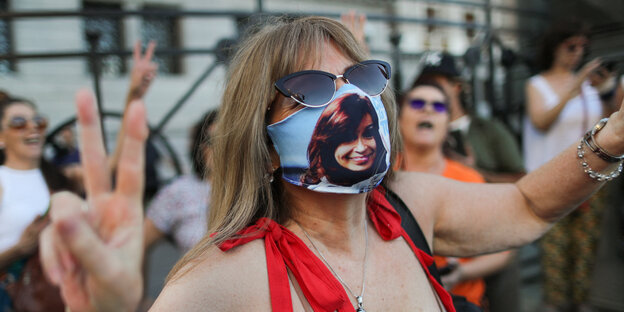 BUENOS AIRES taz | Argentina's Vice President Cristina Kirchner was sentenced to six years in prison on Tuesday. A federal court in Buenos Aires found Kirchner guilty of corruption and abuse of office. In addition, the three judges imposed a lifelong ban on holding public office. Since Kirchner has immunity as vice president, she does not have to go to jail.
With their verdict, the federal judges remained under the sentence of 12 years demanded by the public prosecutor. The public prosecutor had Cristina Kirchner the formation of a criminal organization accused of having been their boss. The majority of the judges rejected this charge. Eight of the 12 co-defendants were sentenced to prison terms of between four and six years. Four were acquitted.
The public procedure involved 51 road construction projects in the province of Santa Cruz, the orders for which were mainly from the entrepreneur's construction company Austral Construciones Lazaro Baez received from the then Kirchner governments between 2003 and 2015. This was a sum of the equivalent of almost one billion euros. Báez received a six-year prison sentence.
According to the court, "there was an extraordinary fraudulent maneuver criminally damaging the financial interests of the national public administration". Vice President Cristina Kirchner had "an obvious interest in the criminal plan," the judges said. The verdict will be read out next March.
"Today an innocent woman was convicted"
Cristina Kirchner watched the verdict from her Senate office in the Congress building. She then spoke up on her social media channel, again denying any guilt and attacking the judiciary. "This judgment has its origins in the parallel state of a mafia-like judiciary." Surprisingly, she announced that after the end of her term of office she would no longer want to run for any other offices. "On December 10, 2023 I will go home without immunity and if they want to lock me up, then they should do it," Kirchner said.
"Today in Argentina an innocent person was convicted", tweeted President Alberto Fernández. "Someone that those in power have tried to stigmatize through the media and have been hounded by smug judges who drive around in private planes and luxury homes at weekends." The president was referring to a recent judicial scandal involving judges, prosecutors and journalists the extent and consequences of which cannot yet be foreseen.
The verdict only becomes final when all court instances have been passed and the guilt of the accused is finally confirmed by the Supreme Court. The defense is expected to embark on this path, which may drag on for several years. If the verdict is actually confirmed in the end, Cristina Kirchner does not have to go to prison. On February 19, she will be 70 years old and could only be placed under house arrest for reasons of age.
Already in the early afternoon, Kirchner supporters had marched through the city center in front of the courthouse. Among them was Kirchner's former Vice President Amado Boudou. Boudou was sentenced to five years in prison in 2018 for granting advantages in office. Except for shouts of protest and an intermittent shaking of the barrier, it remained peaceful. In the evening, around 2,000 sympathizers gathered in front of the congress building, surprised by the announced waiver of any future candidacy.