Corona lockdown in Beijing: "White giants" in front of the door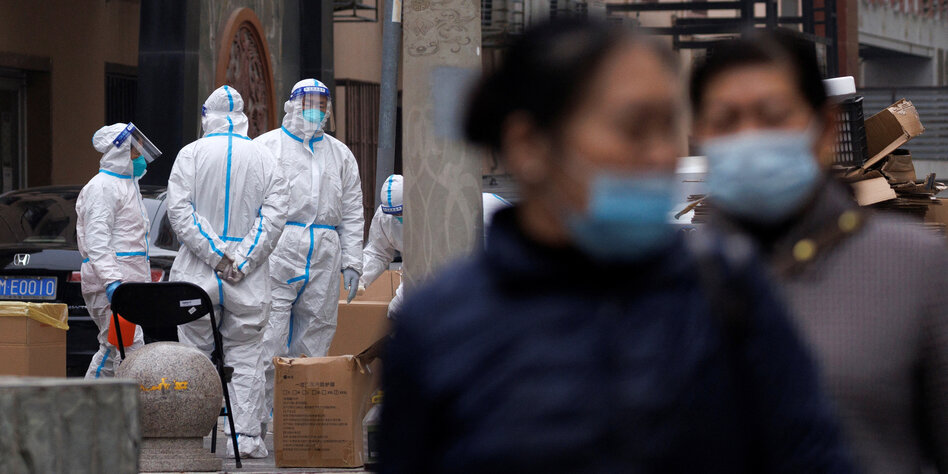 Our Beijing correspondent knows the fear of the lockdown. Then the epidemic protection staff also appear in front of his apartment. A field report.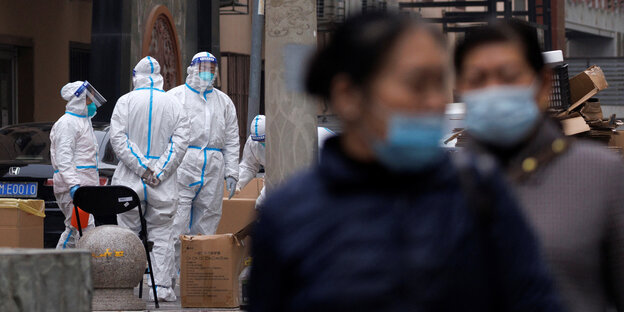 When I enter the entrance area of ​​my residential complex, lost in thought – a no-frills, functional building with 25 floors – I suddenly recoil: five men in white body suits are in the process of blocking off the corridor to the elevators with colorful plastic tape. Before the "white giants", as the health workers are called in China, ask me to come along, I have already fled.
It was only a matter of time before that regular lockdowns would also meet me in person at some point. After all, the number of infections in Beijing is currently over 400 – and thus higher than ever before. Maneuvering through everyday life has long resembled a risky gauntlet run through an urban minefield: an unexpected lockdown can lurk behind every office corridor or restaurant visit. Because thanks to the health code and GPS data, no movement goes unnoticed by the disease control authorities.
The corona map on my smartphone has long been interspersed with hundreds of red warning dots: Each one of them means that an infected person lived, ate or worked here – and now the "white giants" have moved in with their barrier tapes and plastic grids.
My thoughts switch to car mode, because I – like probably all 20 million residents of Beijing – have already prepared several times for an emergency: The pantry is filled with enough cooking oil, rice and pumpernickel; and there is enough canned and dry food in the house for the cats too.
Ten throat swabs go into a single tube
While I'm thinking about the "worst case", a Wechat message from my neighborhood committee pops up on my phone: "Good morning! We have received notification that we have one person who may have tested positive for a PCR test," it said.
However, this is only a suspected case of corona: During the mass tests, for which every resident of the capital has to queue every third day at the latest, ten throat swabs are put into the same tube for cost reasons. So if the virus is detected in a sample, the authorities "as a precaution" seal off the residential complexes of all ten people tested – even if nine of them were not infected with Corona at all.
While the world has learned to "live with the virus," the People's Republic of China is trying its best in the third year of the pandemic "Zero Covid" strategy keep upright. The most recent "optimizations" of the corona measures have not changed that: All outbreaks of infection should continue to be brought under control. And in fact, until recently, the numbers were so low that, according to the official statistics, no one has died of Corona in the Middle Kingdom for months.
Personally, on the other hand, I'm less afraid of the virus than of the upcoming lockdown that's lurking in my apartment. In order to at least push this back a little, I kill the next few hours on the streets of early winter Beijing. There I see countless ambulances racing through the city with blue warning lights: They take corona infected people to quarantine hospitals, where they often stay for weeks whether they have symptoms or not.
Mobile bucket toilets in the hutong alleys
A distant friend of mine is also among them. In the last selfie he takes from his apartment before the ambulance picks him up, he looks a bit like an astronaut in his white body suit. I notice that he is the first among all my acquaintances in China who contracted the virus. Outside of China it's almost the opposite: I hardly know anyone who has never had Covid.
In contrast to my acquaintance, I only have to face a forced quarantine of several days in my own four walls. But even this can be unpleasant, as a friend tells me: She lives in a traditional hutong alley, which has been popular among well-heeled expats and Beijing hipsters for several years. But as romantic as the old courtyard houses are during mild summer nights, they are impractical during a lockdown: Since not all households have their own toilet, the authorities there distribute mobile bucket toilets, which are finally collected after five days of curfew.
After the temperatures approached freezing point in the evening, I finally gave up and voluntarily returned to my house. What other choice would I have? My passport, which I would need to escape to the hotel, is finally in my desk drawer.
The neighborhood committee, which stands guard in front of the front door with a handful of employees, says in a particularly friendly manner: once I enter, I'm not allowed out.
But in the end I get away with a mere shock: the home isolation was only supposed to last a few hours. The test results arrived before 10 p.m. – and our neighbor's suspected case of corona turned out to be a false alarm. Many Chinese, on the other hand, are less fortunate: In Xinjiang, for example, large parts of the region have been completely sealed off for more than 100 days.
My newly won freedom is also extremely fragile. On Friday, the city authorities responded again with a text message: For the time being, no one should leave the district borders unless it is absolutely "necessary",
On my morning walks I will have to draw smaller circles.