Corona in Xinjiang: Lockdown with supply problems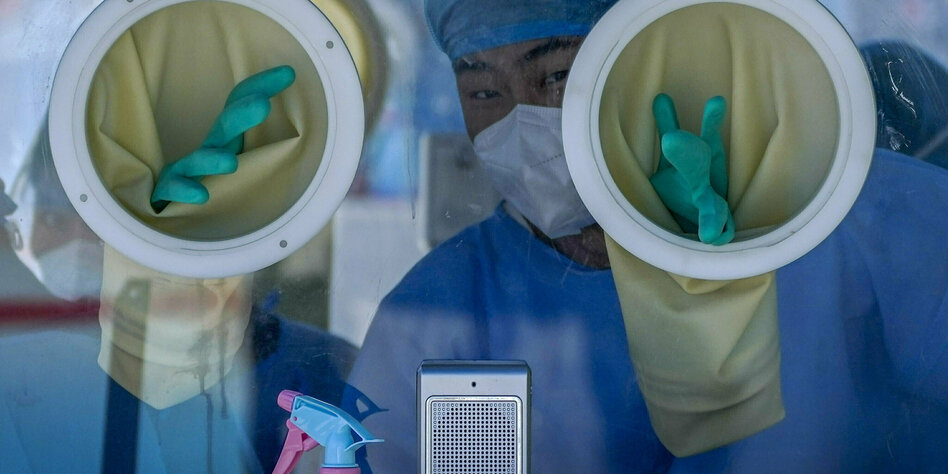 In a border town in northwest China, residents report hunger and medical shortages. The authorities admit mistakes.
BEIJING taz | The videos posted by residents of the northwestern border town of Yining revisit the horrors of China's lockdown measures. A recording shows a mother, who had just given birth in the hospital, desperately begging for entry with her newborn in front of her locked apartment complex.
In other clips, filmed with a smartphone, a father tearfully reports that his three children have not eaten for days.
The city of Yining on the border with Kazakhstan has been in lockdown for almost a month and a half. There is no official notice of this, because in the ideologically flowered language of the Communist Party it is just a "rest period" or "static management". De facto, however, the majority of the 400,000 residents cannot leave their homes and are dependent on government food supplies.
The downsides of the Chinese corona lockdowns have already been sufficiently documented. But in contrast to previously sealed off metropolises such as Chengdu, Xian or Shanghai, the residents of remote Xinjiang find it much more difficult to make themselves heard.
Supposedly already twelve dead because of lockdown
For more than five years, China's government has been in the predominantly Muslim region a storage system erected in which it locked up hundreds of thousands - possibly over a million - members of the Uyghur minority in order to "re-educate" them politically.
Officially, to fight terrorism, the authorities have one repressive police state created, which was deeply internalized by the population. In Yining, too, the bulk of the population belongs to ethnic minorities, primarily Kazakhs and Uyghurs.
Accordingly, it is difficult for a journalist to get an independent picture of the situation on the ground. But all signs point to a tragedy: Radio Free Asia reports that at least a dozen people in the district have died during the lockdown – as a result of hunger or a lack of medication. The media, funded by the US government, refers to a Chinese official. However, the information cannot be independently verified.
But it is more than obvious that the excesses of China's draconian zero-Covid policy are being repeated in Xinjiang. On the online platform Weibo, residents in the lockdown report that government food deliveries are irregular and consist only of instant noodles or bread.
No hospital treatment without a PCR test
Others say that even in acute emergencies, hospitals refuse to admit patients if they cannot show a current PCR test. Concerned people also post photos of their housing complexes, the entrances of which have been sealed off with tarpaulins: "What should we do if a fire breaks out?" writes one user.
Almost all of the descriptions are similar to anecdotal experiences that residents in other Chinese cities have had during the lockdown. The obligatory punishment of local officials is also repeated in Yining: 19 officials were sanctioned for failing to prevent the corona outbreak and to meet the basic needs of the population. However, this fails to recognize the basic problem: It is not a question of individual errors, but of the excesses of an inhumane system.
However, little will change in the corona strategy for the time being. The closer the 20th party congress on October 16 in Beijing approaches, the more rigidly the zero-Covid policy is being implemented. This is what state and party leader Xi Jinping wants, who wants to crown his political career in Congress with a controversial third term.
A corona outbreak must not under any circumstances disturb this demonstration of power: Already only those who have previously stayed in a city that has not registered a single Covid case for seven days are allowed to travel to Beijing. More than 30 Chinese cities are already in partial or full lockdown - more than at any time since the beginning of the pandemic.
Yining's authorities have at least acknowledged that there were mistakes in medical care. They apologized and promised the population to improve. For many of those affected, however, such words mean little. "Your apologies are useless! What people want is very simple: solutions to the problem," writes a user on the online platform Weibo.