Contemporary witness remembers: "On April 1, 1933, I lost my faith"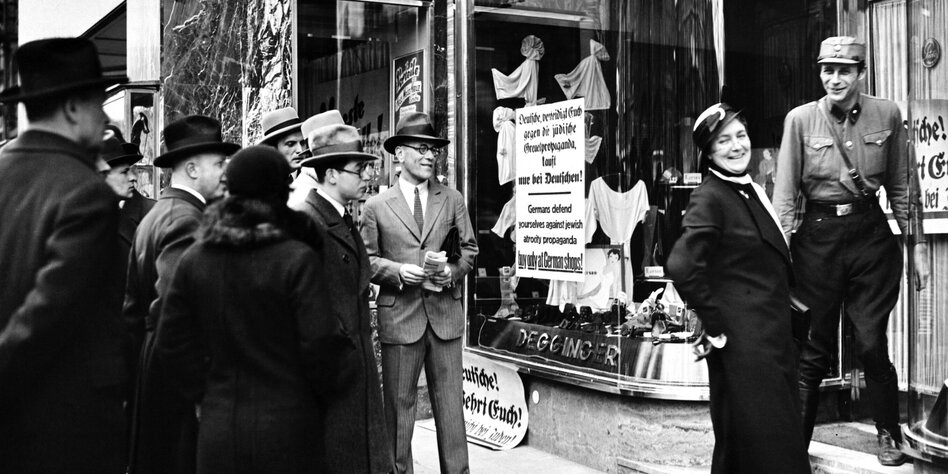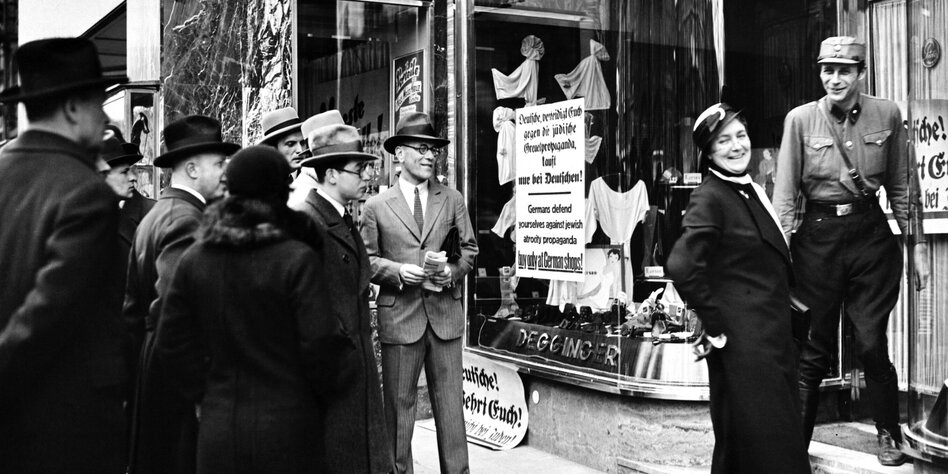 90 years ago the Nazis staged their first "Jew boycott". Walter Frankenstein experienced this day when he was nine.
Memories logged by Klaus Hillenbrand
I was born in Flatow in the Grenzmark province in 1924. The place is now called Zlotów and is located in Poland. At that time the small town had around 7,000 inhabitants, including a large number of Jewish families. My parents owned a shop on the main market, something like a corner shop. There was everything. On market days, farmers from the area came to Flatow. They sold their products at the market, such as eggs, butter, mushrooms and chickens. We also had an inn.
I still remember very clearly April 1, 1933, the day of the boycott against the Jews. I was standing at the window of our house when a group of men passed by on the street below. Some were dressed in SA uniforms, others were in civilian clothes. One of the uniformed men suddenly pulled out a pistol and shot us into the house. Nobody was hit or injured. But I stood there at the window and thought to myself: If this man doesn't drop dead within the next 50 meters, then I can no longer believe in God. Of course he didn't fall down.
I lost my faith then. Our shop window was daubed: "Don't buy from Jews!". They also put two SA men in front of the door, who turned away any customers. These men were not from Flatow themselves.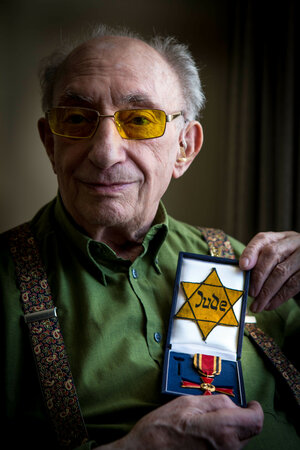 98, survived Nazi persecution, hiding in and around Berlin. After the liberation, he immigrated illegally from France to Palestine, was interned by the British in Cyprus and then lived in Israel until 1956. He then moved to Sweden with his family. Frankenstein lives in Stockholm. When he visits Germany, he talks to German school classes about his life.
Our house stretched from the main market to the parallel alley behind it. There was the entrance to the warehouse. We also had stables so that when the farmers came into town they could stable their horses there. An employee of ours gave the horses hay and water. The men came to our pub and drank beer and schnapps, the women went to the market and sold their products. Later they came to us and bought what they needed, salt, sugar, things like that. We lived in the same house. There were four small rooms on the ground floor and two upstairs. It was heated with tiled stoves. We already had a bathroom with a hot water heater.
At first I had a very nice childhood in Flatow. Until 1933 it didn't matter at all among us children whether someone was Jewish or Christian. No one asked what religious community anyone belonged to. I had friends who were the children of a Christian lawyer. I was also friends with the daughter of the Abraham family who were not Jewish.
There were five of us in the family, mother, father and three children. My father Max got married in 1905, I think. In 1910 a first son was born, Manfred, and four years later Martin. In 1917 my father's first wife died of blood poisoning. Through a sister of his first wife, he met my mother, Martha Fein, who lived with her parents in Braunsberg, East Prussia. They married in 1923. I was born a year later.
My father died in the winter of 1928/29. I then got a guardian, Uncle Selmar, who lived in Berlin as a doctor. My mother continued to run the shop and pub on her own. I didn't go to the synagogue regularly. Mother was a religious woman. At home everything was kosher. A distinction was made between milk and meat products. We had double dishes at home and also two stoves. The mother kept to the religious rules. But she didn't go to the synagogue that often either. She didn't have time either, she had to be in the shop.
At that time, on April 1, 1933, the SA men withdrew at some point. The mother was sad and scared. After that, far fewer customers came into the store. My mother had a book in which she wrote who didn't have enough money to pay. So the debtors were there with their names and sums. But after April 1st nobody paid their debts and my mother couldn't do anything about it. But we had more Jewish customers. It didn't go well, of course, but it went reasonably well. We also only employed Jewish staff. There were only two or three people instead of five or six.
"Germans, fight back! Do not buy from the Jew!" With such slogans began on Saturday, the April 1, 1933 the boycott of Jewish-owned shops, department stores, banks, medical practices and lawyers. The action was organized by the Franconian NSDAP Gauleiter Julius Streicher. It was justified with the alleged incitement of German Jews against Germany abroad. Similar actions, though not to this extent, had already been carried out by anti-Semites in the Weimar Republic and in other countries. Everywhere in Germany, SA men in particular marched in front of shops and offices, preventing customers from entering and daubing anti-Semitic slogans on the shop windows.
Under the Nazis, the "Jew boycott" was considered a failure. On the one hand, the actions often met with a lack of understanding among the population. In addition, threats came from abroad to boycott German goods in the future. Therefore, on the evening of April 1, the action was "suspended" and three days later blown off completely.
Shortly thereafter, discrimination against Jews began at the legal level. The "Law on the Restoration of the Professional Civil Service" of 7th of April made it possible to retire all "non-Aryan" civil servants. It was only the beginning of a long series of measures to completely exclude the minority from society. (klh)
After the Nazis came to power, the Christian parents forbade their children to play with Jewish children, I assume. The younger ones, around the age of eleven or twelve, went to the Jungvolk, then the boys to the Hitler Youth and the girls to the Bund Deutscher Mädel. Once I saw the Hitler Youth marching past from the window with pennants and drums. Then I thought, why were they allowed to do that and I wasn't?
At that time I went to elementary school in Flatow. There was another Jewish boy in my class there, his name was Heinz Bukowzker, the son of the master glazier. This was a scared boy and I had to protect him. Nobody beat me up. I was the tallest in the class and I wasn't scared. Little Heinz, who was sitting on the bench next to me, was beaten up every now and then. Once the Hitler Youth shot me in the back from a distance with an air pistol. But no one came near me.
I had had some Jewish friends before, the two Bukowzker brothers and two children of the Reich family. That's it. We were excluded. Before 1933 my birthdays were always celebrated big, but after that only my Jewish friends were there. My mother protected me, but so did my older stepbrothers. They didn't tell me much, but I still heard everything. Our lives have become more and more restricted by laws and regulations. There was no more intercourse with the Christian friends. You were pretty isolated.
Before 1933 I had also occasionally attended the Catholic Church with my nanny, Anna Kowalski, such as at midnight mass on Christmas Eve. She was a Polish Christian. There was a Christmas tree at home at Christmas, but the Jewish Hanukkah candlestick was also burning. That's how I got two gifts. After 1933 we stopped having Christmas celebrations. The Hanukkah celebrations became much smaller.
My uncle and guardian Selmar visited us from time to time from Berlin. During World War I he had been a senior staff doctor in the German army and had been awarded the Iron Cross, first and second class. He was very proud of that. He said: "Hitler is a bandit, he's a foreigner, not a German. The Nazis are bandits and will soon be gone." He didn't believe it would only get worse. In my childish naivety I hoped so too. But it kept getting worse.
Before the summer holidays began in Flatow in 1936, the rector summoned me to his office. He told me that as a Jew I could no longer go to school. So Uncle Selmar got me a place in the Jewish Auerbach orphanage in Berlin. From then on I went to the Jewish elementary school on Rykestrasse in Berlin.
The orphanage was like an island in a brown sea. We were there 45 boys and 35 girls. We were like siblings. Until then I had led a solitary life in Flatow. Then I came to Berlin and was finally back in society. During the first two summer holidays I went to my mother in Flatow. It got more and more uncomfortable there. Sometimes you could hear: "Oh, there's the Jew boy!" I didn't even try to meet the former Christian friends. I was at home and still had a bike there. I drove into the forest and to the lake with it. Coming back to Berlin was like a liberation.
Martha Frankenstein moved to Berlin around 1938. She was deported to Auschwitz in 1943 and murdered. Selmar Frankenstein was deported to the Theresienstadt ghetto and died there in 1942. Schoolmate Heinz Bukowzker died in Auschwitz in 1943. Walter Frankenstein's brothers Manfred and Martin emigrated to Palestine in good time and survived.