Consequences of war in Armenia: The air defense system as a playground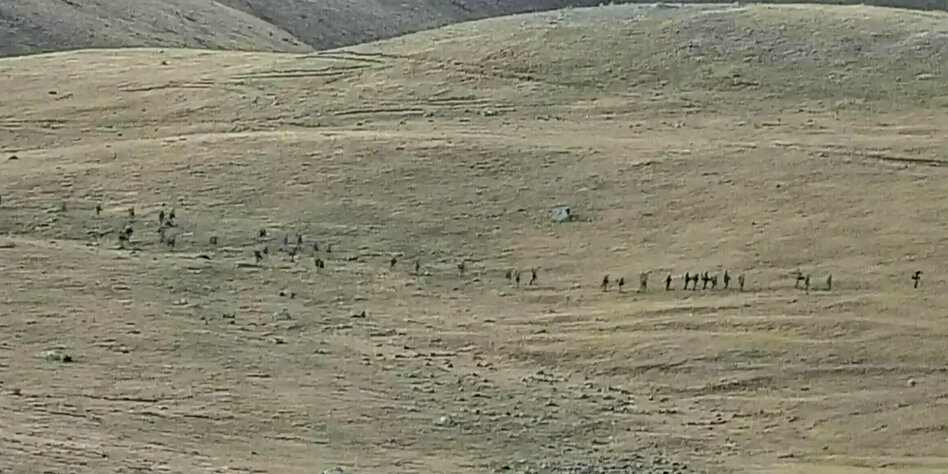 There was war in Armenia again. Little David also lives here. He only has one pair of shoes and one wish.
In Armenia is just been at war again. My home country is "border area". The whole country. No frontier in the world resembles ours. It starts at every house. At the beginning of the year I was in the village of Ishkhanasar. It became a border area in a day when the Azerbaijani flag was suddenly raised on the nearby mountain and an anti-aircraft defense system was set up in the village center.
Nobody wanted to talk about it. It seemed as if the war would just stop if it wasn't talked about aloud.
In the center of the village stands a tall, green metal structure. School bags that have been thrown down are stacked underneath. Eight little boys roll around in the snow, laughing. "It's like Superhero," says one of the boys, "it intercepts the planes that are shooting at us from the air and shoots them down."
"No, it doesn't intercept them, it sends invisible rays into the plane and then it melts," corrected another.
Чтобы как можно больше людей смогли прочитать о последствиях войны в Украине, taz также опстубликовал этот на.тек русском языке.
Child's play and internally displaced persons in the war
I ask the children where they are going. "To my house," says little David. "Its my birthday today. Come with me." "O. k." David and the other boys are happy, pushing each other. Two of them have not lived in Ishkhanasar for long. Their houses and their schools are gone. The boys are internally displaced.
Arriving at David's, they all take off their dirty, worn-out shoes, which are a few sizes too big for them. David takes off his inside. They are new.
"What has changed since the war?" I ask. "As soon as it gets dark, we can't go out anymore," David replies immediately. The grandmother intervenes: "Don't lie, it's not like that at all. It's just cold, we don't want you to catch a cold. What is destined for man will happen. I am not afraid. Basta," says the grandmother.
I understand that our conversation is now over because I don't know who "ordained" war for us. "Shall we toast to David now?" I ask. The little boys toast each other with juice.
Just a wish
"What do you wish for, David? Birthday wishes do come true," I say. "I have no wishes," replies David. "There's no such thing," I disagree. "Look, I'll tell you very quietly," he says, putting his arms around my neck and whispering in my ear, "I want peace."
There was war in Armenia again. Armenia is an old and beautiful country. Very old and very beautiful. Armenia is small and far away. The war in Armenia will therefore only reach you in the form of statistics and death tolls. Armenia is a poor and expensive country. The most expensive because it's my home. It is also the home of David, who only has one pair of shoes and one wish.
From Russian Gaby Coldewey
The project is financed by the taz panther foundation.
The anthology "War and Peace" is in the publishing house Edition photoTAPETA published and costs 10 euros.