Congo's top conservationist fired: 'immorality and incompetence'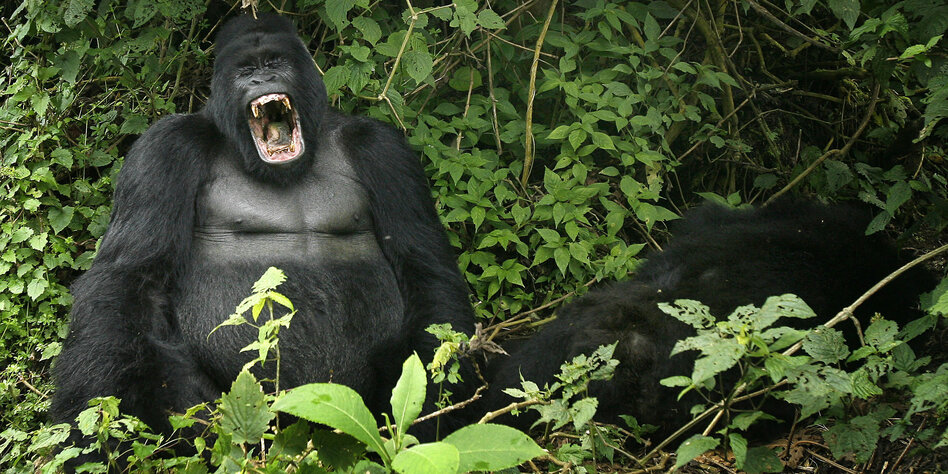 Olivier Mushiete, director of Congo's controversial nature conservation agency ICCN, has to vacate his post. His own staff had demanded it.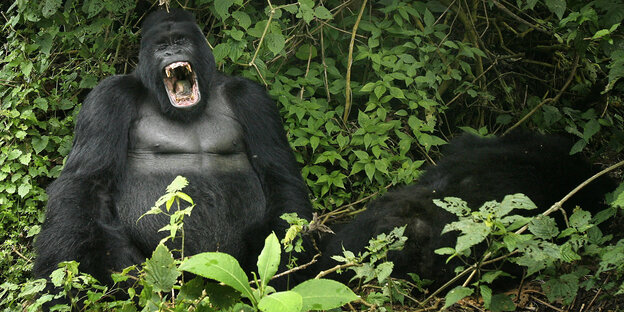 BERLIN taz | After increasing international criticism of the militarization of nature conservation in the Democratic Republic of the Congo, the head of the responsible state authority ICCN (Congolese Institute for Conservation of Nature) lost his office. Environment Minister Eve Bazaiba made the appointment in a statement released on Saturday but dated Friday decree a new ICCN management and announced the dismissal of the previous director Olivier Mushiete and his deputy three days earlier.
The ICCN manages the nine national parks and 80 nature reserves of the Democratic Republic of the Congo, which together make up nine percent of the vast national territory, including home areas of very rare protected animal species such as mountain gorillas and bonobo chimpanzees.
Germany is a leader in funding Congolese nature conservation. This creates a dilemma: armed rebels have also been using protected areas as retreats for decades, which is why game wardens in the parks often work together with soldiers. Since 2019, the ICCN's "rangers" have also been officially subordinated to the Congolese army, which is known for serious human rights violations.
Last multiplied allegations of serious abuse towards residents of protected areas and residents of national parks. In 2020, Germany therefore froze its development aid funds for the nature conservation authority. In 2021, it agreed with the Congo government on a new park management system with greater international participation, and the Congo government dismissed the long-standing ICCN leadership in favor of a provisional leadership under Mushiete.
But this year were Violence and intimidation by ICCN staff against witnesses and informants in international investigations into human rights violations in national parks. As a result, there were crisis talks with ICCN boss Mushiete in Berlin.
His replacement took place during a meeting between the ICCN and its most important international partner organizations in Kinshasa. As late as the evening of September 16, the ICCN Twitter account, apparently uninformed, circulated photos of the "general protection policy" talks with his "operative partners" in which he can be seen.
A mixed record at best
Officially, no reason was given for Mushiete's dismissal. Since he took office in August 2021, he has had a mixed record at best - at a time when protecting rainforests and biodiversity is becoming increasingly important for the international image of the Democratic Republic of the Congo.
It is no coincidence that the Ministry of the Environment, which has led a shadowy existence for decades, was given a central position in the cabinet for the first time in 2021, with the well-known politician Eve Bazaiba as Minister with the rank of Deputy Prime Minister. She wants to make Congo a leading country in Africa in international climate policy.
Mushiete has raised the ICCN's profile. His father was a minister in the Mobutu dictatorship, he himself runs a forest project in the Bateke highlands east of Congo's capital Kinshasa, which he markets as a climate protection project and for the CO2-Loans have flowed from the World Bank. As ICCN director, he gave his organization a new logo and announced that he would hire several thousand new armed park rangers so that Congo's national parks can be reopened to tourism in the long term.
Strong criticism from many employees
But at the same time, Mushiete fell out with his deputy and with many employees. They accused him of using the ICCN's funds primarily for outdoor advertising and self-promotion, of giving preference to his personal friends and of neglecting his core tasks.
According to an internal investigation, in an open letter to Prime Minister Sama Lukonde on the anniversary of Mushiete's inauguration on August 19, a group of ICCN officials spoke of "immorality, incompetence, embezzlement and rudeness" at the top of the agency and issued harsh warnings to the PM to consequences. "We work at ICCN and if you want to push us to armed groups, thank you too, because the consequences will be bad and you will go down in history as ICCN's gravediggers."
Now he will be replaced by Henri Mbale, former zoo director of Kinshasa and current university professor. He is expected to have more administrative skills.