Co-plaintiff about the Koblenz process: "I'm no longer a suffering victim"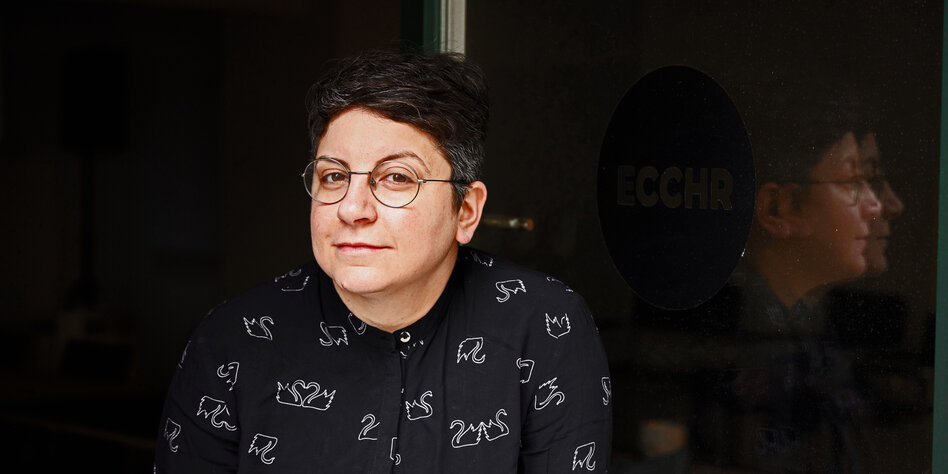 Ruham Hawash was in a torture prison in Syria. When someone responsible came to court in Germany, she became a joint plaintiff. Why?
We meet Ruham Hawash at ECCHR, the European Center for Constitutional and Human Rights in Berlin-Kreuzberg. The association supported her as a joint plaintiff in the trial against Anwar R., a former colonel in the Syrian secret service, before the Koblenz Higher Regional Court. R. was in charge of the prison where Hawash was tortured. We speak in German, sometimes Ms. Hawash has to search for the right words.
taz: Ms. Hawash, in mid-January the Higher Regional Court of Koblenz Anwar R. convicted of crimes against humanity. How did you feel when you left the courthouse after the verdict was announced?
Ruham Hawash: It felt good. I was relieved that the process was over. And I was happy with the verdict.
Anwar R. was sentenced to life imprisonment, but the court did not determine the particular gravity of the guilt, so he can be released after 15 years. Does the amount of the penalty matter to you?
No, it doesn't matter how long that person stays in prison. Importantly, a German court has determined that the Syrian government is a government of torture. That it commits crimes against its own population. And that makes it clear that there are no Normalize relations with this government may give. Importantly, the court recognized a lot of evidence that can be used in other trials.
You were a joint plaintiff in the process. How did that happen?
I was in this prison and – like other Syrian activists in Germany and Europe – I realized that this trial would take place. At first I thought it wasn't important for me to be a part of it personally. I thought I couldn't contribute anything that the court wouldn't hear anyway. Others fared a lot worse than I did there. Friends of mine died there. I didn't have any evidence either, no documents or anything, just my memory. I thought my story didn't count.
Why did you decide to get involved in the process after all?
Ruham Hawash, 34, is co-founder and director of the association IMPACT Civil Society Research and Development in Berlin. She lived in Syria as a stateless Palestinian until 2012, where she took part in the protests against the Assad regime. In March 2012 she was arrested and imprisoned in the notorious Al Khatib torture prison in Damascus. She came to Germany at the end of 2012 and now has German citizenship.
Hawash was a joint plaintiff in the trial against Anwar R. before the Koblenz Higher Regional Court. In Koblenz, he and a co-defendant were the first two employees of the Assad regime to stand trial in the world. Both were convicted of crimes against humanity. R. for 27 counts of murder, torture in at least 4,000 counts and rape. The judgments are not yet final.
At one point I thought, okay, I'll do this for myself personally. I was detained and tortured there, and this person was partly responsible. It doesn't matter if it took a day or a hundred or a thousand. It was wrong. And I have the right to sue that person. Maybe that's how I can finish this thing for myself, get some of my dignity back. That's why I decided to join the process personally as a joint plaintiff. It wasn't easy.
Shortly before the verdict was announced, Ruham Hawash addressed the court directly together with three other joint plaintiffs. "My involvement in this process was – on the one hand – a painful experience for me," she said. "I had to dig up a lot of memories that I always tried to bury and forget forever, a matter that has had a tremendous impact on my physical and mental health."
Ms. Ruham, what does that mean exactly?
For the past ten years, I've done everything I can to put that part of my story aside. For my testimony I had to bring everything out again, although I would have preferred to forget it. I had flashbacks, lots of flashbacks.
She doesn't want to explain exactly what that means, she refers to the "New York Times", where a long story about her appeared. She described to the author how, in bed in her hotel room in Koblenz, it seemed to her that the sloping roof was coming towards her, and how she felt as if she were sitting in a cell in Damascus again.
I shared details in court that I hadn't told my closest friends before. And then I had to do it in court, in public, in front of strangers. This is not easy. I didn't even know what to expect. I needed time to feel better, also in the process itself. But when you know that something has come out of it, then that's good.
The victims, Hawash also said in court, would have been able to regain their majority for the first time through the process, they are no longer victims.
What does that mean?
The process has given us a place to tell our story. And he gave us our rights back. I didn't want to be a suffering victim and I'm not anymore. I am a survivor. I am so happy that this verdict has been passed, it has changed a lot for me.
Hawash also told the New York Times that she fears that people who hear her story will think she is weak.
How do you feel about that now?
When you tell a difficult story like my prison story, people feel sorry for me. They see you differently, I'm sure. My fear was that these people would think I was weak or vulnerable. They feel like they have to do something for you, but they don't have to. That's unconfortable. But after this article in the New York Times was published, many people have contacted me and assured me that this is not the case. That changed my feelings.
How did you end up in Al Khatib?
I was stopped at a checkpoint in the countryside outside Damascus in March 2012, a year after the protests began, with various items in my car, including anti-government flyers. And I also had people with me in the car who are also anti-government. They took my things and my ID and told me to report to the Al-Khatib branch. So I did. And then I was arrested, for about two months, but not in one go. Sometimes I was allowed to go home to sleep, sometimes I had to stay. I haven't got my ID back to this day.
They were beaten and tortured, including with electric shocks. But they say the worst thing was the time. Why?
You just sit there and don't know what's going to happen next. Whether I go back home today or not, or in two months, or never. One also loses the perception of time. I don't remember how long it all went on, but I do remember feeling like I just had to wait. That has remained until today. I hate waiting. If I have an appointment, that person can be two hours late. But she has to tell me when she's coming. I can't just sit and wait. I can not deal with this.
How are you living today?
I came to Germany at the end of 2012, actually I only wanted to stay for a month and relax. But I've been here ever since, now I'm German too. I run an organization, IMPACT – Civil Society Research and Development. And yes, I have a hangover.
You are one of the few that Anwar R. actually saw in Al Khatib, without any blindfolds, which the prisoners had to wear during interrogations. What was it like seeing that man in the courtroom again?
At first I was scared of him for a moment. He's sitting there and he's wearing clean clothes and he's fine. When I saw him in prison, he was fine too. I thought that he is the same person and that this person is dangerous for me. That's how it was at the beginning, in that first moment when I saw him. Then I was able to process it: We are in Germany now, we are in a courtroom, he is on trial. Then I saw him differently.
Ms. Hawash: With Anwar R. and his co-defendant, employees of the Assad regime, which is still in power, have been convicted for the first time worldwide. What do you wish will happen now?
The verdict must not remain a one-off. I'm sure there are many perpetrators outside of Syria who can be reached. They must be brought to justice. The people who are now in prison in Syria must be helped. You can't send refugees back to Syria and you can't describe the country as safe. And there must be no normalization with this torture regime. Justice is difficult to achieve, but this trial shows that justice can be done. That gives us hope.