Climate expert on flood in Pakistan: "800,000 livestock have died"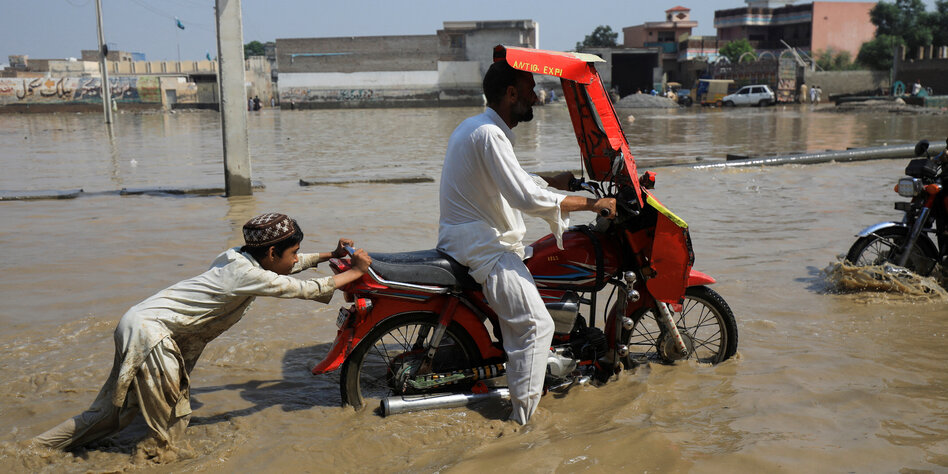 It is high time that industrialized countries help countries like Pakistan to minimize the effects of climate change, says climate expert Fahad Saeed.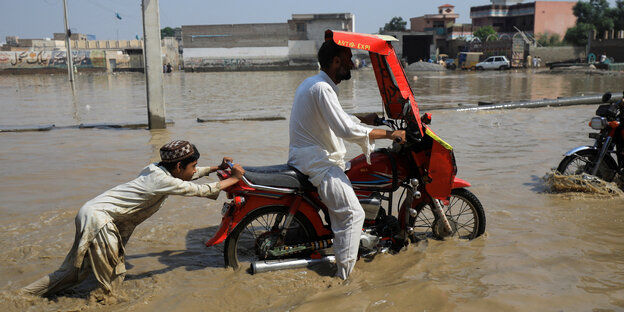 taz: Mr. Saeed, more than 33 million people are affected by the current floods in Pakistan, and more than 1,100 people have died. Why are the monsoon floods so severe this year?
Fahad Saeed: The current weather situation is triggered by the climate phenomenon ENSO, the so-called El Niño Southern Oscillation. We are currently experiencing a La Niña cycle in the equatorial Pacific. On the one hand, surface water in the Pacific is warming up, on the other hand it is cooling down. The hot air that rises as a result causes heavy rain and can lead to serious natural disasters, such as the floods we are currently experiencing in Pakistan.
Is this comparable to the severe floods of 2010?
12 years ago there was also a La Niña phenomenon in the equatorial Pacific, resulting in heavy rainfall. But this year there is another sea surface temperature anomaly in the Indian Ocean. Both phenomena are known to bring more moisture from the ocean onto land. In terms of devastation, we face greater challenges. In 2010, an estimated 15 to 20 million people were affected. But with this flood there are already 33 million people. The damage at that time was probably more than 10 billion US dollars. And we're witnessing back-to-back catastrophes. In the months of March and April we had an unprecedented hot spell with up to 50 degrees in the country, which covered large parts of Pakistan and some parts of India.
Fahad Saeed
42 years old, is a climate expert at the Berlin science consortium Climate Analytics in his function as regional manager for South Asia and the Middle East. He lives in Islamabad.
They were able to prove that climate change has made this heat wave 30 times more likely. Does this also apply to floods?
Based on my experience, I can say that climate change is making these types of events more likely. He aggravates them. The latest report by the Intergovernmental Panel on Climate Change (IPCC) pointed out that extreme weather events have become more likely with increasing global warming. We are only at a global warming of 1.2 degrees Celsius and not yet at 1.5, the target of the Paris Agreement. When these floods are over, an analysis similar to that of the heat wave should be carried out.
Farmers often complain that the rains are shorter but heavier. Can you confirm?
Fluctuations in precipitation are indeed increasing. For example, this year during the monsoon season in the province of Balochistan, the amount of precipitation is 300 times higher than the average. In the province of Sindh it is 400 times higher than the average. In these two regions, there is otherwise hardly any precipitation during the monsoon.
Who is most affected?
It affects the poorer population in particular. An estimated one million homes were destroyed. There is now concern that diarrhea, cholera and dengue fever will spread.
How strong is the impact on agriculture? Almost 800,000 farm animals have died, yet they are the basis of life for so many. We should not forget that Pakistan is an agricultural country that has already lost nearly three million tons of wheat during this year's heatwave. That's 10 percent of wheat production. There were forest fires and a glacial collapse. The orchards also suffered. As a result, Pakistan is increasingly dependent on imports from abroad. The country is also struggling with political and economic instability.
At least Pakistan has a climate protection minister in Sherry Rehman, but is that enough?
There is a Disaster Management Agency in each province in addition to the Ministry of Climate Change in Islamabad. But how effective they are is another question. It is very difficult for any low- and middle-income country, even for developed countries, to cope with these kinds of extremes. It really is high time that developed countries help countries like Pakistan to minimize the effects of climate change by at least providing them with the financial resources they need to prepare for these types of disasters. We have to make our infrastructure more climate-resistant, focus on sustainable living and introduce more resilient plants. At the upcoming climate talks in Egypt in November, the item on the agenda called "Loss and damage" is therefore important
Is flood aid finally arriving in Pakistan?
There are international NGOs that are on the ground at the moment and also the government is providing some support to help the people who are stranded in the flood at the moment. But the scale of the destruction is so massive that we will need a lot of help from international donors to rehabilitate people and rebuild their homes.