Citizens' Income Debate: The Sound of a Promotion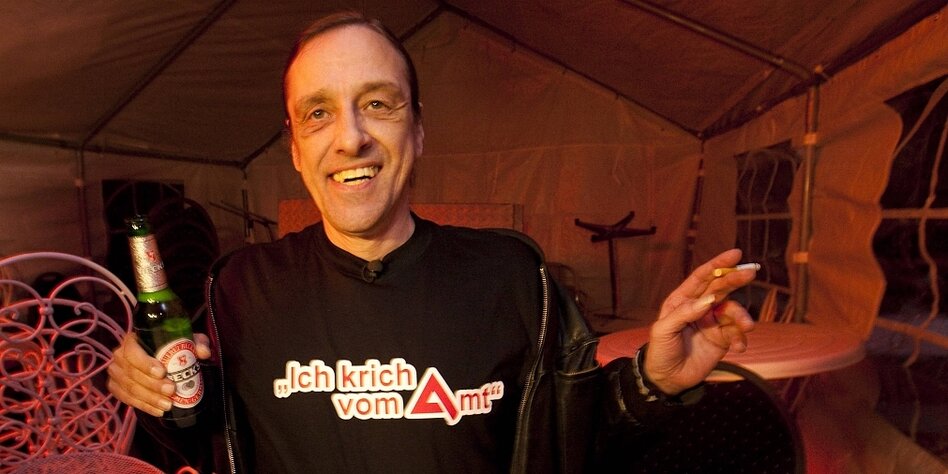 Is citizen income real progress? Or an upgrade of the one you already know? A little history of lower class contempt.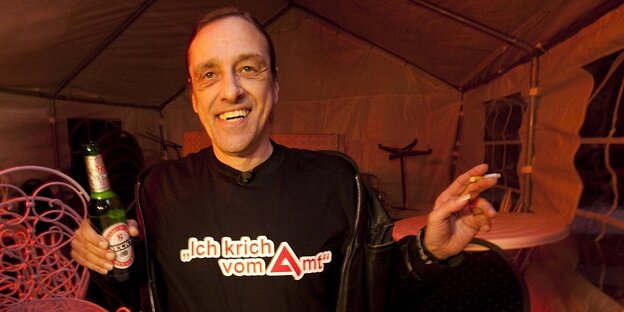 Arno Dübel is looking forward to the coming year. Because then he would be "promoted to citizenship". So it says on the facebook page the man who became known a good 20 years ago as "Germany's cheekiest unemployed person", as a "social parasite on duty" and "the most famous Hartz IV recipient".
Oh, what exciting times those were back then, under the red-green government. After 16 years of Helmut Kohl everything seemed new. When he took office in 1998, Gerhard Schröder advocated a new center and encouraged people to invest their savings in the new economy, for example in brand new Telekom shares. "Caution, we have neoliberalism now!" warned wise people, and anyone who didn't immediately understand what that might mean was explained again in 2001 by Gerhard Schröder: "There is no right to be lazy in our society." Arno Dübel's small media career began just that year.
His professional career is quickly told: In 1974 he broke off an apprenticeship as a painter – period. Since then, Dübel has been living off what a long-term unemployed person is entitled to in terms of social benefits. First it was called welfare. Then Hartz IV. So now soon citizen money. "Whoever works is stupid": That's what Dübel announced on dozens of talk shows. So he gave it to the picture on record. And this is how he posts it now, at 66, at Facebook: "The new citizen's income is the chance of an even better life at the expense of the German state. Let the people work and take more money with you from 1/1/2023."
Due to all the crises, the social parasite seemed to have been forgotten – but now that Hartz IV is about to be abolished, he is returning to the public stage. That's not Arno Dübel's fault, many don't even know his name. No, the "social parasite" can be called Heiko, Helga or Hassan today, he doesn't have to be a skinny chain smoker to be talked about again.
There is Mario Lochner, financial blogger and editor Moneyoffshoot of the magazine Focus, which in 1995 made "The sweet life of social parasites" the title story. Recently, for Halloween, compared Lochner on Twitter the people who will soon be receiving citizen income with lazy children who steal sweets from others.

This text comes from the Wochentaz. Our weekly newspaper from the left! Every week in the Wochentaz, the world is about how it is – and how it could be. A left-wing weekly newspaper with a voice, attitude and the special taz view of the world. New every Saturday at the kiosk and in the of course by subscription.
the young freedom whispered again three months ago about the "social hammock", and the deputy parliamentary group leader of the AfD in the Bundestag, Norbert Kleinwächter, thought aloud about people who had forgotten to "get up in the morning" and were instead taught "on the lying on the couch".
CDU leader Friedrich Merz sounded more elegant and cautious – almost tender – when he pondered the "pensioner" type of person. Or with Michael Kretschmer, Prime Minister of Saxony, who hopped around on MDR: "The people who go to work every day, who achieve something, ask: Is this welfare state really properly balanced?" After all, the Bible already says: "Who doesn't works, should not eat." August Bebel, Adolf Hitler, Josef Stalin and Franz Müntefering quoted that – why not a Christian Democrat too?
Some applaud the rhetorical stepping down. Others condemn it as Trump-style cynicism. Some speak of a "culture war". Many these days have the word "social parasite" on their tongue again, but they don't spit it out. You can still hear it. After all, today everyone knows about the symbolic power of names and vocabulary, about "hate speech" and classism, wording and framing.
With the basic income, the traffic light coalition wants to improve the living conditions of those who have slipped out of the regulated labor market or have never been in it. With a touch more money and further training opportunities, better opportunities to earn additional income, a higher level of protection, with a little more time, space and peace to get back on your feet financially and socially – before the job center can increase the pressure again. Skeptics and doubters speak of Hartz V: a cheap upgrade of what has long been known.
Trade unions and social organizations, however, welcome the project. It "reforms an image of man" said taz colleague Anna Lehmann recently: "The listless unemployed who would rather eat frozen fries in front of the telly than try to get a job or graduate school is passé. Instead, the traffic light trusts people, albeit timidly, that they want to be active members of society."
Persistent unemployment and the need for additional work have many causes. Illness, the sole responsibility for a child, mental stress, an addiction, a failed freelance job. And the Arno Dübel years, the Schröder era. Hartz IV is (also) a consequence of Hartz I to III: contract work, temporary work, bogus self-employment – ideal conditions for the increase in working poor, people who cannot make a living from their jobs. Around eight million dependent employees now work at low wages, 46 percent more than in 1995.
The New Center: It is becoming thinner
According to the Bertelsmann Foundation, which is not exactly suspected of being communist, the center has "not recovered since 2005, when the Hartz laws were introduced. In 1995, 70 percent of the population belonged to the middle income groups, meanwhile there are just over 60. According to the Federal Statistical Office, every fifth person is "at risk of poverty or social exclusion".
The "multi-jobber", the "bottle collector", the "table customer": they were all born in the noughties and now live among us. In other words: the probability of one day becoming a "pension recipient" (Merz) has moved closer to the Germans.
Karl Marx railed against the "lumpen proletariat", the "passive rotting of the lowest strata". In 1912, the SPD man Alfred Grotjahn saw "a danger and a burden for every community" in "work-shy people" and "neglected people". The Nazis agitated against "ballast existences" and "asocials". In the early Hartz years, so-called "New Citizens" took over the job. Their spectrum ranged from "old Franconian to eccentric, local to global", as the social scientist Wolfgang Kaschuba stated: a "bourgeoisie without bourgeoisie".
In 2009, the publicist Norbert Bolz, once on the advisory board of the CDU economic council, blasphemed about a welfare state "tyranny of benefits" that produced a "slave mentality". In 2010 the then Focusboss Wolfram Weimer wrote a tirade about a "left-liberal, feminist, multicultural, wishy-washy mainstream fixated on the welfare state" in his paper. FDP man Guido Westerwelle brought "late Roman decadence" into play, his party colleague Daniel Bahr grieved: "In Germany, the wrong people have children."
This neo-bourgeois "we" could only be grasped by stating who was not part of it, and Thilo Sarrazin was particularly meticulous about the SPD problem: "People who shuffle around in tracksuits", the long-term unemployed ("regulate the temperature with the window"), Hartzer women who "improve their standard of living through children", "headscarf girls" – a "functionless and unemployed lower class" that is "consolidating" and "multiplying". The new bourgeoisie tipped into a "raw bourgeoisie", as the sociologist Wilhelm Heitmeyer put it in 2011. And in 2013 the AfD was founded.
That's why everyone is trying to speak as carefully as possible right now. Especially the traffic light parties: SPD and Greens, under whose aegis the precarization really got going. And the FDP, who let their arrogance towards the losers hang out so clearly for years. But of course also the Union, which now shares the opposition benches with the AfD and does not want to be confused with it under any circumstances.
Surprisingly, Friedrich Merz recently said something that wasn't so stupid: With the basic security for the elderly and children, there may soon be "not many left in this society who can't fall back on some kind of social transfer system". The New Center: It is becoming thinner. You have to prepare people for that. You have to scare them. The woman from Hartzer becomes a recipient of basic income – a needy citizen – somehow: middle-class. Arno Dübel is right. It sounds like a promotion.