Chris Hipkins new Prime Minister in New Zealand: "Fighting Dog" follows Ardern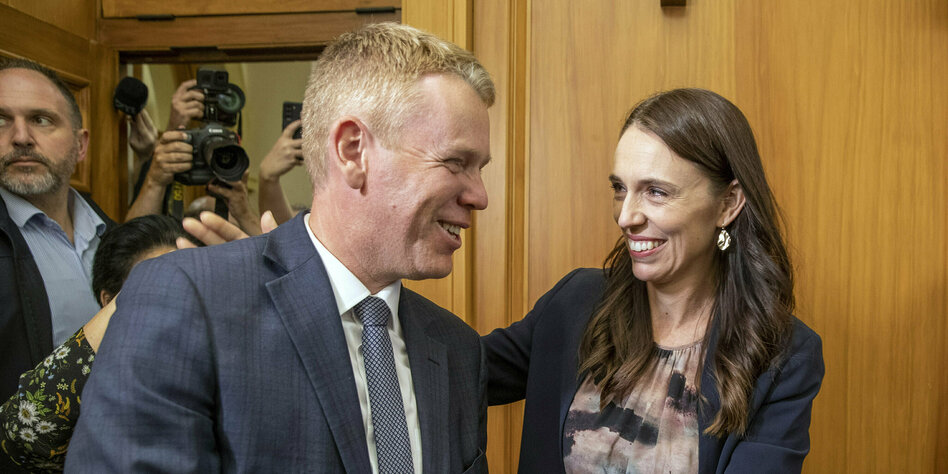 After the resignation of New Zealand Prime Minister Ardern, the Labor Party confirmed Hipkins as the new Prime Minister.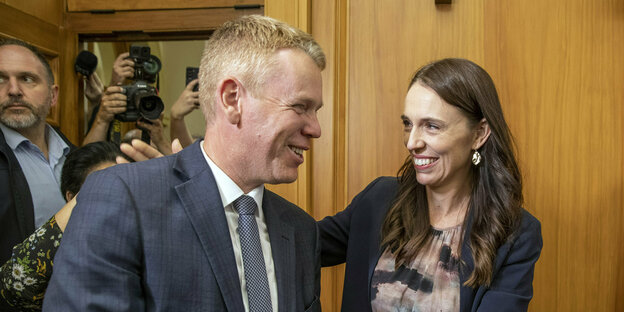 CANBERRA taz | Chris Hipkins was the only candidate over the weekend to succeed Jacinda Ardern, who had ruled the country for almost six years. He was declared the new Prime Minister by the Labor Party on Sunday and is due to be sworn in on Wednesday.
The 44-year-old political scientist and criminologist, who grew up in the Hutt region near the capital Wellington, is well known to New Zealanders. He was in Prime Minister Jacinda Ardern's cabinet for the Implementation and enforcement of the strict anti-Covid measures responsible. Experts blame the island state's quasi-sealing off from the outside world and tough exit restrictions for a comparatively low victim rate.
His deputy will be 46-year-old Carmel Sepuloni. The future deputy prime minister has Samoan-Tongan roots.
Hipkins came into Parliament in 2008 – at the same time as Ardern. Under her leadership, he held ministerial posts in education, police and civil service, and was for a time Speaker of Parliament.
"Reliable and intelligent"
Sociologist Grant Duncan of Massey University in Wellington said on Sunday the former student activist, who was once arrested at a protest, has distinguished himself during the pandemic as "a hardworking and competent leader who brought much-needed clarity and common sense . He is a reliable and intelligent politician who doesn't mind being a fighting dog when necessary."
veins had called new elections for October 14 last week. In opinion polls, the Labor Party is behind the opposition Conservative National Party, which is led by Christopher Luxon, a former executive of industrial group Unilever and later CEO of Air New Zealand.
Hipkins must now convince the public that he can find solutions to a multitude of problems plaguing the country – in particular a soaring cost of living, an extreme lack of affordable housing, child poverty, inequality and the escalating climate crisis.
According to Duncan, the politician faces a "heavy battle". Not least because he lacks the charisma of his predecessor, who was celebrated above all abroad as a pioneer for women in politics.
Hipkins is missing Jacindamania effect
Ardern became the youngest prime minister in history at the age of 37 in 2017. "When she took over the party leadership back then, there was an immediate 'Jacindamania' effect and Labor's poll numbers soared. However, one cannot imagine a "Chris mania", says the political scientist.
Since Arden's announcement of her resignation, various media outlets have claimed that the prime minister did not make the decision for family reasons, but because of fears of an impending electoral defeat. Conservative Australian television broadcaster Sky News said the politician had been a "poster child" for "leftists and feminists around the world" but failed to deliver when it mattered.
Last but not least, Ardern also receives support from unexpected quarters for its economic achievements. The conservative daily newspaper Australian Financial Review praises its dealings with the main trading partner China. So she did not follow the populist policies of her former conservative Australian counterpart Scott Morrison connected and Beijing was more or less accused of having developed Corona in a laboratory. China responded to this affront with trade boycotts against Australian products. "Why risk billions in annual exports to your closest trading partner over an unsolvable problem with no obvious strategic benefit?" writes the newspaper.
Also, the New Zealand stock market rose 70 percent during Arden's tenure, while Australia's rose just 28 percent over the same period.
Richard Shaw, political scientist
"Ardern came to power with a promise to change the country, but inequality and poverty remain sore spots"
challenges and insults
The New Zealand political scientist Richard Shaw thinks that Ardern has not achieved a lot. "She came to power with a promise to change the country, but inequality and poverty remain political sores." Terrorist attack in Christchurcha volcanic eruption on White Island, a global pandemic, and most recently, a cost-of-living crisis."
At the same time, like other politicians, she was "exposed to a constant barrage of abuse online and in person – from anti-vaxxers, misogynists and others who just don't like her." Ardern has spent the past two years "on the front lines of this type of toxicity." This has taken its toll, according to Shaw, "on her, her family and the people who are close to her". This played a role in her decision to resign.
But what people will remember most, Shaw says, is how Ardern responded to major crises. "In most cases with calm, dignity and clarity." Her refusal to engage in the rhetoric of abuse or slander that has become the tool of far too many elected officials was highlighted in a world where abuse is normal in politics had become. Only once, Shaw notes, has she broken the principle of politeness – when she recently called an opposition MP an "arrogant asshole" in Parliament.