Building collapse in Jordan: A pile of rubble in al-Lweibdeh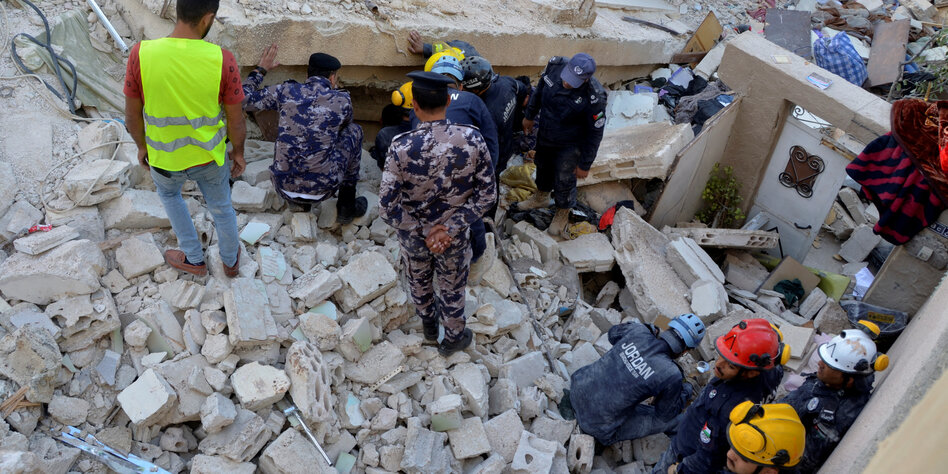 Five people died in a building collapse in a neighborhood in the Jordanian capital Amman. This fuels arguments about gentrification.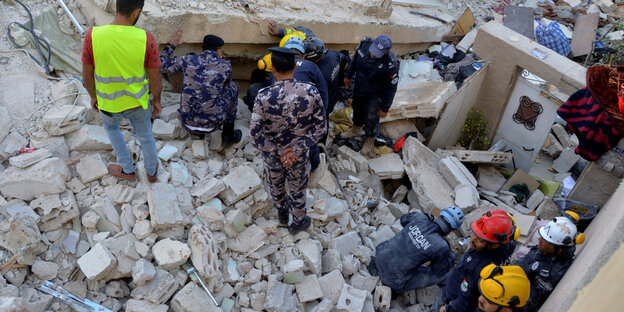 AMMAN taz | The sirens of the police and ambulances wailed again and again. Members of the Jordanian gendarmerie form a line across the once-quiet side street, with at least five fire engines and several ambulances parked there. A hole gapes between the staggered houses on the mountainside, with only rubble visible below.
The emergency services come and go, someone asks passers-by to stand back, a man with a dusty T-shirt and a pale face is escorted out of the scene. A middle-aged woman with a blue headscarf is sitting on the sidewalk, praying and crying. There are still people under the rubble.
Dramatic scenes unfold on Tuesday afternoon in Jabal al-Lweibdeh, a central district of the Jordanian capital Amman. five people died in a building collapse. Among them are a 19-year-old woman and an eight-year-old child.
The security authorities confirmed on Tuesday evening seven injured, medical staff in the hospitals speaks of 14. The salvage work is still in progress. According to local sources, several people are said to be still alive under the rubble.
Many blame taller buildings in the neighborhood
"We felt the collapse, our building shook," says a 63-year-old resident who said she was about four houses away at the time of the collapse. Like other residents in the neighborhood, she blames the construction of a taller building next to the collapsed house. "It hurts that old buildings are being destroyed and new ones are being built; just to get more money out of it," she says.
A young woman agrees: "We fought for years to prevent the construction of tall buildings in Jabal al-Lweibdeh, collected signatures, but nobody is interested."
A hundred meters from the scene, in the parallel streets, locals and tourists sit in snack bars and restaurants. Jabal al-Lweibdeh, also called al-Weibdeh, an old neighborhood with hippie flair, is popular among foreigners – not least because of the many cafés and lively art scene. Here old residential buildings, some of which are in need of renovation, with light stone facades are lined up along single-lane streets.
The collapse appears to have reignited debate among local residents about the neighborhood's gentrification. For years, local initiatives have been criticizing old buildings being demolished or converted to make room for new residential units or international chain stores.
The quarter is also attractive for foreigners
The many cafés and bars make al-Lweibdeh more attractive for foreigners and young people, but they also lead to higher rents, which normal Jordanian earners can hardly afford. "We try to preserve the heritage of this neighborhood. We don't need any more ugly buildings. For ten years people have been coming and want to invest, open many cafés and change the infrastructure of al-Weibdeh," says Suheil Baqaeen, managing director of the local association Friends of al-Weibdeh.
However, the causes of the collapse are still unclear. When asked by the taz, a spokesman for the Ministry of Housing referred to Prime Minister Khasawneh's announcement that an investigation into the accident had been started. City officials declined to comment. According to civil engineer Bashar Tarawneh, it's not particularly likely that the new apartment building was responsible for the collapse of the older one. "The new building has been there for a year. If it were the cause, signs could have been seen during construction."
Rescue work continues through the night. Several searchlights placed on the surrounding houses cast beams of light onto the rubble, from which civil defense forces are tirelessly trying to rescue survivors. The search was still ongoing as of Wednesday. Good news shortly before noon: the security authorities announce that a 50-year-old man has just been rescued.
For many relatives, however, the agonizing wait continues.