Bremen left spokesman on Wagenknecht: "Not in this party"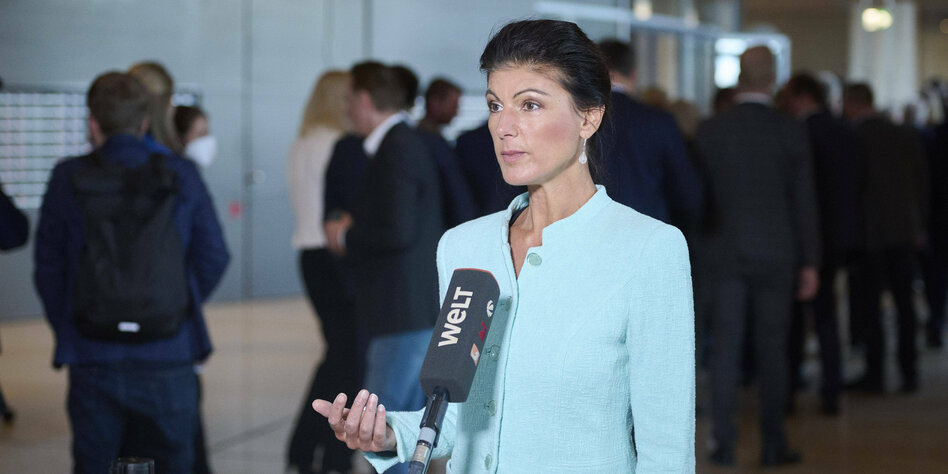 Party and faction leaders of the left from the federal and state governments will meet at the weekend. Christoph Spehr no longer considers Sahra Wagenknecht's antics to be acceptable.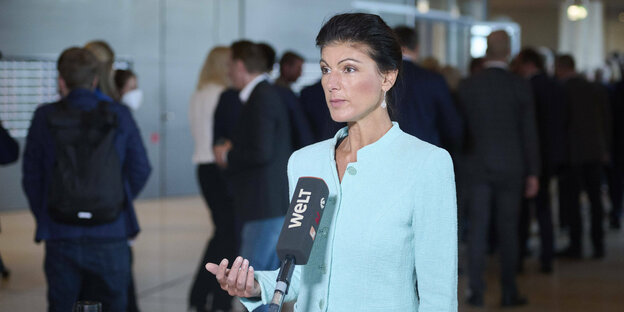 taz: Mr. Spehr, the Left Party is in a disastrous state. What explanation do you have for this?
Christopher Spehr: I believe there are two distinct but related issues. On the one hand, we have a circle of people in important positions who keep saying that this party is bad, that it betrays social issues and that you really can't do anything with it anymore. That can't do the party any good. On the other hand, I have the impression that the internal disputes tied up a lot of energy, so there are simply a lot of questions that we haven't dealt with enough. There is a lot of catching up to do there.
With these people who badmouth the Left Party, you mean Sahra Wagenknecht and her followersor?
Yes, that's the way it is. If you have a very prominent member of the Bundestag faction who is doing anti-advertising for the party with his appearances, then you have a pretty massive problem. This applies, for example, to the fatal and false denunciation by the left that they didn't give a damn about the social question. This is no longer acceptable. You can find that, but actually not in this party.
born in 1963, was from 2008 to 2015 and has been state spokesman for the left in red-green-red-governed Bremen since 2019.
How can this problem be solved?
There has to be an understanding that someone who constantly states that they no longer have anything to do with this party cannot speak for this party or its faction. Anyone who speculates that they actually want another party must first clarify their relationship with the left. You have to make that clear. And if such a person says strange things, they must be clearly and openly contradicted in public.
What strange things do you mean?
Let's take the Ukraine war for example: when one country attacks another, our solidarity applies the people of the country that has been attacked. There must be no doubt about that. Another example: It doesn't work to say that the main enemy is the Greens, that they are the most dangerous and the worst party. That's not only wrong, it also means that we're signaling that we don't know where we stand on the party spectrum. I think that's devastating.
But is Wagenknecht really the Left Party's only problem?
No, unfortunately not. A number of very stable identity-forming points for the left, such as the memory of Gerhard Schröder's red-green government with its Agenda 2010, are getting on in years and are no longer sufficient. There just aren't enough people voting for you in protest of what the SPD and the Greens used to do. That sweats out.
Do you think protest alone is no longer enough?
It's not alone. It was always part of the party's identity that it was something like the bad conscience of the SPD and the Greens incarnate. However, you cannot live from this function forever. Just as you cannot live forever in the East, having appeared as a sounding board and also to some extent a problem-solving tool for all the extremely difficult processes of unification. Both were very identity-forming, but weakened and at some point are no longer sufficient.
What follows?
The Left Party was founded in 2007, our basic program dates back to 2011. A lot has happened in Germany and the world since then. On the one hand, of course, there is the urgency of the climate issue, which we must take more into account. On the other hand, we see a multitude of social erosion processes that have to be answered differently than before. There are objective processes that have been pushing the bottom half of society into decline for a long time. You have to do something to counteract that. To formulate a counter-strategy for this is not easy and also requires more than just economic redistribution.
Do you still see a perspective for your party?
The store has always had crises that were potentially life-threatening. There were also earlier points where it was very difficult to turn the corner. It's just that it's a lot quicker these days to get pushed below the waterline in elections because the constituency isn't a bank anymore. That makes the situation critical. But even if it may sound strange in view of the current crisis, the development of the party in recent years has basically been positive: for a foreign policy in the style of the DKP, an open link to right-wing populist promises, an uncritical return to the idealized national class compromise of Fordism, There are no majorities on the left for campaigns against new milieus, sympathy with authoritarian regimes or for proclaiming the Greens the main enemy of the labor movement. That's reasonable and progressive.
Do you think there will be a split in the party?
I don't think there will be a party split in the sense of a major rift. My impression is that there is very little willingness to follow Sahra Wagenknecht in any possible start-up. But I would be surprised that all members of the parliamentary group will continue to belong to it until the end of the legislative period.