Biography about Volodymyr Zelensky: Warlord against his will
Journalist Wojciech Rogacin wrote an easy-to-read biography of Volodymyr Zelensky. She brings in the Polish perspective.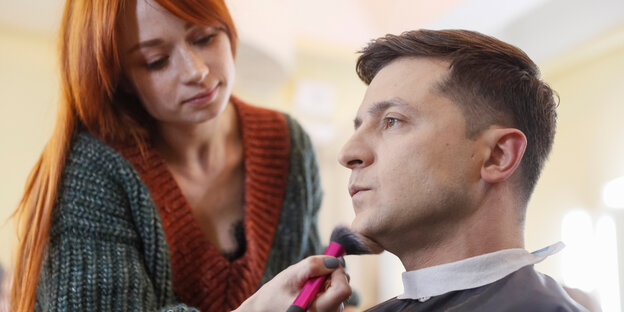 The Orange Revolution of 2004, the Euromaidan of 2013/14 with 130 dead: Ukraine has made history several times since gaining independence in 1991. But cynically, it first needs Russia's barbaric war of aggression against its neighbors in order to finally put Europe's largest territorial state - until then still a terra incognita - on the political agenda with the western public.
The fact that this is the case has to a large extent to do with Ukrainian President Volodymyr Zelensky. When he took office in May 2019, many only smiled wearily at the 44-year-old comedian and political career changer. Today, Selenski is the man who appears in front of the cameras every evening in olive-green T-shirts and pants of the same color and doesn't spare his foreign supporters either.
He needs ammunition and no ride, he once said. And Zelensky is the one who, as a post of the Russian-speaking website Meduza It can be gathered that on February 24, 2022 at 6.40 a.m. local time, only a few hours after the start of the war, he called the then British Prime Minister Boris Johnson and yelled into the phone in English: "We will fight. Boris, we won't give up."
But who is Selenski really? Attempted an answer Wojciech Rogacin in his book "Zelenskyj. The biography" admit. The Polish journalist, specialist in the post-Soviet space, war reporter and lecturer at Warsaw University SWPS in the journalism department, has been tracking the Zelensky phenomenon since 2019, as he notes in the introductory chapter.
All trumps in hand
There he already provides a possible explanation for how Selenski was able to grow into and out of a completely unknown role - a role that he probably never imagined and would not have chosen voluntarily. "If you look at contemporary politics (...) as a kind of performance, as a theatrical staging, in which performance, narration and excellent PR are inseparable parts of success, then Zelenskyy had all the trumps in his hands," writes Rogacin.
To get straight to the point: This reflection is a text that is easy to read. This also picks up readers who have previously dealt little or not at all with Ukraine and its foreign and domestic policy developments.
Rogacin makes no secret of his sympathy and admiration for Selenski. However, he does not succumb to the temptation to elevate the Ukrainian head of state, who has been navigating his compatriots through a cruel war for almost seven months, and thereby slip into bombastic pathos. This, in turn, contrasts pleasantly with many Western media reports that glorify the warlord against their will and sometimes lack critical distance.
An additional gain in knowledge is due to the fact that Rogacin repeatedly brings in the Polish political perspective. He allows the former Social Democratic President of Poland, Alexander Kwaśniewski, to speak several times. His statements add other interesting and revealing aspects to the overall picture of the Ukrainian president. Incidentally, Kwaśniewski was 41 when he was first elected head of state in 1995, the same age as Selenski when he was appointed to the highest state office.
Always loyal
In eight chapters, each of which is preceded by a summary of the most important points, the author guides the reader through the most important stages of Selenski's life in a well-structured manner.
Zelensky, son of Jewish parents, spent his childhood and youth in the eastern Ukrainian industrial city of Krywij Rih. Even then, the author states, he was someone who always wanted to achieve more than his peers, who was not afraid to take risks, but who always remained loyal to his group.
The first steps as a cabaret artist and entertainer in talk shows followed the entry into the TV business, which brought the breakthrough. From then on things went steeply uphill – despite some setbacks. Selenski easily manages to fill halls, always has the laughs* on his side and also shows amazing entrepreneurial talent.
The popular series Servants of the People anticipates Zelensky's later political career. There he plays a teacher who suddenly finds himself in the office of President.
Not the first choice
On New Year's Eve 2018/19, Selenski announced his candidacy in the forthcoming presidential election - which surprised Ukrainians just as much as his wife Olena. A separate section is dedicated to her, which allows intimate insights and reveals surprising things: For the first lady, the political stage is not the first choice. She finds it difficult with her new role and prefers to work in the background.
In 2021 there will not be much left of the initial enthusiasm for Selenski. The promised agreement with Russia to end the conflict in eastern Ukraine has not materialized, and the announced reform program has not taken effect. Selenski also bites his teeth against the oligarchs, in short: he is on the defensive. But then the war begins, which suddenly changes everything.
"Zelenskyi has already achieved the status of leader of a doomed country, which instead of going under the Russian boot has taken up the unequal struggle in defense of dignity and the right to life in freedom," Rogacin writes. Nobody knows how this fight will end, nor what role Selenski will play.
Only one thing is certain: we should be prepared for surprises.