Beth Orton on singing: "Music makes my health stronger"
British artist Beth Orton on meditative country life, solace at the piano and difficulty hearing her own voice.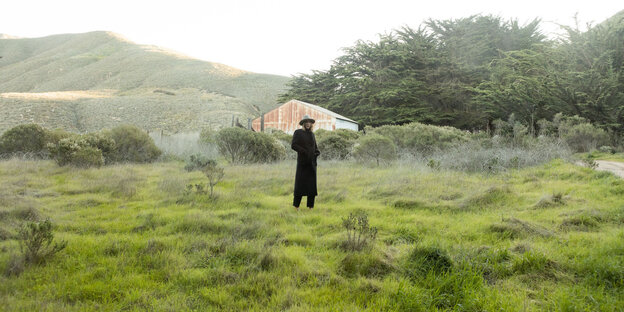 taz: Ms. Orton, you are performing in Hamburg right now, Rammstein is in a stadium right next door. This band plays their program in exactly the same order every night. Would that be something for you?
Beth Orton: No way. I couldn't fucking bear it. This destroys my soul. But I don't fill stadiums either – I got around that by being unsuccessful. I've never had a hit album, so I never have to play the same songs. I could always do what I wanted.
The result: Each of their albums sounds different. Sometimes folk, sometimes pop, even country. Is your new work "Weather Alive" a jazz album?
Yes. The album is shaped by what I've heard over the last ten years. These were hardly songs, but a lot of instrumentals, mostly Jazz. I educated myself; not in terms of playing, but in listening. That seeped into the sound and is now coming out again. I've always wanted to work with Tom Skinner, the jazz band's drummer Sons of Kemet.
How did the new songs come about?
I knew what music I wanted to hear, but I couldn't find it! So I had to compose them myself. I wrote the new songs on the piano, using simple one and two chord patterns. That's how these modal, minimalistic songs came to be.
They lived near Los Angeles for a few years before moving back to England in 2015. Why?
Laurel Canyon is a dream, and many of my role models lived there. But I spent all day in the car! I wasn't close enough to nature and my health was failing. So I came back to London and I was like, Who the hell am I? My brain pulled out all these memory fragments and I associated my piano playing with them. I lived in music for a while. I thought about people like this guy I loved when I was 17. And then I composed about it. There is a lot of longing in it, and a lot of pain, for sure.
And the English countryside helped process it all?
I come from near Suffolk, where the composer Benjamin Britten had a house when he was alive. I was allowed to work there and took long walks in between. I cried – it was just so beautiful there! Moving back to England helped me connect with nature, which was important for music.
Beth Orton born in Norfolk in 1970, became known for her vocals for British electronic artists such as the Chemical Brothers and William Orbit in the 1990s. The 51-year-old recently released her eighth solo album, Weather Alive (Partisan/PIAS/Integral). She recorded and produced it alone. In addition to drummer Tom Skinner, multi-instrumentalist Alabaster DePlume also takes part.
What were you looking for?
For consolation. At the Piano I found him, playing the piano grounds me. It's a conversation that helps me when I'm lonely. Music is a meditation, a place I like to be.
How did it start for you?
When I was little I wrote a lot of poetry. But nobody noticed me, not even my piano playing. A succinct memory from that time: I'm sitting on the stairs and playing Marianne Faithfull's "As Tears Go By" over and over again. When I was 14 we moved to London, I played drums in a reggae band. They only tolerated me because I was funny. It wasn't about coolness, it was just fun.
Didn't you sing?
I never wanted to be a singer, singing in public was torture. When I was 19 my mother died. I decided to do all those things that I was afraid of before. With an experimental theater group I gave Rimbaud and decided to sing one of the poems. Producer William Orbit heard this and invited me to the studio: I should spontaneously come and sing. I was pretty high and just humming along. This then slowly became words. That's how I became a singer.
How do you like your voice?
I've never liked her. I find it difficult to sing. It's different with my husband Sam Amidon, music just flows out of him. I thought music was just a phase. But it has become a cornerstone of my existence. I sang a lot, I play a lot, I'm creative because it's good for my mental health.
Today your voice sounds more fragile and at the same time more intense.
Yes, that's what it sounds like. Occasionally I get the feeling of being a disappointment. I'm sorry that things have changed, that I've gotten older, that my voice sounds more mature.
What are you apologizing for?
Oh nonsense, I'm not sorry at all. I have become more fearless. I never would have thought that I would still be so creative when I was 50.