Belarus in the Ukraine War: Prepared for Anything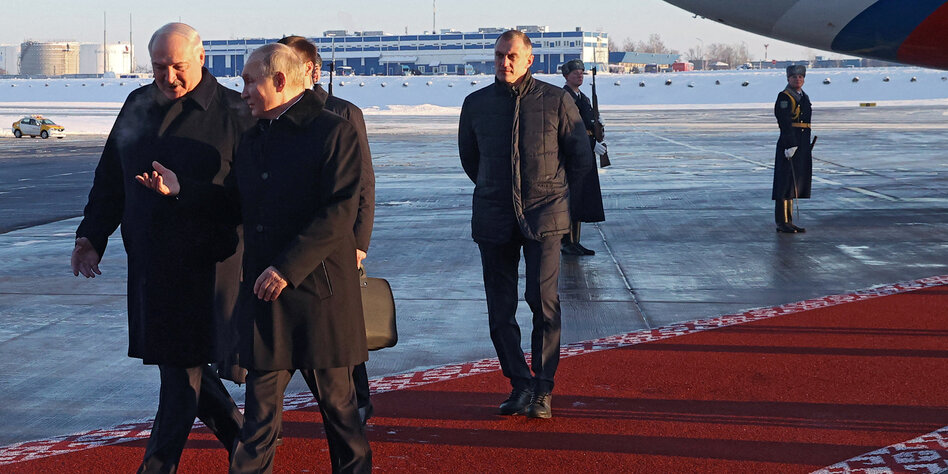 Kremlin chief Putin visits Belarus – to actively force the neighboring country into the Ukraine war? In any case, the Ukrainian President has warned.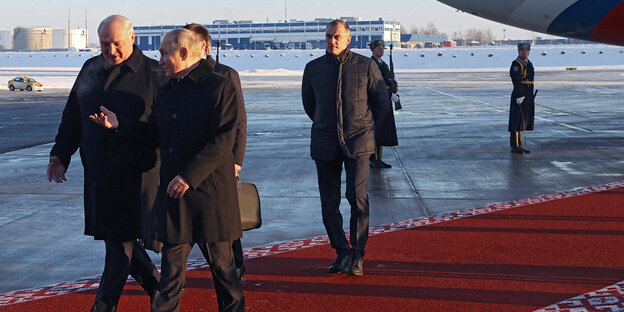 BERLIN taz | Large train station in Minsk: For the first time in three years, Russian President Vladimir Putin met his counterpart Alexander Lukashenko in the Belarusian capital on Monday. When he arrived at the airport, the red carpet was literally rolled out for him. The last "talks among friends" took place in Moscow or on neutral territory.
Russia's Foreign Minister Sergei Lavrov and Defense Minister Sergei Shoigu had already arrived in Minsk. Lavrov spoke there with his new colleague Sergei Alejnik about the situation in the war against Ukraine, as announced by the Foreign Ministry in Moscow. It was also about how Russia and Belarus could defend themselves against political pressure from sanctions from other countries. Although the sanctions were mentioned in an official statement from the Belarusian Foreign Ministry on the meeting between the two foreign ministers, there was no reference to Ukraine. Alejnik only took over the post from his long-time predecessor in November Uladzimir Makei accepted. He died suddenly under mysterious circumstances.
It had previously been said that the two heads of state wanted to discuss urgent issues of Belarusian-Russian integration in addition to security issues and economic cooperation. Both states are closely linked by a union treaty of 1999. This also provides for the creation of supranational bodies. So far, Lukashenko has always successfully resisted a too tight Moscow hug, but his chances of doing so are steadily diminishing.
One reason for this is Russia's current war of aggression against Ukraine. Since it erupted on February 24, 2022, Belarus has been a deployment area for Russian troops. Air raids on Ukraine are regularly flown from here. In October, Lukashenko announced the formation of a joint military unit. Russian troops are currently conducting battalion-level maneuvers in Belarus, and joint exercises with Belarus have been announced for the coming days.
Broader Participation
Experts have been discussing for weeks whether the Kremlin will put pressure on Belarus, which is economically and politically totally dependent on Moscow, to actively intervene on its side in the war against Ukraine. Ukrainian Lieutenant General Serhiy Naiev said on Sunday that the two heads of state in Minsk are also likely to discuss a "broader participation' of the Belarusian military at war.
In his daily video message on Sunday evening, Ukrainian President Volodymyr Zelenskiy said protecting the border with Russia and Belarus was a priority. Kyiv is preparing "for all possible" developments, including an attack from Belarusian territory, he said.
Russia's war against Ukraine is extremely unpopular among the Belarusian population. In the past there had been repeated attacks on rails by so-called railway partisans in order to cut off the supply routes for Russian troops. Some activists have been sentenced to prison terms.
The reactions of users on the opposition Belarusian web portal Chartija 97 were similar. "Lavrov must have brought Novitsckok with him," says one post. And in another: "If Lukashenko sends the Belarusian army to Ukraine for slaughter, will she trot gently like a herd? Will the Belarusians still be silent then?"