Beijing's diplomatic initiative: Xi's return to the world stage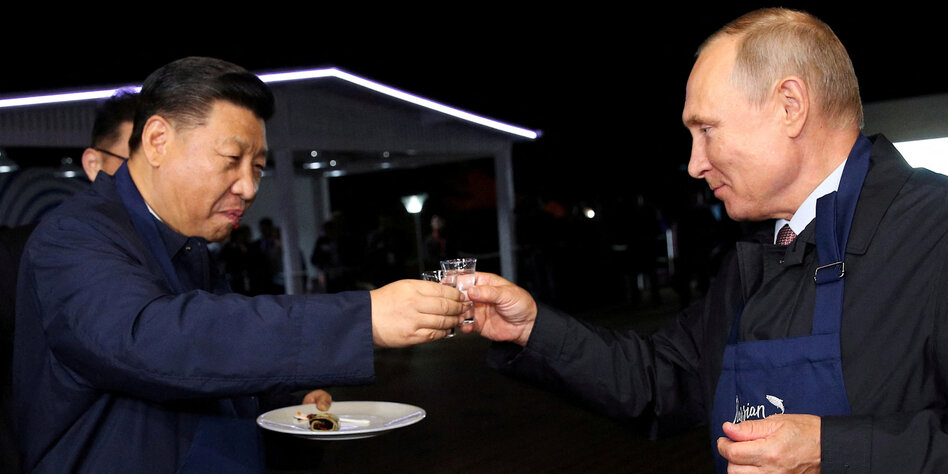 China's head of state Xi Jinping is traveling abroad for the first time since the pandemic began. He tries to forge alliances against the West.
BEIJING taz | Since China's head of state Xi Jinping last set foot on foreign soil, the political map of the world has changed fundamentally: Russian troops have invaded Ukraine; US politician Nancy Pelosi has visited Taiwan, and China has lost popular popularity in all G7 countries. So under pressure, Xi will end his diplomatic hibernation this Wednesday.
The 69-year-old is leaving China for the first time since the pandemic: First he is going to neighboring Kazakhstan, where he will sign several agreements. On Thursday we will go to Uzbekistan to the summit of the Shanghai Cooperation Organization (SCO)also attended by heads of state and government from India, Pakistan, Iran and Russia.
Xi's meeting with Russian President Vladimir Putin will be of particular note. Beijing has not yet confirmed this, but it is considered likely. The "boundless" partnershipwhich the two swore to each other just weeks before the Russian attack on Ukraine, has caused disappointment, especially within the European Union.
But China's attitude has not changed: Beijing's top diplomat Yang Jiechi only said on Tuesday that China is working with Russia to steer the world order "in a more just and reasonable direction". We support each other in common "core interests".
China is less isolated than the West thinks
That is, the Western, US-led world order is to be openly challenged. "Russia remains China's main and only partner as long as it maintains its anti-Western policy," analyzes China expert Marcin Przychodniak from the Polish Institute for International Affairs in Warsaw.
The meeting of the security alliance SCO can be understood as a direct reaction to the policy of the USA, which for its part has strengthened its alliances in the Indo-Pacific. Now, as Xi chairs the summit, he is demonstrating that Beijing is far less isolated than many in Washington and Brussels have posited.
And Xi is also signaling that China is currently not making any moves to court the favor of the West. Rather, it wants to wrest respect from the US and Europe with a show of strength.
Whether that will work is an open question. Because Xi has recently come under massive pressure to finally make a presence on the international stage. The fact that he has been making almost all meetings via video call for more than two and a half years has weakened China's diplomatic efforts.
Xi Jinping could use a diplomatic success
Also, very few foreign delegations have traveled to China since the pandemic began. Most were not allowed to go to Beijing at once, but were diverted to shielded conference hotels in the provinces.
A month before the start of the historic 20th Party Congress in Beijing, Xi is now venturing abroad despite China's ongoing coronavirus shield. In mid-October, the most powerful head of state since Mao Zedong will begin his controversial third term, making him de facto leader for life.
Although he does not have to fear internal opposition due to massive repression, he is in the middle of what is probably the most critical phase of his career: the "zero Covid" policy is massively slowing down the domestic economy, the real estate crisis is hanging over the middle class like the sword of Damocles and the hegemony conflict is also affecting it the USA is breaking more and more open ground.
Xi can therefore use a diplomatic success, propagated by the state-controlled media, to gain momentum in front of his own people.
The fact that Kazakhstan will be the first stop is no coincidence: the country plays a key role in China's so-called Silk Road Initiative (BRI) and Xi can present himself as a new guarantor of stability and continuity in the region after many ex-Soviet republics were pushed aside by Russia because of the Ukraine war are unsettled by aggressive behavior.