Authors on their handling of grief: Against helplessness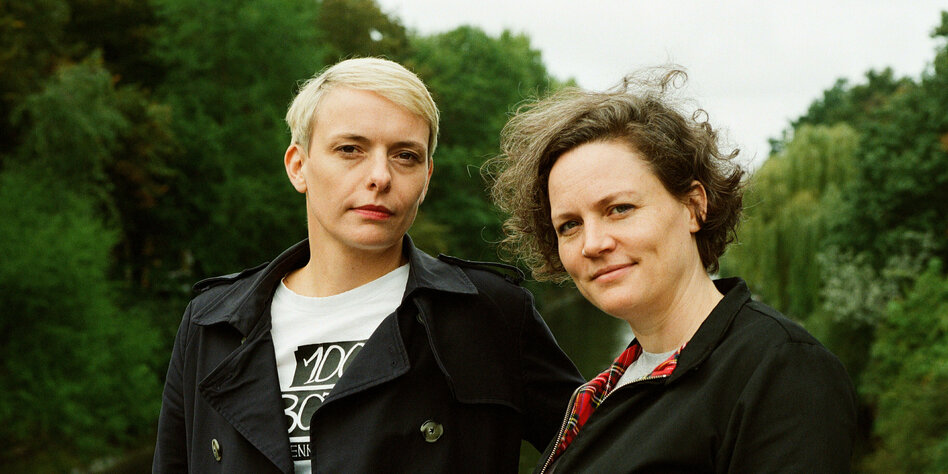 Everyone grieves differently. Caroline Kraft and Susann Brückner have written a book about their personal dealings with it. a meeting.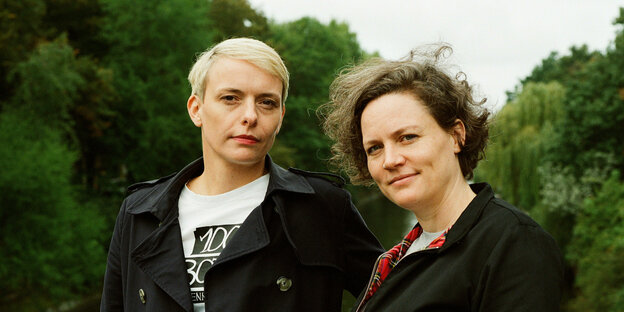 Grief has many faces. We can mourn a lost home, a missed opportunity, a lost love, a life that never was or ended. About pets, friends or family. About the soul of a person and about his body. Grief is part of life, it affects everyone at some point in one way or another.
Still, it's hard for us to talk about them. Why is that? This is one of the questions that Caroline Kraft and Susann Brückner pursue in their book: In "finally. talk about grief" (Goldmann-Verlag, 240 pages, 17 euros) they collect anecdotes and interviews, give valuable tips based on their own experiences as well as recommendations for music and series on the subject of grief.
preceded the book a taz column by Caroline Kraft and a podcast in which Brückner and Kraft have been talking to each other and guests about mourning, death and life since 2017. Among the guests are people who have lost children, accompanied relatives when they die, and those who are professionally involved with death. "Sometimes serious, sometimes sad, sometimes funny" is what it's all about, but the two are always one thing: honest. And that's really good.
It all started with an email: "If you want to talk to someone who doesn't look at you with concern, let me know," Susanne Brückner wrote to Caroline Kraft at the time. At the time, the two women were working for the same Berlin publishing house. In addition to the employer, they are connected by the death of loved ones by suicide.
At that time, Kraft was often ill, often standing beside himself and crying a lot. A few months earlier, her ex-boyfriend Stephan took his own life. "I didn't want to talk about anything other than this death, this grief and the loss," she says when the three of us meet in Berlin-Kreuzberg in the evening.
taboos and stigmas
In Kraft's environment, many react helplessly to their grief. Not so Susann Brückner: "I don't know if I would have written the email if it had been a different kind of death," she says. However, the 43-year-old is familiar with the loss through suicide. Brückner lost her father when she was 19; when she is 36, her brother also takes his own life.
Far too little is talked about suicide. Taboos and stigmas are at the root of this, out of all proportion to how often the issue directly or indirectly affects people. According to the Federal Statistical Office, around 25 people die by suicide every day in Germany (in 2020 there were a total of 9,206) – the number of suicide attempts is many times higher (in its suicide prevention report published in 2016, the WHO estimates an estimated 600 cases a day across Germany).
The topic is often avoided, especially in media reporting, for fear of the so-called Werther effect. Deriving himself from Goethe's character in particular, he establishes a causal relationship between reports of suicide and any imitations. Incidentally, this is opposed to the Papageno effect, which classifies reporting in compliance with certain standards as suicide prevention.
The loss of a human
"There are so many associations around suicide, so many judgments," says Jens Möller, the type of death often takes center stage in such a way that there is no room for anything else. Möller is an undertaker, grief counselor and one of the people Brückner and Kraft talk to in their podcast. One often loses sight of the person who has died in all its complexity, although suicide is basically "a way of dying".
Möller's words are a revelation for Caroline Kraft: "For me, the way of death was so blatantly in the foreground that my whole grief was influenced by it," she says. It took a long time for her to get to the actual grief over the loss of a person with whom you had walked a part of your journey. "Suicide tempts you to reconstruct your whole life towards this act in the end." Kraft knows today that this does not do justice to the person behind it and the life that he led until his death. "Suicide just sucks for everyone," Brückner summarizes in the book.
That evening we are sitting in front of the Fährhaus, an alternative funeral home in Kreuzberg. From the outside, there is little to remind you of death and mourning – all those horrible artefacts that otherwise adorn the shop windows of undertakers are dispensed with here. Instead, with Sahra Ratgeber and Birgit Scheffler you can decide for yourself how far you want to actively accompany the funeral process.
No shamefaced looks
The scenery in front of the shop resembles that of countless other places in this city that evening: a table with beer, schnapps on it, an ashtray. It must have looked similar when Kraft and Brückner first met. According to Brückner's email, she and Kraft met in a Kreuzberg pub. "Without pushing around, no bashful looks, no phrases or awkward silences. Instead, the whole mourning thing came up on the table," says the book's foreword. Two women in similar situations from similar backgrounds, and yet their grief differed.
While Brückner previously spoke little about her losses and the grief that went with it, always worked, was more of a "resilience monster" – as she says herself – Kraft had almost only this one topic after the death of her ex-partner. "It's so exciting how individual grief is," says Kraft. You have to talk about what grief can be, there has to be public knowledge about it.
In order to contribute to this knowledge, Kraft and Brückner dissect their own grief and its side effects: "I mourned, my family sat next door, let me mourn in peace – and I watched porn," says Brückner. After her brother's death, unlike her father's, she suddenly felt a lot of desire. Desire for life, but also desire for bodies, one's own and those of others. "Those who mourn don't fuck," is the common belief that mourning and sex are incompatible. That is not true for Brückner.
A shameful subject
Where this gap is even bigger is when the partner dies. That kind of grief when someone dies that you were physically close to is different, says Kraft. "It felt as if the sudden non-existence of his body had passed into my body," says her taz column in early 2021. as sexual abandonment Alice Radosh describes the condition. The US psychologist experienced this grief over the loss of sexual intimacy after her partner died. She was already over 70 and found neither understanding nor willingness to talk about it among friends of the same age – the topic was too shameful.
"Shame is always a good marker for something that isn't right – where something goes against social norms and one's own feelings," says Brückner. Her advice is to approach shame, examine it with a magnifying glass and dissect it. "Is that really something I should be ashamed of, my father taking his own life? No." And what if you walk around on the beach with "a few rolls" too much? Here, too, a clear "no". Only when you stop being ashamed do you take the power away from the whole system of standards.
"We've found that talking about all of this is empowering," says Kraft. The letters and comments that the two receive for their podcast and now also for the book show them that what they do also helps other people – people who would otherwise be alone with their thoughts and feelings.
Talk about it instead of being silent, show vulnerability instead of miming strength. This is the recipe for success for Susann Brückner and Caroline Kraft. The true strength after a loss is to face the grief, to accept it, they both find: "That's the only way to survive."