As a Russian in exile: powerlessness, guilt and resistance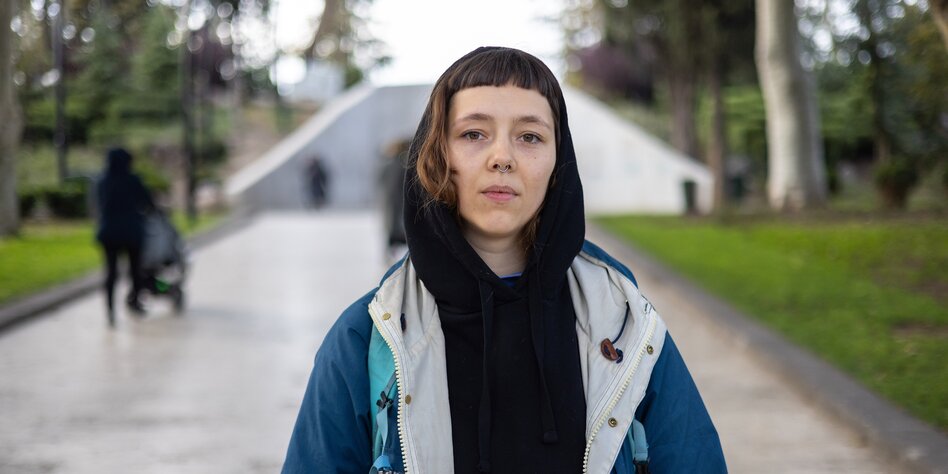 Liza* works for the opposition magazine Doxa. She is one of over 113,000 Russians who immigrated to Georgia in 2022.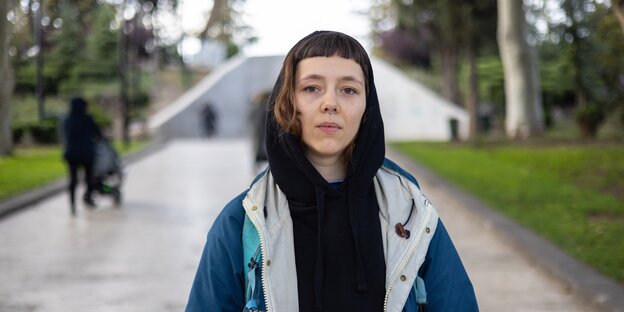 TBILISSI taz | At the beginning of November, Liza* is sitting in a café in Tbilisi, her eyes constantly wandering to the Kura, the river that meanders through Georgia's capital. Its green-grey color calms her down, she says. Almost nine months after the outbreak of war, her powerlessness and sense of guilt had given way. When she read the news on the morning of February 24 that her home country was throwing rockets at cities where her friends lived, she was paralyzed.
"I appeared the Russian political system like a husband who hits his children," says the 28-year-old journalist from St. Petersburg, who is doing a doctorate in gender studies at a left-liberal, private university in St. Petersburg. "And those who are trying to do something about it are his wife, who cannot stop him. There is nothing you can do to stop your child being killed."
Since March, Liza has been living in Tbilisi. She is one of more than 113,000 Russians who have moved permanently to the South Caucasian country since the beginning of the year. Many left the country first after the Russian mobilization at the end of September – and not all came because they rejected Putin's policies. Liza has been rejecting them since she was at school, she says. She has taken part in demonstrations since 2011 but has never been arrested. In the past few years, it hasn't been a big deal to get arrested: "Then you'll just sit there for two weeks and that's it."
But the repressive apparatus in Russia was becoming more and more powerful in Liza's perception. The Kremlin had better trained the secret services and the military to disperse and threaten protesters. hitting her so that no bruises are visible. As early as August 2021, the opposition student magazine Doxa was declared an "undesirable organization" and, like many other independent media, was blocked by the Russian authorities in February 2022. Doxa, founded in 2017 as a student newspaper at the Moscow Higher School of Economics, has always been under political pressure in previous years.
On women's shoulders
In the first days of the Russian war of aggression, Liza, who works as an editor for Doxa, takes part in anti-war demonstrations every day. A feminist anti-war movement quickly formed. It is becoming clear that political activism falls on women's shoulders. Because men are in a vulnerable position. It's really dangerous for men. They can be drafted.
Liza*, journalist in exile
"You can choose the painful path and get out of the system, or you can keep eating your buckwheat"
And what about the others, why don't they take action? "Nobody in Russia wants to be a cannibal. No one wants to be a spectator and accomplice in the mass murder of civilians, the murder of children. But if you're unwillingly part of the system that kills, you have a choice: you can choose to take the painful route and get out of the system, or you can keep eating your buckwheat. Well, maybe you earn a little less, maybe you can't visit all the websites anymore. But nothing major changes. You just cut off a part of reality."
Young journalists under house arrest
When more and more activists and journalists in her area are arrested, she follows friends to Georgia. The fact that Liza works for Doxa would have been enough reason to arrest her. Four Doxa editors, including co-founder and editor-in-chief Armen Aramjan, had been under house arrest for eleven months at the time. You had instigated young people with a video to illegal activities, so was the accusation. After this opposition leader Alexei Navalny was arrested in January 2021the four founders showed in a video that it was illegal to exclude students from their studies because of their participation in protests against Navalny's imprisonment.
In domestic arrest, the young journalists were not allowed to use the internet or telephone. An electronic tether ensured that they were initially only outside the apartment for a minute. Later they were promised two hours a day. "It was all completely absurd," Liza recalls. With the help of external hard drives, the journalists continued to work. When the court ruled in spring 2022 and they were sentenced to two years of community service, they fled to Germany.
security very important
Liza believes the Russian leadership is okay with people like her friends leaving the country. Every week she sees the four of them at the online editorial meeting. In addition to Liza, other editors from the twenty-strong team from exile work in Georgia or the neighboring country of Armenia. Politically, she and her colleagues at Doxa are on the same side, says Liza. To ensure this, the editors have developed a procedure: only someone who has been recommended by at least one person from the team is accepted.
Security plays a major role for the online medium. Liza doesn't even know the real name of some of her colleagues. At Doxa, Liza appreciates the protected working environment and open communication at the same time. There are no hierarchies and everything is transparent – including the distribution of the financial resources that the magazine receives through crowdfunding.
Telegram and Instagram important
As an opposition journalist, Liza feels safe in Georgia. But the omnipresent fear of the regime can be understood much better on the ground in Russia, she says. Those who stayed there are Doxa's most important target group. With VPN access, people in Russia can bypass the website block and receive unfiltered news about political protests, university politics in Russia or Rights of the LGBTQ community read. However, the most important channels remain Telegram and Instagram. Even if Instagram in Russia can also only be opened via VPN. Due to the intensive reporting in the first months of the war, the online magazine Doxa has since had readers in other countries as well.
Doxa offers a hotline on Telegram, making it more than just a news magazine. People who need help can register there. Taking care of the hotline is also one of the editors' jobs, but often pushes Liza to her limits. She often feels powerless: "It's difficult to deal with all of this. To see that students in Donetsk cannot leave their apartments for months. Because otherwise they would end up in the army and die," she says.
No exchange with Ukrainians
The first few weeks after Russia's attack on Ukraine were also stressful: she worked for Doxa every day during this time. Events unfolded. "It was impossible not to write about it. We worked day and night and took turns constantly," she says. Liza has since reduced her efforts. She now also teaches geology, the subject of her first degree, at a Russian-speaking school in Tbilisi. The number of students there has tripled since March, including Ukrainian children. However, many Ukrainians have now moved on to Western Europe or Bali, where it is said to be cheaper to rent an apartment than in Georgia. At least in Tbilisi and Batumi on the Black Sea, prices have tripled since March.
Liza feels that the Russian and Ukrainian communities are avoiding each other. She is also not aware of any exchange between Ukrainian and Russian journalists in Tbilisi. She herself does not want to re-traumatize anyone from Ukraine: "Maybe that has changed in the meantime, but at the beginning it was absolutely clear that it was completely pointless to apologize to people who had just fled from bombs." She felt one at the time strong guilt. Only some time after the outbreak of war did she dare to write to her Ukrainian friends. They were too afraid they might hate Liza – but they didn't.
Putin's regime has deprived her Ukrainian friends of a perspective for the future, but Liza is also looking ahead with many question marks: "With all my privileges, my high education and friendships abroad, I still don't know where I can be used. Will I ever have the opportunity to start a family." To help calm the feeling of being uprooted, Liza recently took in a homeless dog. So now they can be homeless together, she says jokingly. She has to go now too, he's already waiting for her.
*Name is known to the editors