Artist on feminism and politics: "Basically seeing the absurd"
The Munich Haus der Kunst is showing a retrospective of the 86-year-old Joan Jonas. A conversation about their early days in New York.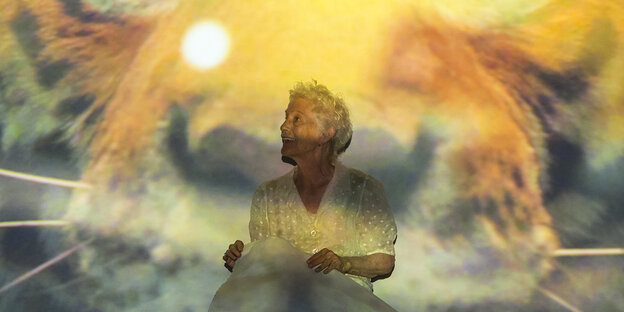 taz: Joan Jonas, you just turned 86 and have been performing for 60 years. When you started, you were one of the first to experiment with different mediums and performance practices. How do you remember the early days?
Joan Jonas: I studied art in the 1950s and first worked as a sculptor. When I came to New York in the early 1960s, I was looking for new forms of expression, a language of my own. We lived in SoHo, which was a gathering place for a lot of creative personalities at that time. Artists, dancers, composers, filmmakers. We were friends and worked together. Richard Serra also did performances back then, with the music of Philip Glass. Steve Reich was there and the minimalists. There was no name for what we were doing, we were trying.
You lived with Richard Serra for four years, and he too was concerned with material properties, form, sound and movement. Were there thoughts of competition?
At first it was difficult for me to see myself as an artist on an equal footing, I didn't have that self-confidence. I was very shy. It was a process of questioning my role models.
Do you see yourself as a feminist?
Yes absolutely. Creating awareness doesn't stop there. To this day I work a lot with women, with dancers, actresses and initially also with a camerawoman, until I bought my own camera and thus had the freedom to experiment.
You're talking about the Sony Portapak, which came out in 1965 and was also used by video artists like Nam June Paik.
Yes, this new technique has enabled me to be independent. I walked through New York and filmed. Abandoned, empty places I called "holes". This abandonment, that's how many artists felt when they came to SoHo back then. It also had to do with the political mood, the Vietnam War, Nixon in the White House and the struggle of the civil rights movement.
Born in 1936, is considered a co-founder and a significant pioneer of multimedia and performance art. The multiple documenta participant, who performed in the US pavilion at the Venice Biennale in 2015, lives in New York and Canada.
Was this policy present for you?
Very present, but not in my work. As I look back on that time, many of us were turned inward. I wasn't a political activist, but I had an awareness and an attitude towards it. Even today.
In 2020, you were seen in a chair you had brought with you, waiting for hours in line at the polling station to vote against Trump.
Trump is a fascist and narcissistic fool. But in my work it doesn't play a role.
How did you experience the eighties, when suddenly nobody was interested in performance and video art anymore?
It was very difficult for me to have my work suddenly dropped as if it were worthless. But I kept working, and over the last 20 years it's been really wonderful to suddenly get this recognition.
Your video work "Wolf Lights" from 2004 can be seen as a loop in the outer colonnade of the Haus der Kunst. It was shown on the billboards in New York's Times Square for a month in April 2022, always shortly before midnight, and in which the actress before wearing a wolf mask against the backdrop of Las Vegas. The work is also a reference to Dürer's engraving "Melencolia I" of 1514.
The work refers to the desert wolves that lived where the glittering world of Las Vegas now stands. I am fundamentally interested in seeing the absurd and telling stories anew with references to art and literature.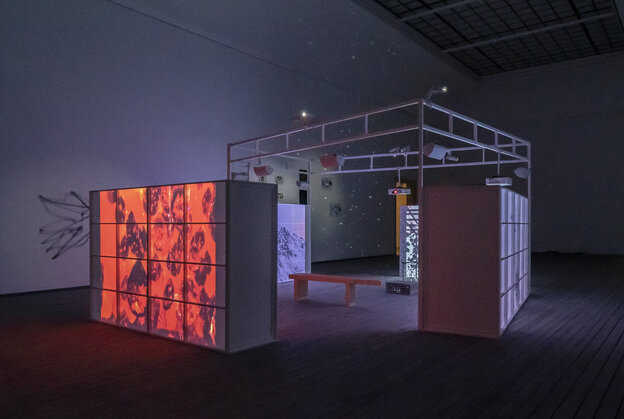 They also use music and sound collages. In "Wolf Lights" it is a composition by jazz pianist Jason Moran, with whom you have been collaborating ever since. Also for your performance "Reanimation" (2010-2012) about the melting of the glaciers, which now forms the heart of the exhibition in the Haus der Kunst as a video and sound installation. How did you meet?
Music has always been a part of my work and I use different forms of music and sounds. Artist Adam Pendleton is a good friend of mine and introduced me to Jason's music. I was looking for a new musical approach for a project with the Dia Beacon Museum and Jason agreed immediately.
Where do you see yourself compared to other performance artists like Ana Mendieta or Valie Export to name a few whose works are also much more physically provocative while your performances are more lyrical?
I really admire their work, but I don't think we overlap. I always wanted to develop my own language. The biggest difference is my distance from the audience and not acting as myself. I feel like I need to transform, be a different person. Although my work is personal and has to do with my own body and feelings.
You rework many of your earlier works, including 1969's "Mirror Pieces," which are now back in performance form.
Yes, but at some point you have to stop and stay in the present. I don't go back often, but occasionally. It interests me because the meaning of the work changes when you place it in a different context.
You sometimes use violent fairy tales and narratives, as in your installation Juniper Tree, which you originally developed for children. Children are also part of your work They Come to Us Without a Word, which was shown in the US Pavilion at the Venice Biennale in 2015.
Fairy tales show that brutality can be defeated, fairy tales strengthen children. I was supposed to represent the USA in Venice, but how does that even work? The USA is a very complex, torn and also violent country and I wanted to go beyond my immediate reference points. Again, I worked with Jason Moran. It is the children who have to live on in this world.
Still, you seem optimistic.
Well, you have to survive. I have a positive attitude towards life and other people and I still do what I believe in. Art helps me with that.
What's it like aging as a performance artist?
I try to be humorous and not a pathetic old lady. Of course, I often think about how much longer I can go on. But I can still work and perform.