After the shots at Jehovah's Witnesses: Down with your arms?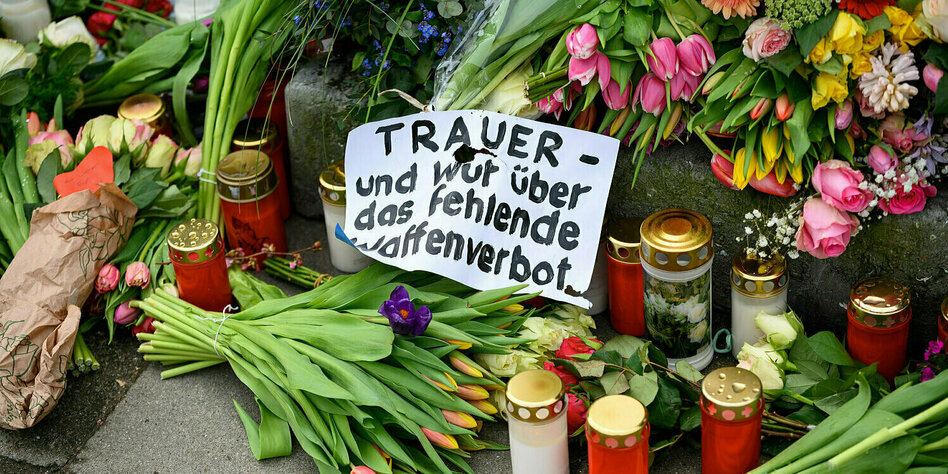 After the deadly shots at Jehovah's Witnesses in Hamburg, the gun law is discussed. The fronts are hardened – again.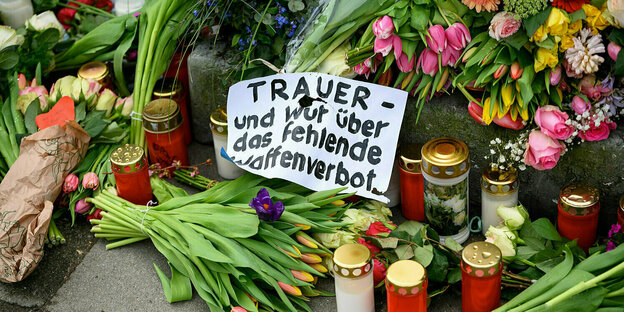 HAMBURG taz | The advertisement is emblazoned right on the Hanseatic Gun Club's homepage. "The path to your own gun is not as thorny as it might seem at first," advertises the shooting club, which is not far from Hamburg's Binnenalster. Of course, "a high degree of personal integrity" is also necessary. In the club, however, one can "discreetly learn or professionalize the use of large-calibre handguns in the most serious environment".
Advertising sounds stale these days. Because up until a week ago, a 35-year-old from Hamburg was also active in the Hanseatic Gun Club, who pretended to work as a management consultant just a three-minute walk away: Philipp F. The man who shot dead seven people in a local Jehovah's Witnesses church and then himself. Until a year and a half ago, he himself belonged to the community – and since December as a sports shooter was the legal gun owner of a pistol, a semi-automatic Heckler & Koch P30.
Gun rights are now being debated again. Federal Interior Minister Nancy Faeser (SPD) insists on a draft law for a tightening, which she presented in January – and which the FDP has blocked to this day. The SPD and the Greens are also in favour, as is Hamburg's Senator for the Interior, Andy Grote (SPD). Shooting associations, on the other hand, are up in arms.
In his book, Philipp F. reflected on God and Hitler
In fact, the Hanseatic Gun Club and Hamburg's weapons authority have to ask themselves a few questions. Philipp F. registered in the shooting club in 2021, and in December 2022 the Hamburg Weapons Authority had him approved his gun. As early as January, however, an anonymous whistleblower warned the weapons authority that F. was probably mentally ill and had a "particular anger" at Jehovah's Witnesses and his former employer. The weapons authority then sent two officers to carry out an unannounced check – who, apart from a cartridge lying around, did not object to anything.
By then, however, Philipp F. had already published a confused book on Amazon, almost 300 pages, where he pondered about "God, Jesus and Satan", about Hitler and Putin or mass murder on behalf of God. According to Hamburg's police chief Ralf Martin Meyer, the weapons authority did not find the book despite a tip from the tipster and a Google search – which brought heavy criticism to the authority.
Meanwhile, at the Hanseatic Gun Club, people dive into the water. When asked about Philipp F., Managing Director Alfred Reinecke, a weapons law attorney and himself a hunter and marksman, always says "no comment" and finally "thank you for your questions!". It would be quite relevant whether F. did not also show abnormalities in the club and whether he maintained contacts there as in a conventional shooting club, which creates a minimum of social control. The commercial Hanseatic Gun Club, a mixed form of club and GmbH, also allows anonymous shooting for a fee, even for non-members without a gun license.
At least the Hamburg Weapons Authority was once considered a pioneer. In the noughties, the city-state had merged the weapons law tasks from 19 police departments into one authority. Their employees – currently in 26 positions – have learned weapons in police training and do nothing else than deal with weapons from morning to night.
"They were the best in Germany back then," says Hamburg weapons expert and journalist Lars Winkelsdorf, who in 2009 compared the then 570 weapons authorities nationwide. Deputy head of the authorities Niels Heinrich created the weapons record file WANDA and took more weapons out of circulation than the amnesties later could. But Heinrich moved to the Federal Ministry of the Interior in 2012 to set up the National Weapons Register. "It's been crumbling ever since," says Winkelsdorf. The authorities are making mistakes today that they would not have made before. Above all, it is digitally underexposed. "The Internet is such a new thing for them." Winkelsdorf also has no understanding that the officials did not find Philipp F.'s book during their research.
Things are no better for many of the other 537 weapons authorities in Germany. They are often based in district administrations that have a variety of other tasks. You have to take care of the 946,495 private individuals nationwide who currently own a good 5 million registered weapons – mostly hunters or sport shooters. These are also many of the inspectors: In rural areas, the colleague who understands anything about weapons usually has to work in the district office. He often knows his customers well, sometimes too well to keep a close eye on them. He doesn't necessarily have a clue about police risk assessments.
Only 216 gun controls in 2022 in Hamburg
The numbers already show how leaky the controls are. Hamburg has 8,145 gun owners with 37,830 guns – for whom just 216 checks were carried out last year. In 2020 there were still 665, in between the controls came to a complete standstill due to the corona pandemic. The fact that a check was carried out in the Philipp F. case is therefore remarkable.
Kay Ruge, Vice-Chairman of the German District Association, complains that, according to his feedback, the weapons authorities nationwide are "currently very busy". The consequences are fatal: According to the Federal Ministry of the Interior, even 1,561 right-wing extremists and around 500 Reich citizens still had gun permits at the end of 2021. Hamburg's police chief Meyer never tires of emphasizing these days that confiscating weapons has strict legal limits and requires concrete evidence of unreliability.
This is one of the reasons why Faeser now wants the law to be tightened, which even CSU Interior Minister Horst Seehofer was already striving for, but ultimately failed because of his own parliamentary group. Faeser now insists on a general obligation to submit a medical or psychological certificate when applying for a gun license – so far this only applies to under-25s. In addition, the weapons authorities should now also exchange information with health authorities and "war weapon-like" semi-automatic firearms should be banned.
It would not be the first tightening. Since the killing spree in Erfurt in 2002, the minimum age for purchasing firearms has been raised to 18, storage requirements have been imposed, unannounced controls have been introduced and inquiries have been made to the Office for the Protection of the Constitution. Today, German weapons law is considered one of the strictest in Europe.
Shooting associations vehemently against stricter law
Every tightening was accompanied by protests from rifle and hunting associations. As now. "It is not appropriate to hold law-abiding owners of legal weapons jointly liable for the misdeeds of lunatics and criminals," complains Friedrich Gepperth, President of the Bund Deutscher Sportschützen. The act in Hamburg could also have been prevented with the current legal situation – if the weapons authority had called the shooting club and a psychologist immediately after the tip. And with his hatred of Jehovah's Witnesses, Gepperth believes that Philipp F. would have committed his crime by other means. It doesn't sound much different these days with the FDP: There, too, one sees an "implementation problem", none in the law.
In Hamburg, however, Faeser's plan could have helped at least in one point: if Philipp F. had had to obtain a psychological report for his weapon application. The police union is also open here. "What speaks against examining the mental health of future and current gun owners more closely in gun law?" asks its chairman Jochen Kopelke. An exchange of authorities would also make sense – as would the idea of ​​no longer storing weapons privately, but in the clubs. Here, in turn, the FDP objects that the central arms depot would be created, which would also pose a risk.
Kay Ruge from the district council is also open to stricter gun laws. Bans on particularly dangerous weapons, for example, are correct, he tells the taz. On the other hand, he sees standard psychological reports critically. These are only a "snapshot" and gun owners are already being thoroughly checked. For all plans, "more attention should be paid to the actual feasibility for the local weapons authorities," Ruge demands. "Everyone must be aware that more stringent tests will of course also require more staff." The problem: the FDP and its federal finance minister have not yet promised any money for the weapons authorities.
According to the latest election program, the Greens even want to "gradually end" the availability of deadly firearms, except for hunters. Sports should be switched to "non-lethal firearms". The shooting clubs also vehemently reject this. "That would be the end of shooting sports," says lobbyist Gepperth. And so, for the time being, nothing will happen.
It remains that in the case of Hamburg, the weapons authority could have prevented eight deaths: with a proper Internet search. Police President Meyer admits that if Philipp F.'s book had been found, an expert opinion on his mental state would have been possible – and in the end possibly a weapon confiscation.