After the death of Queen Elizabeth II: Charles III. officially proclaimed king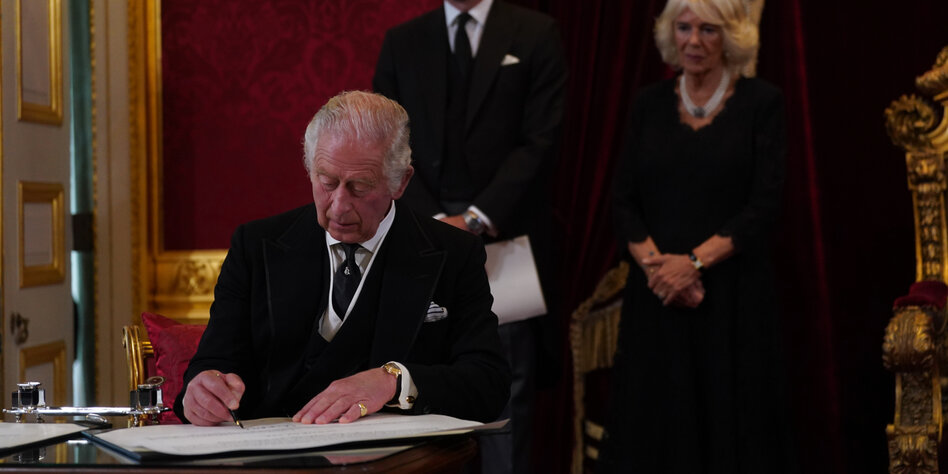 After the death of the Queen, her son Charles was officially proclaimed King of Britain. He is aware of the responsibilities as a sovereign.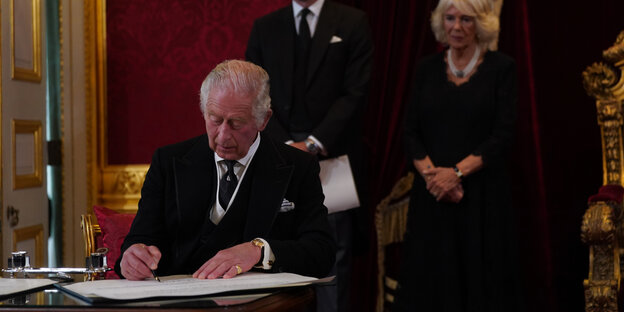 LONDON afp/dpa | Charles III is on Saturday in a historic ceremony formally elected the new British king and successor on Thursday late Queen Elizabeth II. been proclaimed. "Prince Charles Philip Arthur George" has now become "King Charles III." "God save the king!" said the statement from the Accession Council, which met specifically for the occasion. The council of top politicians and officials met at St James' Palace on Saturday to confirm Queen Elizabeth II's son as head of state. Charles had already automatically become king with the death of his mother on Thursday.
The ceremony, which was televised live, was attended by King Consort Camilla and Charles' son and heir apparent William. In a brief address following the proclamation, Charles said he was "deeply aware of the obligations and grave responsibilities" as the sovereign of the United Kingdom.
The Accession Council met at London's St. James Palace to proclaim the new king. After the proclamation has been read by the senior Herald, the Garter King of Arms, half a dozen Heralds travel by carriage to Trafalgar Square and then to the Bourse to read the message of the proclamation.
The council initially met without Charles and also used his royal name. Charles was to be sworn in afterwards. "We meet before King Charles comes, decides that he will be the new king and then he will come and we will proclaim him," Harriet Harman MP, who is a member of the Council of Succession to the Throne, told the BBC. The proclamation was then to be read from the palace balcony.
Britain's new king, Charles III, also underlined the importance of his wife, Queen Camilla, in his address at the proclamation ceremony as the new head of state. "I am deeply encouraged by the continued support of my beloved wife," said the 73-year-old at the ceremony at London's St James's Palace on Saturday. Camilla (75) became Queen Consort after the death of Queen Elizabeth II. The title was last given to the mother of the deceased monarch, Queen Mum.