Action plan against right-wing extremists: meager balance sheet, soft approach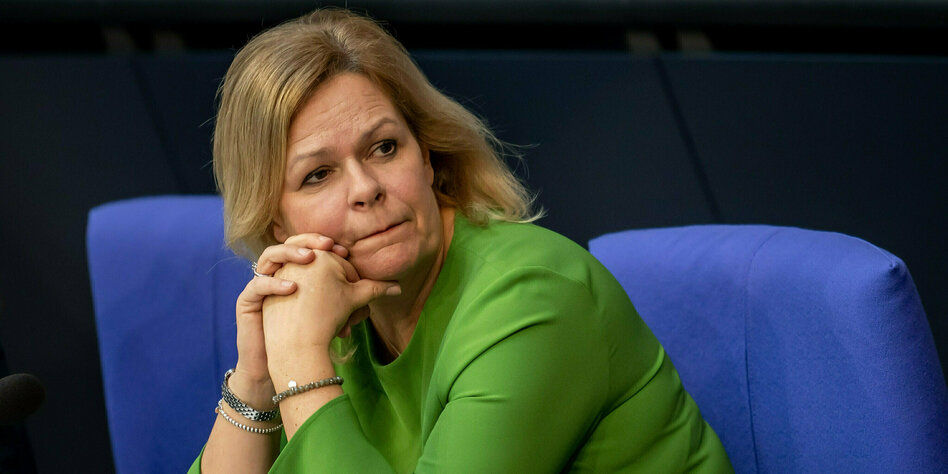 A year ago, Interior Minister Nancy Faeser presented her plan of action against right-wing extremism. Little has been implemented. The traffic light is also criticized.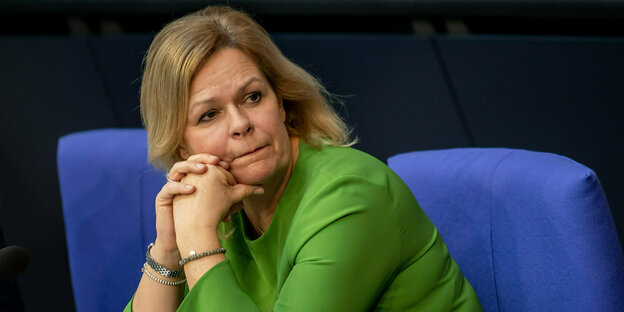 BERLIN taz | It was a bold announcement. Interior Minister Nancy Faeser (SPD) announced that she wanted to smash right-wing extremist networks, disarm the scene and drain their finances. in March 2022 with its action plan against right-wing extremism. But a year later, the balance sheet looks poor – which also causes criticism in the traffic light.
Faeser had already announced the action plan when she took office. In the end, it comprised 10 points: a tightening of weapons and disciplinary laws, measures against online hate speech, for opt-out programs or victim support. Faeser promised that action would be taken against the scene "with prevention and a heavy hand". The points should become "effective in the short term".
A year later, however, there is not much to see. So there can be no talk of a smashing of right-wing extremist networks. The federal prosecutor's office left in December against subversive Reich citizens before. But bans, such as those against Faeser's predecessor Horst Seehofer combat 18 or Nordadler imposed, have not taken place so far. So far, Faeser has only said one thing: against the rocker squad United Tribunes.
Number of wanted right-wing extremists increased
In addition, most recently, as of September 30, 2022, also 674 right-wing extremists wanted with open arrest warrants – a high for years. There were also 155 unenforced arrest warrants against Reich citizens.
There has also been no disarmament of the scene so far. In January, Faeser presented a draft law to tighten gun laws. This will but blocked until today by the FDP. The right-wing extremist scene continues to handle weapons: as of the last deadline at the end of 2021, they still had 1,561 right-wing extremists and around 500 Reich citizens obtained gun permits. More recent figures are not available. In addition, right-wing extremists committed a total of 485 weapon offenses in 2021 – almost half of which were violent incidents. The weapons withdrawals in the scene remain manageable: According to the Ministry of the Interior, there were 169 in the three years from 2018 to 2021.
Adopted in the cabinet is at least a stricter disciplinary law, with which extremists are to be expelled from public service more quickly. The law now has to go through the Bundestag – protests are already coming from police unions.
The pressure on Telegram to take action against hate messages was also increased. By autumn 2022, the Federal Criminal Police Office had sent a total of 392 extinguisher searches for criminal content to the provider – 370 of which could no longer be accessed afterwards. In addition, the Federal Office of Justice recently imposed Fines of 5 million euros against Telegram because of the lack of reporting channels. However, the large online platforms YouTube, Facebook and Twitter are still not cooperating with the BKA and the reporting office set up there specifically. They had sued against the obligation to report hate postings and provisionally right.
However, little was heard of Faeser's announced increased financial investigations into the right-wing extremist scene by the Office for the Protection of the Constitution. Nor of the promised alliance to protect municipal elected officials or central counseling services for relatives of conspiracy believers.
"Lots of room for improvement"
It is clear that the Russian war of aggression against Ukraine also in the Interior Ministry pushed some tasks into the background. Nevertheless, criticism of the meager balance of the action plan also comes from the traffic light. The Greens domestic politician Misbah Khan sees "there is still a lot of room for improvement". There is still a need for action on fundamental points. The raids on the citizens of the Reich or protests by violent right-wing extremists against refugees "showed how urgently it is still necessary to deal with the issue with political determination," emphasizes Khan. The Greens would like "more commitment and a coherent approach to right-wing extremism". A "cross-departmental overall strategy" is needed and, above all, prevention work and the protection of those at risk must be strengthened.
Left-wing interior expert Martina Renner also finds clear words. "So far, the action plan has primarily been a political declaration of intent that has not been followed by any concerted official action," she criticizes. When it comes to the right-wing extremists owning weapons and the open arrest warrants, she even sees "rather a dangerous escalation than a defusing of the situation," Renner told the taz. "The further you get from the level of media-effective staging to the level of actual, concrete and sustainable measures, the less there is of the grandiose announcements."