Abuse in the Catholic Church: No More Than an Apology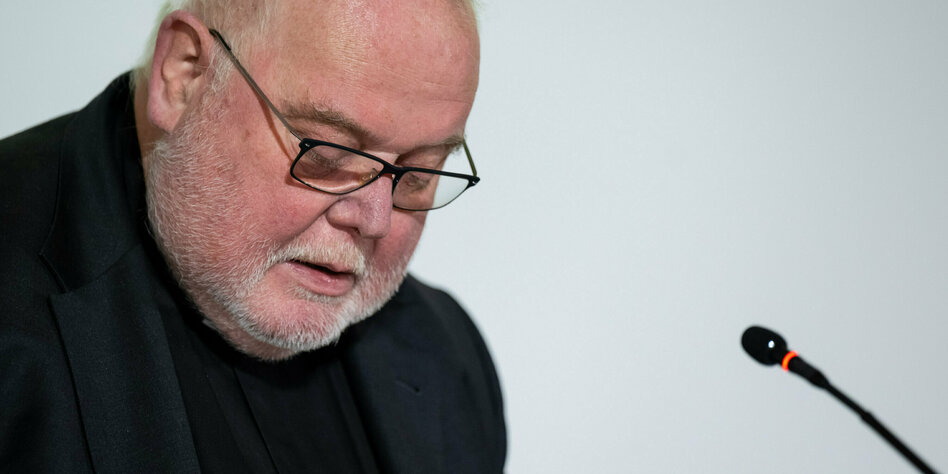 A year after the abuse report, Cardinal Marx and the Archdiocese of Munich are taking stock. Victims of sexualised violence do not have a say.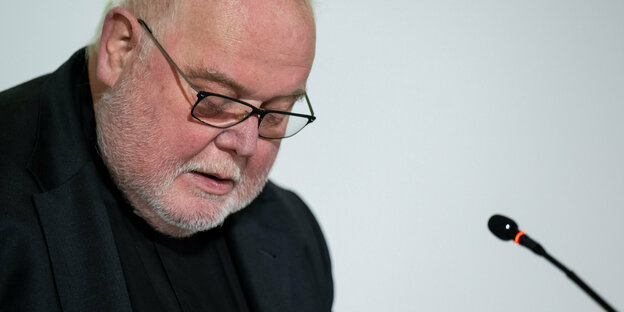 BERLIN taz | He was "shocked and ashamed" – this is how the Archbishop of Munich, Cardinal Reinhard Marx, said when on January 20, 2022 an expert report on the cases of abuse in his archdiocese since 1945 was presented. A year later, the archbishop and the diocese take stock of how the investigation of sexual abuse has progressed since publication. "We all know this process is ongoing. It's not over," says Marx. "It's clear to us: We want to stand by those affected by sexualized violence." Again he apologizes and renews its call for those who have experienced sexual abuse within the Church to speak up.
The report from 2022 comprises around 1,700 pages, the commissioned law firm lists at least 497 victims and 235 alleged perpetrators. Also the recently deceased Pope Emeritus Benedict XVI. was accused in the report against did nothing to a clergyman accused of abuse to have. The church representatives had announced a comprehensive reappraisal several times. This had a personal consequence, such as the resignation of Cardinal Marx rejected at the time with reference to the processing work.
Marx admitted on Tuesday that they didn't really have an eye for those affected. "That was our greatest deficit." Christoph Klingan, the archbishop's vicar general, also says that there was too little contact with those affected. And yet: When presenting the assessment, no representatives of the Advisory Board for Affected Persons of the Archdiocese of Munich and Freising have a say.
Perpetrators remain unmentioned
Instead, the church employees report on a contact and advice center, which was expanded in the summer of 2022 to become a staff unit for "advice and pastoral care for those affected by abuse and violence in the archdiocese". A total of 316 calls have been received there so far, plus 57 further reports of sexualized violence at the office for examining suspected cases.
It is said that there were many discussions with those affected. "Abuse is and remains a catastrophe," emphasizes Marx. But the perpetrators remain unmentioned a year later. Marx and Co are also keeping a low profile on proceedings before the Traunstein District Court. In June 2022, a victim of abuse filed a declaratory action against the late ex-Pope Benedict XVI, the former Archbishop of Munich, Cardinal Friedrich Wetter, and the ex-priest H. A first oral hearing is scheduled for March 28th. Another point of contention is compensation payments to those affected. We want to ensure more transparency on this topic.
"Abuse is not an accident, but always a planned act," says Christine Stermoljan, head of the prevention department in the archbishop's ordinariate. There was training for all employees and child-friendly education in all facilities to raise awareness of the topic. Everyone would have to present protection concepts to prevent sexualised violence. In the spring, a new code of conduct for the prevention of sexualized violence was also issued.
But is the church doing enough? As early as December 2022, the Bavarian Minister of Justice Georg Eisenreich (CSU) criticized the work of the churches as insufficient. In the constitutional committee of the state parliament, he spoke out in favor of an independent ombudsman for those affected by abuse in the church. Marx resolutely rejected this criticism: "I defend myself against the accusation: 'The church does nothing, it can do nothing.'" It is desirable that the state becomes active against sexualized violence, but then everywhere, including in public institutions.