100 years of the Spanish Communist Party: Dispute over commemorative stamp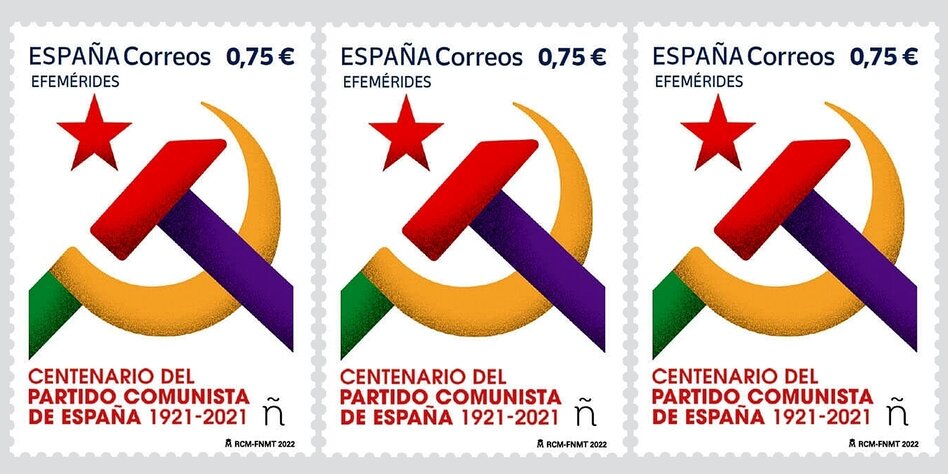 Arch-Catholic lawyers block a commemorative stamp to Spain's Communist Party. The right-wing opposition is also complaining.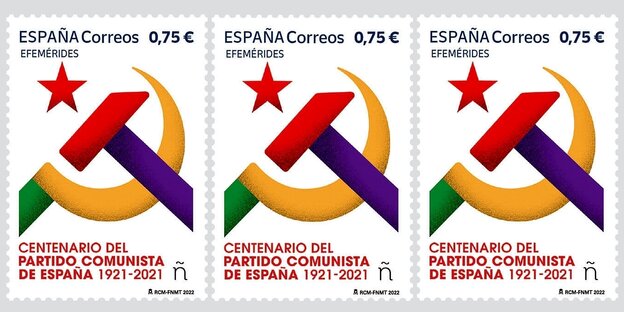 MADRID taz | Collectors will first have to do without the latest special stamp from the Spanish Post: "100 Years of the Spanish Communist Party (PCE)". A court in Madrid has stopped the publication of 135,000 copies planned for this week. The reason: a lawsuit by the organization "Christian Lawyers". The ultra-religious group sees the stamp with a hammer and sickle and a five-pointed red star as a violation of the "political neutrality of postage stamps". The organization claims that the PCE was responsible for "mass murders" during the civil war in the 1930s. The court decided to first clarify these allegations before the stamp is printed.
The arch-Catholic plaintiffs are getting political backing from Spain's opposition. The right-wing extremist Vox addressed the European Justice Commissioner Didier Reynders and accuses the head of the ruling left-wing coalition, the socialist Pedro Sánchez, of imposing an "arbitrary view of history" on the Spaniards. The conservative Partido Popular (PP) agrees with this point of view in a letter of its own. The right-wing liberal Ciudadanos see the commemorative stamp as "a commemoration of hate, crime and misery".
Consumer Protection Minister Alberto Garzón described the lawsuit as "shameful and symptomatic". the smaller of the two coalition partners, the left-wing alternative alliance Unidas Podemos, heard. According to Garzón, the Spanish judiciary always proves its legality. For his party and many historians, the Communist Party is "one of the indispensable co-founders of Spanish democracy".
The Post also defended On your webpage the commemorative stamp and honors the "role of the PCE in the Spanish Civil War". She sees the party as the "motor of the armed forces" that sworn the republic to Franco's putsch and that after Franco's death "contributed to the reconstruction of a democratic civil society".
To date, Vox, PP and Ciudadanos have not condemned Francoism. They even commemorate him again and again, like recently the fascist General Millán Astray, founder of the Spanish Legion, at the 100th anniversary of the founding of the elite troops.